---
This MOON LENCE Folding Camping Cot is well-built, ultra-packable and very light, yet with an incredible weight capacity.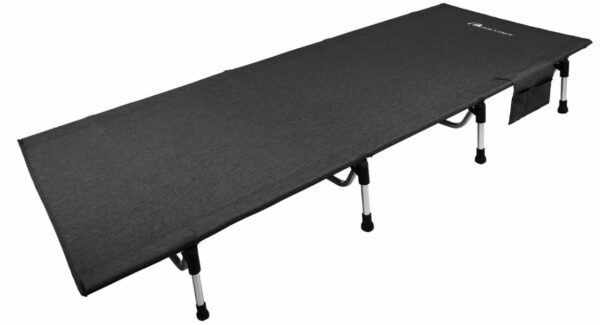 ---
Key features & benefits
Collapsible cot.
Lightweight.
Great packed size.
Great capacity.
Carry bag.
Reasonable price.
---
What this cot is about
The official name MOON LENCE Folding Camping Cot is a bit misleading in the sense that you have a collapsible cot and not a folding one. In other words, there is a simple assembly here and this makes it different from a folding cot.
So you have side bars and legs that must be put in place. You spread the fabric and then pass the side bars through the sleeves, and then start adding legs. This is all easily done and without extra tools, one person can do the job in under 10 minutes.
The good side of such a design is that the cot packs nicely in its carry bag, in the packed state it reduces to 16.5 x 7.8 x 6.5 inches (42 x 20 x 17 cm). So this is an incredibly small size for such a full-size cot.
The cot is quite high with its unique legs construction. Note also that the cross bars underneath the bed deck are well separated so there is no chance to touch them ever. You are safe from any pressure spots here. 

Materials
They use high quality and durable aircraft-grade 7075 aluminum alloy with zinc and with excellent mechanical properties. The legs lock in place easily and you have a locking mechanism shown in the picture.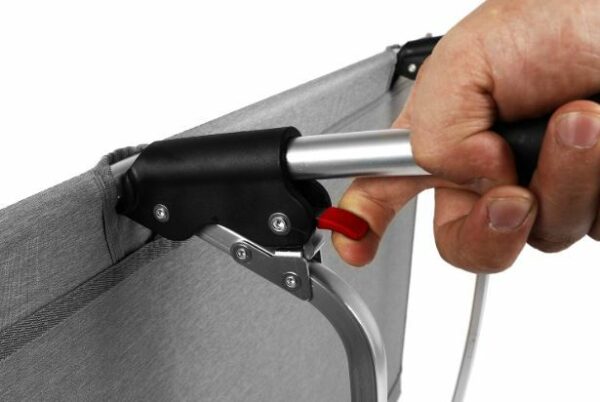 The fabric is a ripstop 300D oxford with a PU double coating. This value sounds quite low for a cot but the weight capacity is excellent here. The fabric has a flex to it and it is not too stiff.
Using the cot in a tent
The legs are with plastic caps, and there are 8 of them in total. So the weight is distributed and the design is floor-friendly. If you use it in a floored tent, it is a good idea to add something underneath the feet if the ground is soft.
Also, if you plan to use it in a cold climate, you will have to add some insulation. But being so much above the cold ground, you always need far less insulation than when you sleep on the tent's floor on a pad.
---
Who is it for
Regarding the weight, the cot could be described as very light with its 7 lb (3.18 kg) of weight. This is why I have included it in the category of backpack-portable cots. But this is not a backpacking and hiking cot as the manufacturer describes it. Those are much lighter and you can see them here.
The packed size is excellent so it is easy to attach it to the pack, and you can also transport it on a bicycle and in a kayak.
Regarding the capacity, the cot is impressive with its official 400 lb (181 kg) capacity. Who would say for such a light cot and with such a relatively thin fabric. So I have included it in my list of cots for heavy people,
Regarding the dimensions, the bed measures 74.8 x 27.6 inches (190 x 70 cm), so it is quite wide and reasonably long. Note that there are no end bars in this design, so the given length is the true useful length. But if you are a very tall person, check these cots for tall people.
Regarding the price, this is quite an affordable cot, a great price for the value.
---
Specifications
Weight: 7 lb (3.18 kg).
Capacity: 400 lb (181 kg).
Dimensions: 74.8 x 27.6 in (190 x 70 cm).
Packed size: 16.5 x 7.8 x 6.5 in (42 x 20 x 17 cm).
---
Rating, pros & cons
See how I rate this cot against my standard set of criteria used for all the cots here in the site. This allows for easy comparison.
Ultra-packable and very light cot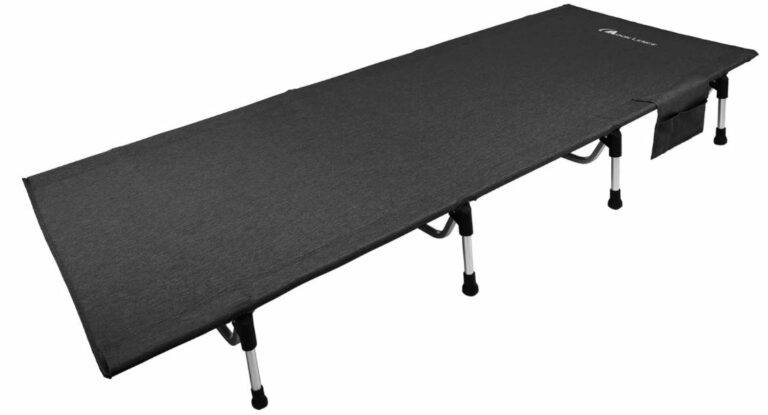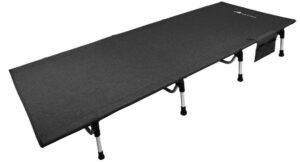 Product Name: MOON LENCE Folding Camping Cot
Product Description: This MOON LENCE Folding Camping Cot is well-built, ultra-packable and very light, yet with an incredible weight capacity.
Brand: MOON LENCE
SKU: B089GGXQPY
Weight -

9.2/10

Size -

8.5/10

Capacity -

9/10

Packed size -

9.9/10

Ease of use & features -

8.5/10
Summary
This cot scores great in all criteria so the average rating is Excellent.
Pros
Ultra-packable.
Very light.
Great capacity.
Reasonable price.
Carry bag.
Cons
Not for very tall people.
---
Final thoughts
In the summary of this MOON LENCE Folding Camping Cot review, I would point out again its incredible packed size, its weight, and its weight capacity. These features make this cot very versatile so you can use it for outdoor adventures, for hunting, at the beach, and also as a spare bed for sudden guests. The price is more than appropriate. Fully recommended.

Please check under the category Camping Cots if you need more options. You might want to check also this backpack-portable FUNDANGO Extra Long Ultralight Folding Compact Camping Cot.
Note that we add texts here on a regular basis, so bookmark this site and stay informed. Thank you for reading and have a nice day.