---
ATEPA Folding Camping Table is nicely built with its natural bamboo hardtop, adjustable legs length, and with a carry bag included.
---
Key features
Folding & nicely packable.
Natural bamboo hardtop.
Independently adjustable legs length.
Easy to use.
---
Where to buy
This camping table is available on Amazon, they operate globally so please follow the link and check the price and shipping conditions for your location.
---
Overview of features
I would start from its hardtop where you have a natural bamboo and the design is roll type. So you have a really pleasant surface.
Practically all the table folds into its hardtop which then rolls into a bundle that packs nicely in its carry bag. The dimensions in such a packed state are 31.5 x 6.3 x 4.3 inches (80 x 16 x 11 cm). This process of folding is presented in this series of pictures: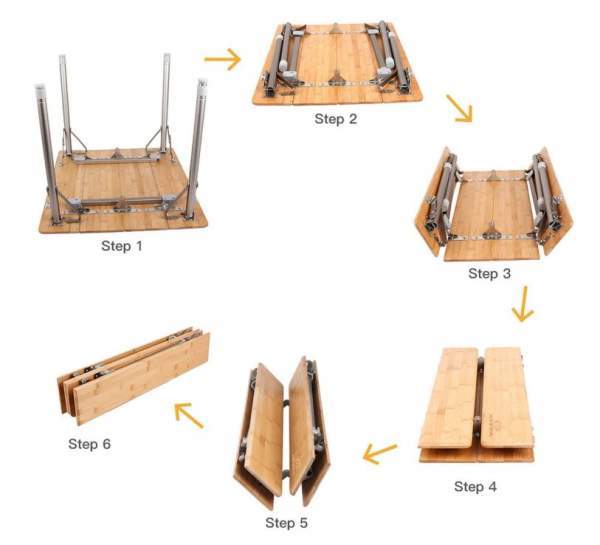 Having this table ready can be done in 30 seconds. Note that the tabletop dimensions are 31.5 x 23.6 inches (80 x 60 cm), and this gives plenty of space for 2-3 users in the camp.
Adjustable legs
All the legs can be adjusted independently and this is a really useful feature to have in a camp. As you can imagine, the ground is rarely perfectly flat, so this feature allows you to have a completely stable table regardless of where you use it.
This will give you a completely horizontal top surface even if you are using the table on a slope.
The legs length adjustability is such that you can have the table height anywhere in the range 17 – 25.6 inches (42 – 65 cm). Such continuous adjustability is better than those discrete-adjustability models where you only have several height positions. I have included it in my list of best camping tables with adjustable legs.
In any case, this is a versatile construction and you can use it as a side table or as a dining table, and also as a cooking table to prepare your meals.
---
Who is it for
Regarding the weight, with 11.5 lb (5.2 kg) this is not something to carry around. If this is what you need, please check my list with backpack-portable ultralight tables.
The packed size you have already seen, so this is a table for places with a car access. The carry bag is with a shoulder strap, and carrying it short distances from the car is not a problem. So you can use it as a picnic and camping table.
Regarding the size, you have seen the tabletop size, so this is good enough for 2-3 people, and the height is such that you can use it with many standard camping chairs for dining.
They write that it is suitable to be used in the office as a coffee table, and they are right. So you can have it for such a purpose, and if not in use for a longer time, just fold it and store somewhere, it will not take much space.
---
Materials
So you have seen already about its pleasant bamboo top which is easy to wipe clean.
The legs are a 7075 aluminum alloy, very light but strong. It is advisable to screw the legs properly before you put anything on the tabletop. Note that it is equipped with safety locks in the corners under the top.
Using this table in a tent
If you camp in a large floored family camping tent, you can use this table inside. The legs are with anti-slip footpads and those will not damage the floor. There will be no huge weight on such a table in any case, so there is no danger for the floor.
---
The price & rating
This table is on the market with the price shown below. So this is an expensive table, but bear in mind that this is a very pleasant natural wood hardtop material, and the table is very functional and you can use it on any terrain.
There is a number of reports on Amazon, and this table has scored an incredible average rating 4.8/5. Frankly speaking, I am not surprised at all. But please see how I rate it, I use my standard set of criteria and apply them consistently to all the tables here in the site. With this, you can make an easy comparison.
My rating of the ATEPA Folding Camping Table:
Weight -

6.5/10

Dimensions -

8.3/10

Packed size -

8.2/10

Craftsmanship & features -

9.5/10
Summary
My total average rating is:
Pros
Very functional.
Pleasant hardtop.
Legs adjustability.
Easy to use.
Cons
A bit long when packed.
Expensive.
---
Specification
Weight: 11.5 lb (5.2 kg).
Weight capacity: 66 lb (30 kg).
Dimensions: 31.5 x 23.6 in (80 x 60 cm).
Height: 17 – 25.6 in (42 – 65 cm).
Packed size: 31.5 x 6.3 x 4.3 in (80 x 16 x 11 cm).
---
ATEPA Folding Camping Table vs KingCamp Folding Bamboo Table
It should be interesting to see how this Atepa table stands when compared with yet another bamboo table built in the same style, the KingCamp table. So here they are side by side.
As you see the Atepa table is much lighter, and its packed size is better. But its tabletop is also much smaller.
On the other hand, its legs can have any length in the previously mentioned range. This makes it better than the KingCamp table which only has three positions so this is far less suitable for an uneven ground. Please follow the links for more.
Dimensions
(W x D x H), in (cm)

31.5 x 23.6 x 25.6
(80 x 60 x 65)

31.5 x 6.3 x 4.3
(80 x 16 x 11)

39.4 x 28.3 x 27.6
(100 x 72 x 70)

39.4 x 15.4 x 3.9
(100 x 36 x 10)

---
Final thoughts
So this ATEPA Folding Camping Table is nicely done and it is no surprise that this is an Amazon Choice product. The meaning of this is that Amazon recommends it as highly rated, well-priced, and available to ship immediately.
I like its bamboo top and the way how it folds. It remains a bit long when packed but this is a narrow bundle and it will not take much space in the car trunk or when you store it at home.

For more options please check in the category Camping Tables. In particular check this Camco 51895 Bamboo Folding Table which is also with a bamboo tabletop.
Note that this is not a sponsored text and I am not paid by any brand. Please use the comment box below in case of questions or comments. I wish you a pleasant camping.

---