---
The Zempire Kitpac Round V2 Table is very versatile with its telescopic legs and 3 heights, and it looks cool with its natural bamboo tabletop.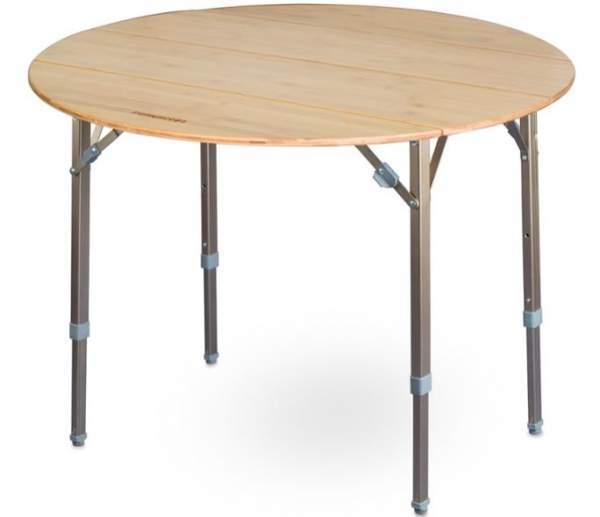 ---
Key features & benefits
Natural bamboo tabletop.
Aluminum frame.
Folding design.
Very easy to use.
Adjustable height.
Micro-adjustment for feet.
Carry bag included.
---
What this Zempire Kitpac Round V2 Table is about
Here you have a very functional folding camping table. The meaning of this is that there is almost no assembly. 
So the tabletop folds in half and then again in half, and the frame folds in it. The picture shows how this looks when all the elements are under the tabletop before folding it: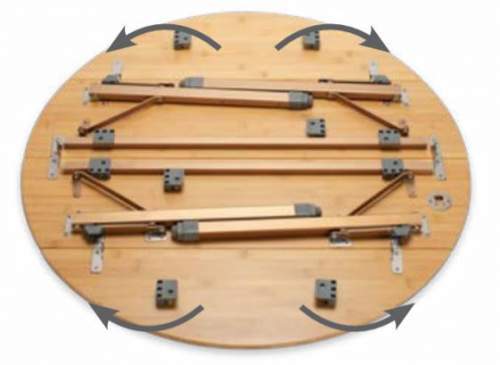 There are only two support bars (visible in the picture above) underneath the tabletop which you have to put in place to assemble the table. But when the table is folded for transportation, these two bars are clipped to the tabletop together with the rest of the frame, as in the picture above. This is how it looks when folded:

 But when you need the table, you do the following:
Unfold the tabletop.
Unfold its 4 legs. 
Unclip those two support bars and clip them into another clips under the tabletop, see the picture below. The arrows in the picture below show in which direction to push the bars to have them in place. Job done.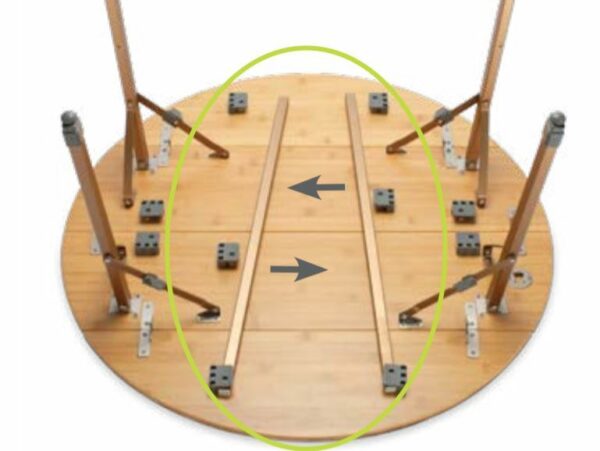 Carry bag
When folded as in the picture above, the table fits nicely into its included carry bag that measures around 37 x 10.2 x 4.7 inches (94 x 26 x 12 cm). It is equipped with a long zipper, and with carry handles.
Note that the zip pullers are with a glow-in-the-dark design so you can easily locate the zipper at night. The fabric of the carry bag is a strong 400D polyester.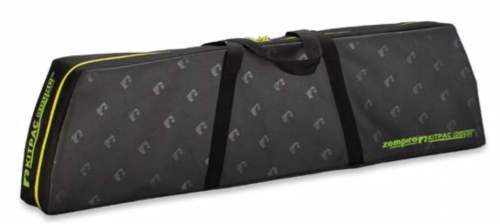 A few more details & features
The picture below shows the mentioned support bars in place. You can also see the bottle opener that is integrated into the tabletop on the underside.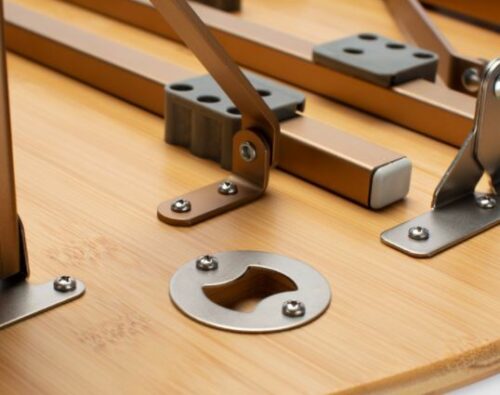 Telescopic legs
The four legs are telescopic, so you can extend them into three different heights. For each of the three positions there is a pop-up button that locks the leg in place.
In addition to this, each leg has a support bar from one side and a locking mechanism from the other side. See how they look:

The pictures below show the three heights. So you realize that on the left you have a table with a proper height of a dining table. On the right and in the middle you have variants to use it as a side table and as a card playing table.

Each of the legs also has a foot fine tuning (the picture below) so you can always level the table properly. This is great to have in a camp where the ground is rarely perfectly flat.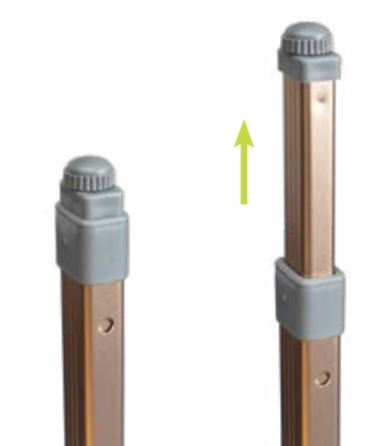 Because of all these features, the table is included in my list of best camping tables with adjustable legs.
Materials
The tabletop is a natural but treated bamboo, heat and weather resistant and hard wearing. It is easy to clean and hygienic. There are 6 steel braces for stability and support, they connect the three segments of the tabletop, and they lock them into an open position. One is visible below.
You have their logo on the tabletop, shown below. The frame is a rust-proof aluminum.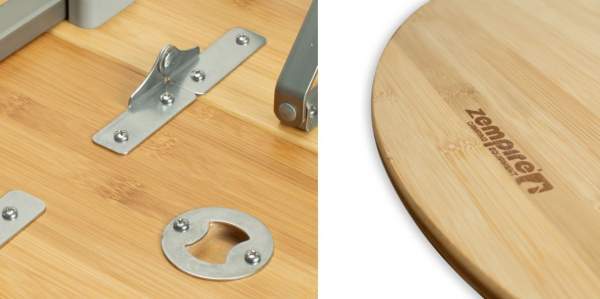 Please see more in this video:
Warranty
Zempire is a reliable brand from New Zealand, and their products always have some warranty. This table comes with a 2-year warranty. They claim they will repair or replace this product, should it fail due to faulty materials or manufacture for a period of 2 years from the date you purchase.
---
Who is it for
Regarding the dimensions, the tabletop is 90 cm in the diameter, so this is a great size with enough place for up to 4 people. You have already seen that it has 3 different heights so the table is truly versatile.

Regarding the capacity, not many manufacturers provide the weight capacity, but here you have it given. They write it is for up to 110 lb (50 kg) of weight. I guess you will never need more.
Regarding the weight, the table is heavy with its 17 lb (7.7 kg). But this is expected in view of its excellent bamboo tabletop and its strong frame. You have already seen its packed size, so clearly this is a table for car camping.
---
Specifications
Weight: 17 lb (7.7 kg).
Capacity: 110 lb (50 kg).
Dimensions (D x H): 35.4 x 27.5/22.8/19.3 in (90 x 70/58/49 cm).
Folded dimensions: 37 x 10.2 x 4.7 in (94 x 26 x 12 cm).
Frame: aluminum.
---
Rating, pros & cons
Below you can see how I rate this table against my standard rating criteria. The weight is not its best feature but this is a high quality product. You can rate it from your side, there is a rating bar below.
Great materials, excellent features & a versatile table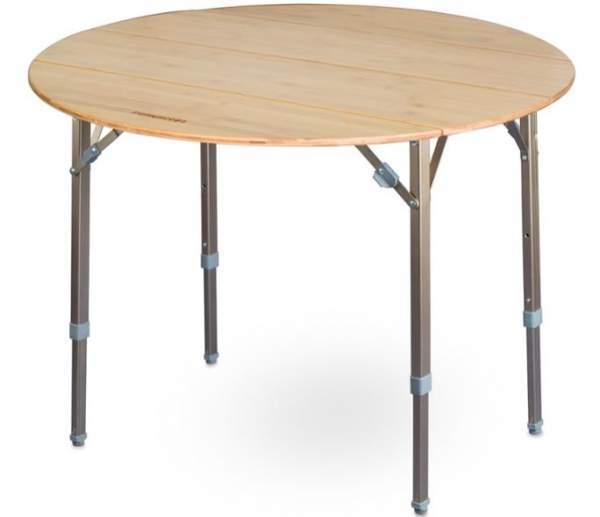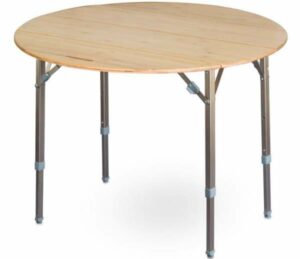 Product Name: Zempire Kitpac Round V2 Table
Product Description: The Zempire Kitpac Round V2 Table Is Very Versatile with Its Telescopic Legs and 3 Heights, and It Looks Really Cool with Its Natural Bamboo Tabletop.
Brand: Zempire
SKU: 190494
Weight -

4/10

Dimensions -

9.2/10

Packed size -

7/10

Craftsmanship -

9.7/10
Summary
The table is heavy and this affects the overall rating, but it is still Good.
Pros
3 Heights.
Versatile.
Quality craftsmanship.
Carry bag.
Easy to use.
Cons
Heavy.
A bit long when packed.
---
Final thoughts
So in this Zempire Kitpac Round V2 Table you have a top quality product from a reliable brand, and it comes with a good warranty.
The table has 3 different heights and this makes it truly versatile, this is a 3-in-1 system. The round bamboo tabletop looks really cool, and this is a very easy to use construction. Fully recommended. I have included it in my list of best bamboo camp tables.
Best places to buy:
For more options, please check under the category Camping Tables, you will find them many here in the site, and in all sizes and shapes. Check this Mountain Summit Gear Roll Top Table if you want something with a metal tabletop.
Bookmark this site and visit it when you find time, this will keep you informed, you have new texts added here on a regular basis. Let me know if you have questions, there is a comment box below. Thank you for reading and have a nice day.