---
The Kijaro Native Repreve Recycled Polyester Adult Ultralight Cot is collapsible, nicely packable, affordable, and easy to use outdoor bed.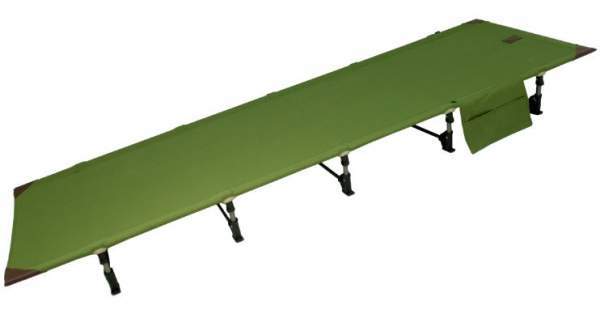 ---
Key features & benefits
Collapsible camping cot.
100% Recycled materials used for fabric.
Very light.
Compact when packed.
Great price.
---
What this Kijaro Native Repreve Cot is about
Kijaro as a brand is globally known for its camping chairs, and there are many of them presented here in the site. But here you have what seems to be their first ever camping cot. Or at least, I do not remember seeing any of their cots in the past.
Regarding the cot's design and construction, there is nothing really new here. There are many cots of this type around. So this is a collapsible cot that needs a simple assembly. This means just placing the two side poles through the side sleeves, and attaching the legs. This all is done easily in a couple of minutes, and without tools or force.
But the new here is the fact that they claim the fabric of this cot is 100% percent built from recycled materials, and this is summarized in the picture: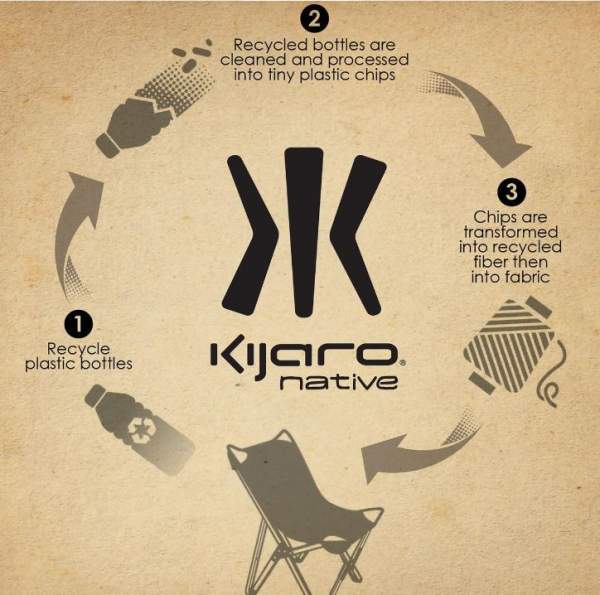 This environmentally-friendly production policy is related to the word Native in the name. Namely, the Kijaro Native Line means choosing the most Earth-friendly materials to create a sustainable camping line.
They even write that every Kijaro color is inspired by different locations around the world including the Green Ozark Mountains that inspired this color Hawksbill Crag Green which you see in its carry bag.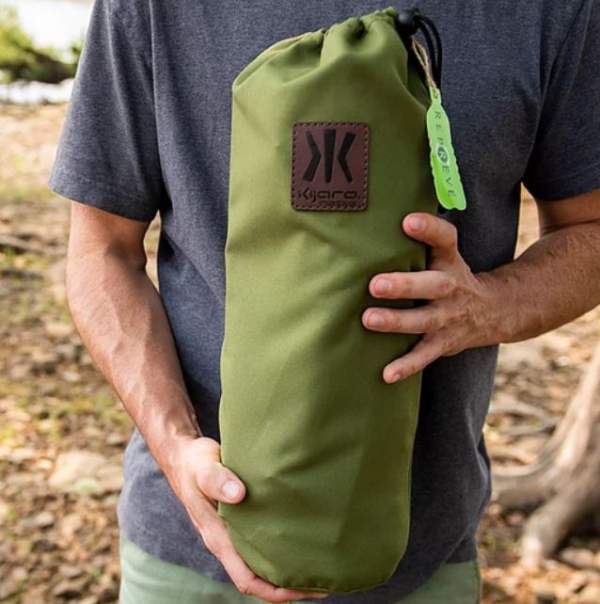 Being collapsible is advantage in terms of packing, the carry bag shown above is very small, this is a tube of the size (L x D) 17 x 6 inches (43 x 15 cm).
Note that it comes with a pre-attached storage set on the side, see the picture. So here you can keep your small items off the ground and clean from dust.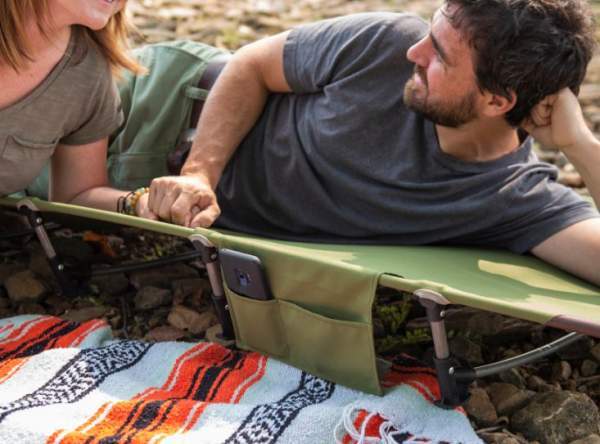 A bit more about the materials & construction
Metal parts are all 7075 aircraft raw aluminum. The side poles are shock-corded so you can never lose a part. The same is with legs, each of their horizontal bars folds to half length, the segments are shock-corded as well as the actual feet.
The fabric is made out of 100% recycled Repreve polyester. If you are not familiar with this, the polyester is made by processing recycled plastic bottles into small chips. These are then transformed into a recycled fiber material, and after that into the fabric.
Note also that the patches on this cot, the corner reinforced pockets where you place the ends of the side poles (the picture below), and the logo patch on the carry bag (you have seen it above), are all made of vegan leather.
Instructions for setup are sewn-in to the underside of the bed's fabric. So the setup is easily done, you pass the side poles through the sleeves (see the picture) and then start attaching the legs.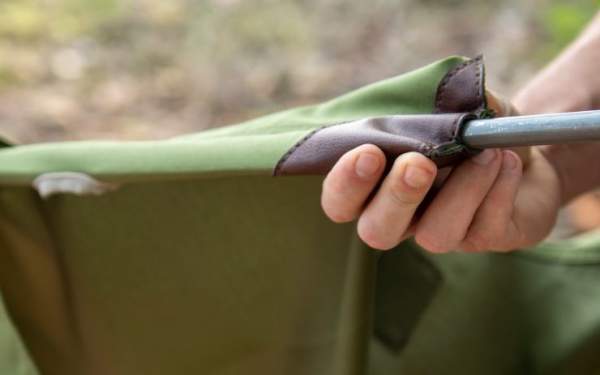 Note that there are 5 openings on each of the sleeves, these are places where you attach the legs. So as usual with such cots, it is a bit annoying passing the side poles through the sleeves, they tent to get out through those openings.
Yet another cool detail here are the short straps on the side. They are with Velcro, see the picture below. This is to attach the cot to yet another of this or different type:
So when you have two cots of this type, you will be able to create a queen-size sleeping platform shown in the picture below.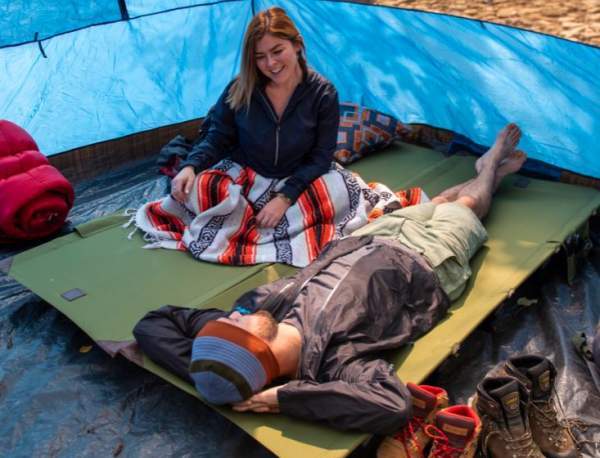 Please see a bit more in this video:
---
Who is this Kijaro Cot for
Regarding the capacity, the cot is quite modest, officially it supports the weight of up to 250 lb (113 kg). I am very light so this far more than what I need, but if you need more please check my list of cots for heavy people.
Regarding the dimensions, I would say they are quite typical, the bed measures 75.6 x 27.6 inches (192 x 70 cm). Note that there are no end-bars, so the given length is indeed all useful length.
Regarding the weight, the title above is the official name and they use the word 'ultralight'. The reality is that the cot is not really ultralight, you can check my separate list to realize this.
But the cot weighs 4.85 lb (2.2 kg) and it is indeed very light and backpack-portable. You have already seen its packed size, so it can be easily transported even on a bicycle.
Regarding the price, the cot is very affordable, there is a link below so you can see the daily updated price.
Using this cot in a tent
The dimensions are typical, so the cot will fit in any tent, including the smallest solo tents.
Note that it is 6 inches (15 cm) high, so you are off the ground and you still have a bit of storage space underneath the cot. When you sleep on the tent's floor, such space is lost. So this is a very good option in a small tent. I have included it in my list of low camping cots.
For warm weather you do not need any sleeping pad except for extra comfort. In a cold environment you will need an insulated pad, but you always need less insulation when you sleep off the ground.
The feet are plastic and relatively large. There are 10 of them so the weight is distributed. I do not think you will have issues with the tent's floor.
---
Specifications
Weight: 4.85 lb (2.2 kg).
Capacity: 250 lb (113 kg).
Dimensions (L x W x H): 75.6 x 27.6 x 6 in (192 x 70 x 15 cm).
Folded dimensions (L x D): 17 x 6 in (43 x 15 cm).
---
Rating, pros & cons
In the table below you have summarized my rating, and some pros and cons. Please feel free to rate the cot yourself, there is a rating bar available.
Very light and compact backpack-portable cot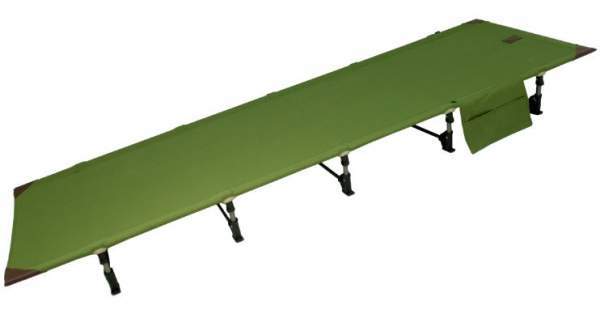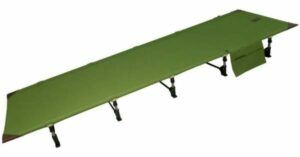 Product Name: Kijaro Native Repreve Recycled Polyester Adult Ultralight Cot
Product Description: The Kijaro Native Repreve Recycled Polyester Adult Ultralight Cot is a Collapsible, Nicely Packable, Very Easy to Use, and Affordable Outdoor Bed.
Brand: Kijaro
SKU: 99547
MPN: 99547
Weight -

9.6/10

Size -

8.5/10

Capacity -

7/10

Packed size -

9.9/10

Ease of use & features -

8.2/10
Summary
The overall rating of this cot is well-deserved Very Good.
Pros
Lightweight.
Compact.
Very affordable.
Recycled materials.
Carry bag.
---
Final thoughts, rating, pros & cons
So the Kijaro Native Repreve Recycled Polyester Adult Ultralight Cot is quite a typical collapsible outdoor bed. It is backpack-portable and compact so it can be carried on shorter tours.
The structure looks stable and sturdy but still bear in mind its official capacity. Note also that this is a reliable and globally-known brand so you know what you are buying. Fully recommended.
Best place to buy:
For more options, please check under the category Camping Cots. You will see that it is similar to this Naturehike Ultralight Folding Camping Cot Bed, but there are many different designs available.
Let me know if you have questions, there is a comment box below. Bookmark this site and come again, this will keep you informed. Thank you for reading and have a nice day.