---
The Mountain Summit Gear Roll Top Table is all metal collapsible construction in two sizes, for cooking and grilling in your camping kitchen.
---
Key features & benefits
Steel frame.
Aluminum tabletop.
Two sizes L & XL.
Carry bag included.
---
Overview
The Mountain Summit Gear Roll Top Table can be described as collapsible, and this means it needs a very simple assembly. This is easily done because it has only two separate elements, a folding frame (see the picture below), and and an accordion-type folding tabletop. So you unfold the frame and unfold the tabletop and fix it onto the frame.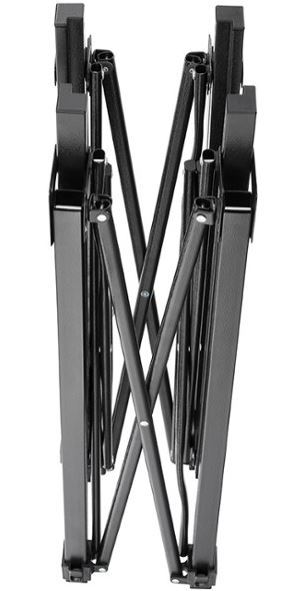 When it is time to move, you store all easily into its included carry bag shown in the picture. It measures (for the table L) 30 x 9 x 6 inches (76 x 23 x 15 cm).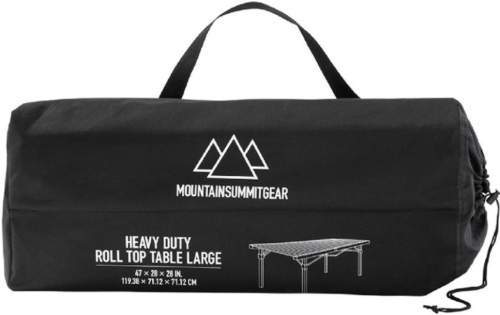 Materials & construction
They call it also Mountain Summit Gear Heavy Duty Roll Top Table, and this name is well-deserved. This is all metal so you do not have to worry if you place hot items on the table. The supporting frame is a steel and the tabletop is aluminum.
One interesting and I think unique detail here are its side rails that are notched, see the picture below. This cradles the tabletop and in my view it adds to the overall stability. You also see the spring-loaded locking pin that fixes the tabletop in place.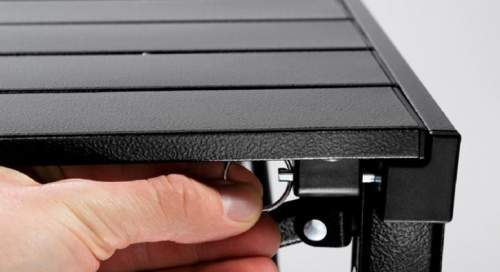 There are such pins in every corner so the tabletop is well-secured, but I have seen some people complaining that it may be a bit annoying to find holes and have the pins into place.
The tabletop slats are kept attached to each other with some elastic bungee cord system, see the picture below. This means they can stretch out of place and I do not think this is the best design here.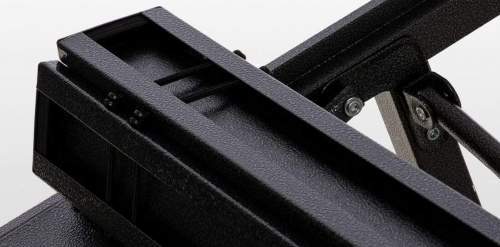 Please see a bit more in this video:
---
Who is this table for
Regarding the dimensions and best use, they build this table in two lengths, so you have L and XL, the number are given in specifications below.
So the tabletop is really great size and it is high enough. But the support bars underneath it take some space and if you use it as a dining table this is not the best design.
In view of its materials, you can use it for anything, it may be cooking, grilling, dining, etc. These materials are also weather resistant so no worry if you forget it overnight in front of your tent or in the garden.
Regarding the weight, it is quite heavy, but the materials are strong and this is normal to expect.
The packed size is mentioned above in the text, so the table folds to a relatively narrow tube for transportation.
Regarding the price, I think this is reasonable for such a cool looking all-metal product.

---
Specifications
Weight:
– L: 15 lb 3.2 oz (6.9 kg).
– XL: 16 lb 8 oz (7.48 kg).
Capacity: 70 lb (32 kg).
Dimensions (L x W x H):
– L: 47 x 28 x 28 in (119 x 71 x 71 cm).
– XL: 56 x 28 x 28 in (142 x 71 x 71 cm).
Folded dimensions:
– L: 30 x 9 x 6 in (76 x 23 x 15 cm).
– XL: 34.5 x 9 x 6 in (88 x 23 x 15 cm).
Frame: steel.
Tabletop: aluminum.
---
Rating, pros & cons
Below you have summarized my rating and some pros and cons, this is for the version L. I use the same criteria for all the tables here in the site so you can make a comparison.
All metal durable construction.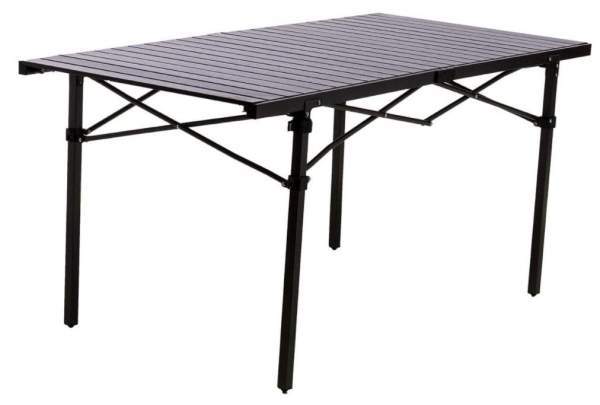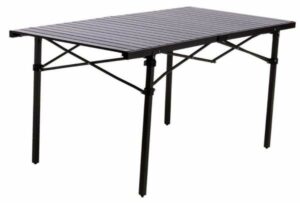 Product Name: Mountain Summit Gear Roll Top Table L
Product Description: The Mountain Summit Gear Roll Top Table Is an All-Metal Large Collapsible Construction for Cooking, Grilling, and Dining in Your Camping Kitchen.
Brand: Mountain Summit Gear
SKU: B08VQLR1ZB
Weight -

5/10

Dimensions -

9.7/10

Packed size -

7/10

Craftsmanship & features -

9.4/10
Summary
The table is on the heavy side, but see its dimensions.
Pros
Great tabletop size.
Great materials.
Carry bag.
---
Final thoughts
So this Mountain Summit Gear Roll Top Table is well-built and versatile because of the materials used in the construction and because of its dimensions. It is built in two sizes, and each of them is with a large tabletop that offers enough space for a family dining and for cooking in the camp.
Best places to buy:
For more options, please check under the category Camping Tables, you will find them many here in the site, and in all sizes and shapes.
Let me know if you have questions, there is a comment box below. Thank you for reading and have a nice day.