---
This ENO Eagles Nest Outfitters Nomad Hammock Stand review is about a portable and easy to use system that allows you to use your hammock anywhere. Keep reading.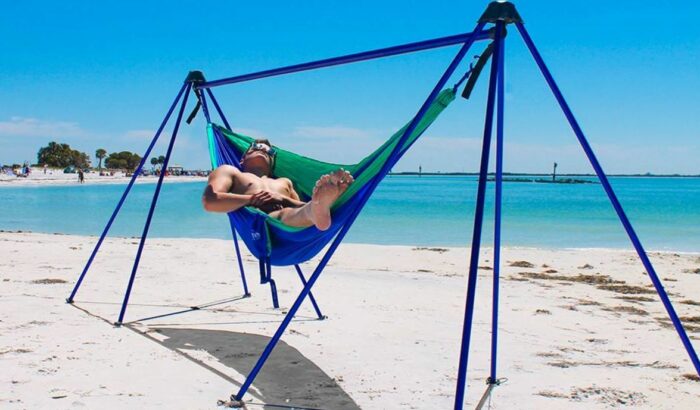 ---
Key features & benefits
Portable.
Very light aluminum frame.
Fully freestanding.
Carry bag included.
---
What this ENO Nomad Hammock Stand is about
Here you have a system that serves as a stand for hammocks. This is an incredibly versatile patent-pending ultralight and ultra-packable design. With the packed size of (L x D) 32 x 10 inches (81 x 25 cm) in its nicely designed carry bag (shown below), you can carry it short distances and use anywhere.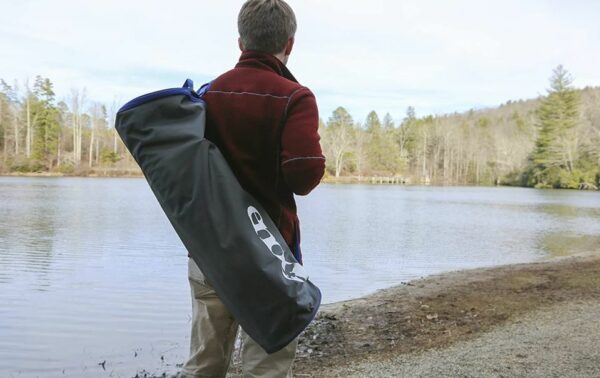 Essentially, this is a set of two four-leg stands connected by a pole in between. The structure is shown in the picture below. This is a lightweight shock-corded aluminum alloy set with integrated cargo loops.
Note that there is no hammock included here, but this brand is best known for its hammocks you can see many of them here.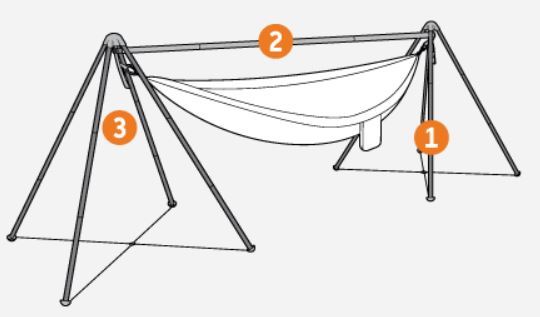 All these elements folded are shown below and they include the mentioned poles plus straps that keep the poles connected, and 8 quality aluminum stakes: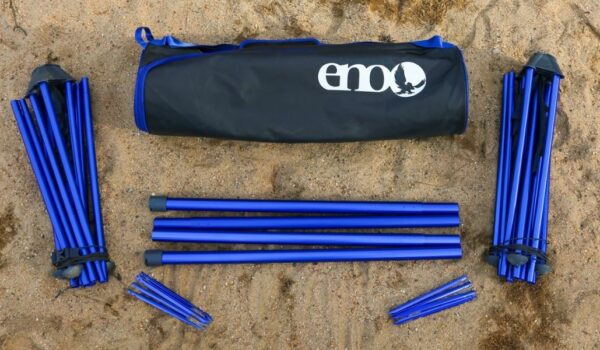 So this is a collapsible structure that needs a simple assembly without any tool. The picture below shows how they all pack in the carry bag, and you also see the cords connecting the tubes, so you can never lose any part and there is nothing to guess when you set it up.
The picture above shows one of the two habs, it is pre-attached to its four legs. The picture next to it shows the ground straps that you connect with a buckle. Each of the legs is connected with those straps so they cannot move outwards. The stakes additionally stabilize the four legs and prevent any lateral movement of the stand as a whole.
The two stands/towers are connected with a pole that is 118 inches (3 m) long, and when all is in place this structure allows for gentle rocking. This central pole is essential to prevent the two towers falling inward when you are in the hammock.
The picture below shows the most important steps in the setup, and you will see this also in the video: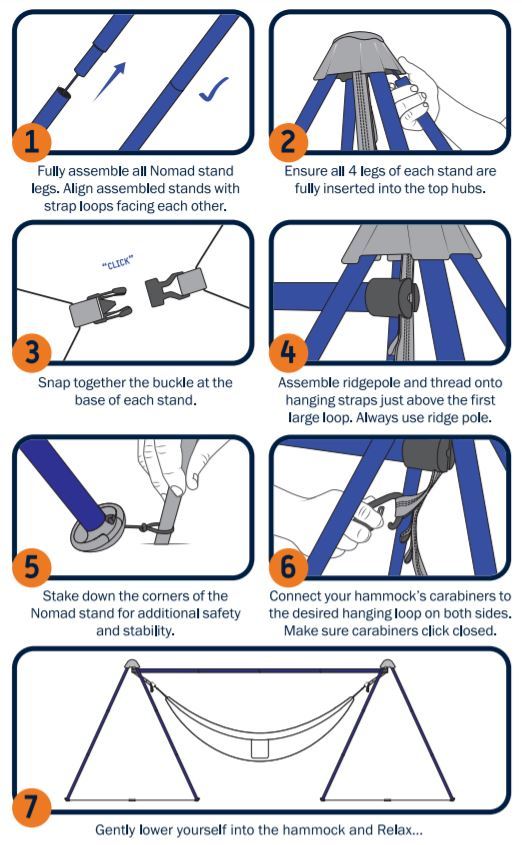 You can see all these steps presented in the video, please have a look:
---
Who is it for – where to use this Nomad Stand
Regarding the packed size and weight, this is a system that can be carried short distances, but in general you need a car for transportation. With 81 cm of length, it is a bit long for motorbikes. The whole structure weighs only 15 lb (6.8 kg).
You can transport it also in a bicycle cargo trailer and use at any place which is accessible by such a bicycle addition and where you can find a flat area that is around 4.2 x 1.5 meters square.
Regarding dimensions, the mentioned two towers are with a footprint that is 4'2" x 4'8" (1.27 m x 1.42 m), so this is the dimension of a flat area you need for each of them. The total length needed for the structure is 13'9" (4.19 m).
Regarding the ground type, you can use this system anywhere. The video shows it used on a sand, so you will stabilize it by the stakes that are included. It will sink to some extent, the feet are narrow, this will depend on the weight and the type of the ground.
In the case of a hard surface, it will work well because of its grippy plastic feet, and you have them 8 in total.
Regarding the hammock type, they built it for their ENO DoubleNest Hammock which is (L x W) 9′ 4″ x 6′ 2″ and for similar hammocks.
Regarding the capacity, this system is designed for the weight up to 300 lb (136 kg). So this should be fine for most of the users although it is quite moderate.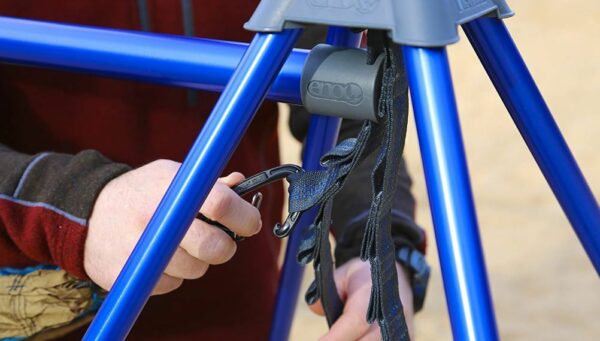 ---
Specifications
Weight: 15 lb (6.8 kg).
Capacity: 300 lb (136 kg).
Packed size (L x D): 32 x 10 in (81 x 25 cm).
Ridge pole length: 118 in (3 m).
Total length: 13'9" (4.19 m).
Total width: 4'8" (1.42 m).
Frame: 6061 anodized aluminum alloy.
Hubs: impact-resistant plastic.
---
Rating, pros & cons
Please see below how I rate this structure, obviously, I am impressed. Though the capacity may be a disappointment for heavier users.
To understand its weight in the context of folding (freestanding) hammocks you can do the following. Add the weight of their ENO DoubleNest Hammock that weighs around one kilogram and compare with the mentioned folding hammocks. The combined weight will be comparable with the lightest on the list.
My rating of the Nomad Hammock Stand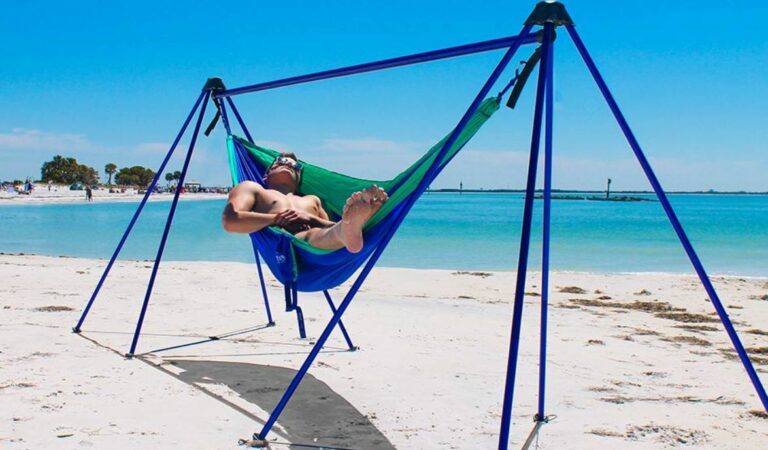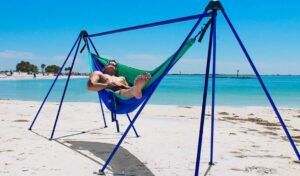 Product Name: ENO Eagles Nest Outfitters Nomad Hammock Stand
Product Description: This ENO Eagles Nest Outfitters Nomad Hammock Stand review is about a portable and easy to use system that allows you to use your hammock anywhere.
Brand: Eagles Nest Outfitters
SKU: B01MS427VR
Weight -

8.4/10

Capacity -

7.5/10

Packed size -

8.2/10

Ease of use & features -

9.5/10
Summary
My overall rating of this Nomad Hammock Stand is Very Good:
Pros
Very versatile.
Quality craftsmanship.
Carry bag included.
Easy to use.
Great accessories are available.
Cons
A bit low capacity.
Expensive.
---
Final thoughts
To summarize this ENO Eagles Nest Outfitters Nomad Hammock Stand review, what you have here is indeed a really nicely built structure. It is so versatile and useful as it is. But pity they did not add a hammock in the package.
Though they sell hammocks separately, and also have some accessory elements. So when you add them you have an outdoor sleeping system with full protection from the elements and insects. I am talking about their ENO Eagles Nest Outfitters Nomad Shelter System built specifically for this hammock stand.
If you need something similar but with the hammock included, check under the category Folding (or Freestanding) Hammocks.
Note that we add texts here regularly, so you might want to bookmark this site and visit occasionally. There is a subscription form below for our weekly newsletter. Have a nice day.