---
This VINGLI Camp Folding XXL Cot is a large military-style construction with storage elements, steel frame, and a great capacity & price.
---
Key features & benefits
Military-style collapsible cot.
Huge capacity.
Very large bed.
Carry bag included.
Great price.
---
Where to buy
This cot is available on Amazon. They operate globally so please follow the link and check shipping conditions for your location.
---
What type of cot is this
Here you have a typical example of a military-style cot. This implies several features that all these cots have. So this is a collapsible and folding design and this means it packs to a thin bundle which is of the size (L x D) 41 x 8 inches (104 x 20 cm).
The word folding which they use in the name describes the fact that most of its elements remain preattached to each other. But there are end bars that should be added.
This type also implies that it needs a simple assembly when you want to sleep on it. This is done without any tool and the only point where you need a bit of force is when you add the second end bar. There is tension in the fabric so you have to pull in order to put the bar in place, see the picture.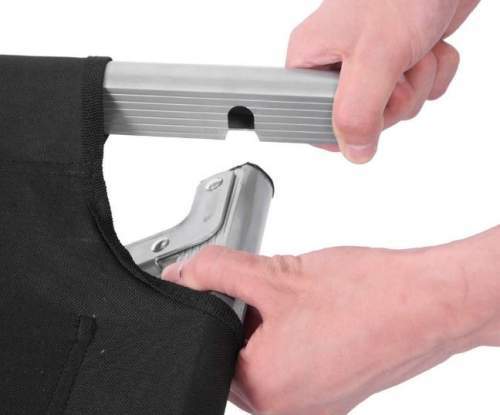 If you think this would be difficult for you, go for some of the models with the pivoting system where adding this second bar is easier. You have it in this Ozark Trail XXL Cot.
Side storage system
This VINGLI camping cot comes with 2 mesh side bags and 2 side pockets, see the picture below. This is a very useful storage space to keep your stuff off the ground and close at hand.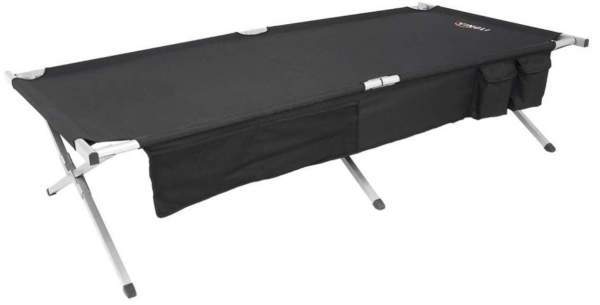 ---
Who is it for
Capacity-wise, this is a cot with an impressive weight capacity of 400 lb (181 kg). This is good enough to be included in my exclusive list of cots for heavy people. The structure is strong, with 6 legs, see the front view: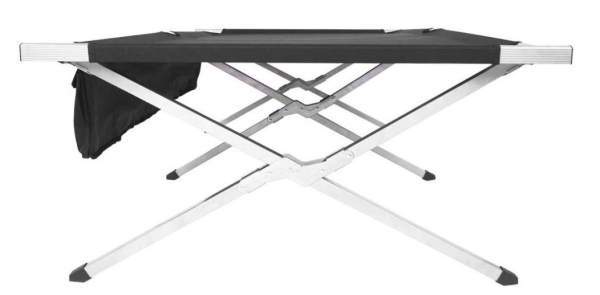 Size-wise, the dimensions of this cot are 78.7 x 35.5 inches (200 x 90 cm). So this is a cot good enough even for tall people, but it is also very wide and I have included it in my list extra-wide cots.
Weight-wise, well this is not so impressive, it weighs 20 lb (9.1 kg). But such a weight is normal for large and strong cots of this type. You will realize this from the comparison table below, there are much heavier cots with such a capacity.
The packed size is already given above, so you realize this is a cot for places with a car access.
You can use it also at home as a bed for sudden guests and in emergency situations. Keep it stored in its carry bag and it will remain clean and free from dust.
---
Materials
The frame is a heavy-duty steel construction and the legs are S-shaped, see the picture below, so the capacity is not a surprise. The bed fabric is a tough and high-quality 600D waterproof polyester with multiple reinforcements.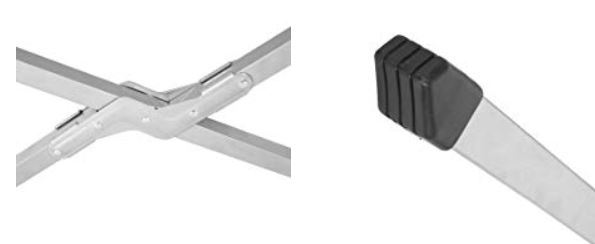 The feet are with rubber caps, one shown above. They are narrow so if you use the cot in a floored tent it is best to add something underneath them to avoid issues with the floor. This in particular if the ground is soft.
Note that the tent is rather high, 17.7 inches (45 cm). So this can be suitable for elderly users who find it difficult to get up from a low cot. If you use it in a tent, you can store lots of your camping stuff underneath the cot.
The carry bag is with a drawstring and with handles so you can carry it short distances.
---
My rating, pros & cons
The daily updated price is given in the link below, so you realize how affordable this cot is.
The cot is new on the market but it has already scored a number of reports and the average rating on Amazon is very high. Here below you can see how I rate this cot. I use my standard set of criteria and apply them to all the cots here in the site, so you can compare easily.
My rating of the VINGLI Camp Folding XXL Cot:
Weight -

6.8/10

Size -

9.3/10

Packed size -

8.2/10

Capacity -

9/10

Ease of use & features -

9/10
Summary
My overall rating of this cot is Excellent:
Pros
Great size.
Huge capacity.
Great storage system.
Carry bag.
Very good price.
Cons
Long when packed.
A bit heavy.
---
Specifications
Weight: 20 lb (9.1 kg).
Capacity: 400 lb (181 kg).
Dimensions: 78.7 x 35.5 in (200 x 90 cm).
Height: 17.7 in (45 cm).
Packed size (L x D): 41 x 8 in (104 x 20 cm).
1 Year warranty.
---
VINGLI 6.6 by 3 Feet Camp Folding XXL Cot vs Competitors
This Vingli Cot is large, but here I give it side by side with two top-notch and much bigger cots. The Ozark Trail XXL Cot is also with a large storage system. The storage system in the Browning Camping Cot is a bit smaller.
Now you realize that the weight of the Vingli Cot is quite moderate, and it packs better than the other two cots. It is also more affordable than the other cots. Please follow the links to read more.
41 x 8 x 8
(104 x 20 x 20)

48 x 9 x 5
(122 x 23 x 13)

43 x 8 x 6.5
(109 x 20 x 16.5)

---
Final thoughts
To conclude this VINGLI Camp Folding XXL Cot review by stressing that this is a very impressive cot, and its high rating by users is not surprising. In view of its features, the price is quite extraordinary. Fully recommended.

Note that this is not a sponsored post, and I am not paid by the brand. Please use the comment box below in the case of questions or comments. have a nice day.

---