---
Trademark Innovations 75 Inches Portable Folding Camping Bed Cot is a military-style very lightweight cot for outdoor and home use and with a great price tag.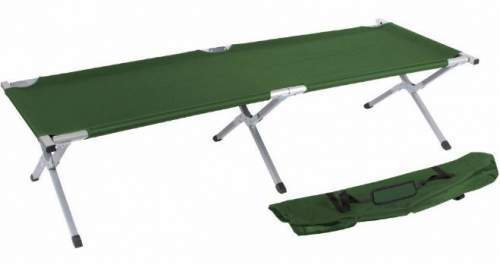 Key features
Very affordable price.
Lightweight.
Small packed size.
Several colors to choose from.
Amazon's Choice item.
What type you have here
This Trademark Innovations Portable Camping Cot is in the group of collapsible cots, and more precisely in the sub-type military-style camping beds. Such a design implies that it packs to a relatively small tube of 36 x 5 x 4 in (91 x 13 x 10 cm), with only one larger dimension.
They use the word 'portable' in the name, and indeed its weight of 11 lb (5 kg) is such that you can carry it short distances from the car to the actual camping spot.
Being the military-style, this implies the usual X-shaped legs, two side bars, and two end bars. So make sure to be of a proper height for such a cot, to avoid pressure points on your legs.
Who is it for
I would start first with who it is NOT for. The bed size is 75 x 25 inches (190 x 64 cm). So if you are a tall person, better try some of these. The end bars take some length as well and you have to fit in between, so it is good for people up to 180 cm, no more.
Apart from this, you have a very nicely built cot suitable to be used as a camping bed outdoor and as a spare bed for sudden guests at home. I would say this is a tool for occasional use only, not for extensive use.
If this is about outdoor use, you will obviously need a car to transport it to the camping place, and this can be literally anything, like a base camp for mountaineers and hikers, fishing or hunting camp, and any other open-air activity where you stay outdoor overnight.
Setup
The basic frame of the bed consists of two side bars and two end bars and they all together give tension to the bed deck.
There are no bars under the deck so you are safe from the pressure points, but bear in mind its end bars; it is not for very tall people.
They write that no assembly is needed to use this cot. This is not so, the bed fabric is indeed permanently attached to the sidebars and those are also permanently connected to the legs. So this part of the cot collapses easily and it is also easy to unfold it.
But this is a military-style cot and there are two end-bars which must be added after you spread the cot and put it on its legs. This is doable without any tool, though for the second bar you have to push a bit because of the tension created in the canvas.
Using this cot in a tent
This cot is not so big and it could easily fit in any solo tent if it wasn't for its height which is 17 inches (43 cm). The peak height of standard tents is usually around one meter or so, but they are usually very low in the feet area. I would say 2-person tents would be a far better option.
Examples of that kind are Kelty Horizon 2 and Kelty Gunnison 2 With Footprint. The first one is with the front entrance, so this may be most suitable to bring the cot unfolded in the tent.
If this is about two people, thus with two cots, I would suggest Kelty Camp Cabin 4 and Kelty Mirada Tent.
In any of these variants, you will have plenty of space around the cots and under them to store gear.
The picture below shows plastic caps on legs, so there is floor protection in place, but I would pay attention to the tent floor in particular if you place it on a soft ground.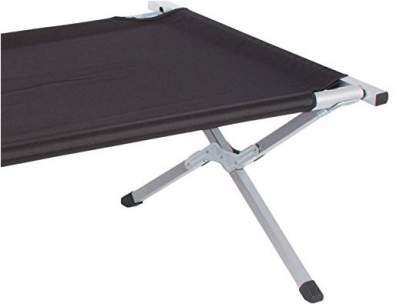 About insulation
For home use and for the summer outdoor use you do not need anything except for more comfort; in such a case any inflatable pad will do the job.
In a cold environment, in the wintertime or at high altitudes, you will need some insulated pad. Many pads of that kind are available here, so please have a look.
Since you are off the ground, you need far less insulation as compared to sleeping on the ground. This is because air under the bed is around 50 times less conductive than the ground under the pad, so you lose far less body warmth. This is one of the advantages of sleeping on a cot.
My rating, pros & cons, price
The cot is not for very tall people but equally problematic is its width of 25 inches (64 cm). The assembly needed is typical for such military-style cots.
The price is given in the link below and you realize this is a very affordable cot. Note this is an Amazon Prime product so you can have it shipped for free.
This cot has been on the market for several years already and it has collected many reviews. Some users have reported problems with the aluminum frame. So as usual, you have all possible ratings. See how I rate it based on its main parameters and features:
My rating breakdown of the Trademark Innovations Portable Camping Cot 
Weight -

8.4/10

Size -

8.3/10

Capacity -

7/10

Packed size -

9.2/10

Ease of use & features -

9/10
Summary
My overall rating of this cot is Excellent:
Pros
• Great price.
• Carry bag included.
• Stable construction.
• Versatile tool.
• Portable tool.
Cons
• Not for tall people.
• Narrow.
• Needs assembly.
• Not particularly strong.
Specifications
Weight: 11 lb (5 kg).
Capacity: 260 lb (118 kg).
Dimensions (L x W x H): 75 x 25 x 17 in (190 x 64 x 43 cm).
Packed size (L x D): 36 x 5 x 4 in (91 x 13 x 10 cm).
Frame: aluminum.
Bed fabric: nylon.
Carry bag included.
Colors: 4.
Summary
In conclusion of this Trademark Innovations 75 Inches Portable Folding Camping Bed Cot review to stress again that this is a typical military-style tool with the usual setup. The cot is quite small and narrow, and I would not recommend it for tall and big people.
Note that there a few models from the same brand available on Amazon like this olive green version with the same features.

If you need something bigger please check my text with many cots for heavy people, some of them in the same military style. On the other hand, if you need a cot with a mattress included, you can see many of them here.
Thank you for reading. Please let me know if you have any question or comment, there is a comment box below. Have a nice day.