---
This Timber Ridge 2 Person Quick Setup Full Fly Cot Tent is a folding and collapsible structure with 2 doors, a full-coverage fly with vents, and much more. Keep reading.
---
Key features & benefits
Cot: steel frame.
Tent frame: fiberglass.
2 Person capacity.
2 Doors.
Carry bag included.
Gear loft.
Storage pouches.
Fly vents.
Reasonable price.
---
What this is about
If you are not familiar with structures of this type, first to explain the terminology. So this is what is called a tent-cot, or cot-tent as some call it. In other words, you have a cot and a tent that attaches to it. You can pitch it anywhere, in mud or in snow, and you will be safe above ground.
I have seen quite a number of such constructions, there are many of them here under the category Double Tent Cots. But this one has some features that set it apart, and you will realize this from the text below.
This is a collapsible tent cot and this means it needs assembly. But you do not need any extra tool for this and one person can make it ready easily. All the elements in the package are shown below: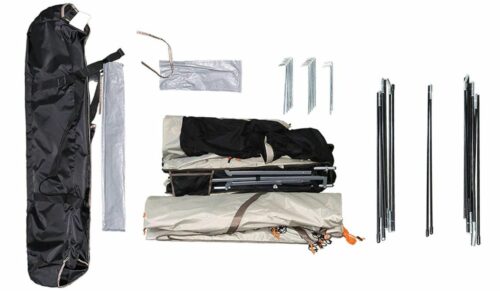 Note that the bed itself is a folding type, so you open it in seconds. It is just the tent with its poles that has to be assembled like any other tent except for the fact that here you pitch it off the ground, i.e., on the cot.
They use the words Quick Setup in the name, but this is a bit misleading because of the mentioned collapsible design.
The structure is better understood when you see it without the fly as shown below. So you realize, this is just a canopy tent raised above the ground on a cot.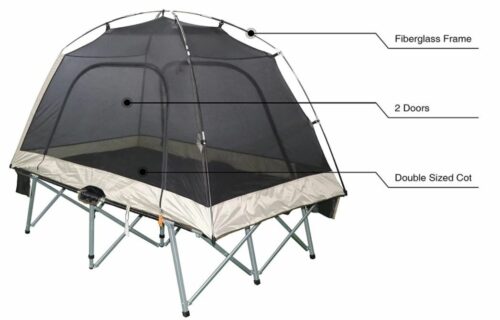 This is a tall structure and the tent alone is with a peak height of 47 inches (119 cm). So this is high enough that you can sit comfortably when you are in bed.
The canopy is with two large doors on the sides, and those match huge vestibules on the fly. So this is a structure with easy access.
Materials
The bed is a large powder-coated steel platform supported with no less than 9 legs and many X-shaped support bars. The legs at the two ends are angled outwards for extra stability, see the picture.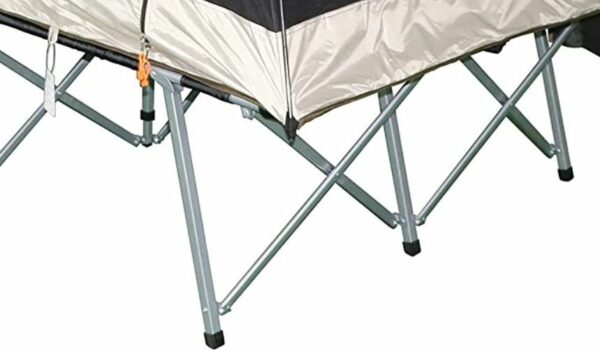 The two tent poles are shock-corded and easy to use fiberglass loops that you attach to the corners of the tent, and on the canopy, you have clips for this purpose. Note also that the connectors of the poles are pre-bent so this adds extra volume and headspace in the tent.
The fabric is all polyester 150D so it is quite durable. The waterproof rating is 800 mm and this is not much but normally you do not need more. It is best to test any tent at home in controlled conditions and check for leaks.
The fly is a full-coverage type and it goes all the way to the ground and it creates two vestibules that are 2 feet (61 cm) deep. This is why they use the words Full Fly in the name. It is similar to what you have in this Ozark Trail Two-Person Cot Tent.
Storage space: There is lots of storage volume/space under the cot and this is fully protected by the full fly. So you can keep all your gear safe and close to you.
But they have added also an off-ground gear loft under the cot, plus two storage pouches on the sides for small items.
Ventilation
Ventilation is one of the features that sets this tent-cot apart from some of its competitors. The picture below shows how the structure looks when the fly is fully closed. Normally, you will always have enough air coming from the ground and under the fly.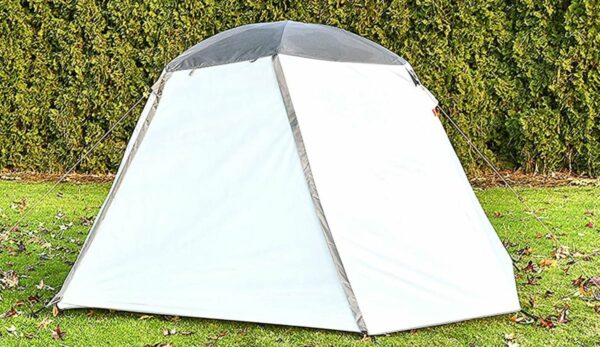 On the other hand, the canopy is all mesh, you have seen the picture without the fly shown above, and the air can circulate in any direction.
But they have added two fly vents, one is shown below, and this makes all the difference in the world. This means that vapor can escape and condensation is reduced to a minimum.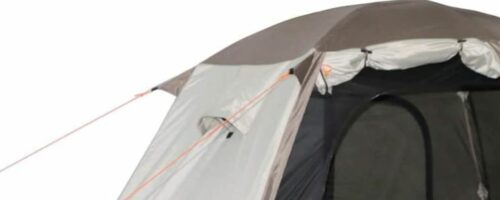 Note that condensation cannot be avoided in tents in general. Air leaving our mouths is at around 35°C and it is 95% humid. There is also perspiration.
Roughly speaking, around 400 ml of vapor due to respiration and 400 ml due to perspiration are released in 24 hours. If you are in a tent, a part of it will condensate on the walls. This is why vents are essential in any tent.
When the sky is clear, you can sleep under the canopy alone, or keep the fly but open the doors for views and for ventilation as the picture below shows. All in all, there is not much one could object to this design.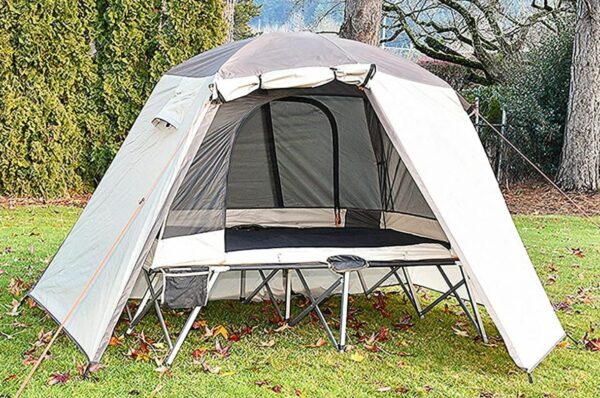 ---
Who is it for
Regarding the bed size, this is a double cot and you have the size 81.6 x 50.4 inches (207 x 128 cm). So you realize, this is a very long cot and it is wide enough for two people, see the picture: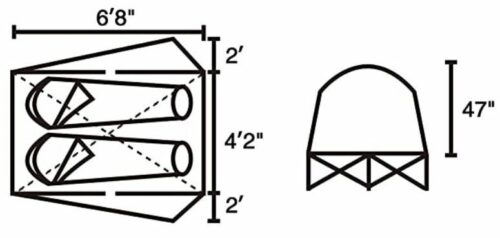 Regarding the weight capacity, officially this cot can withstand the weight of up to 600 lb (272 kg). This should be enough for most couples.
Regarding the weight, this is a heavy thing, you have 45.42 lb (20.6 kg) for the whole set. But this is also a large bed with a two-person tent, so such a weight is expected. You can compare this with a double tent-cot like this Kamp Rite Compact Double Tent Cot that weighs 42 lbs (19.5 kg).
When in the packed state it is a bit bulky, the carry bag is a tube that measures (L x D) 44.1 x 12.2 inches (112 x 31 cm).
All in all, this is for places with a car access. When you store it at home, it will not take much space.

---
Rating, pros & cons
Please see how I rate this tent-cot against my standard set of criteria so you can easily compare it with other tent-cots here in the site. The overall rating is Good.
Nicely built double-size tent-cot with a full-coverage fly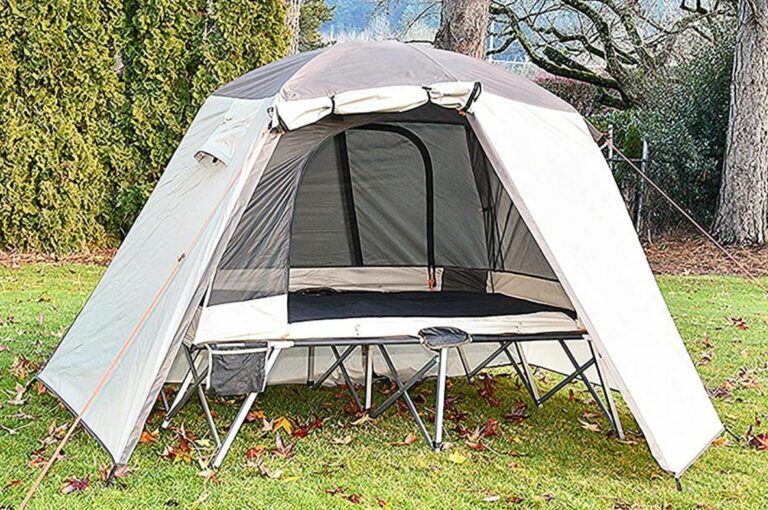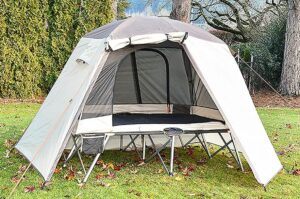 Product Name: Timber Ridge 2 Person Quick Setup Full Fly Cot Tent
Product Description: This Timber Ridge 2 Person Quick Setup Full Fly Cot Tent is a folding and collapsible structure with 2 doors, a full-coverage fly with vents, and much more
Brand: Timber Ridge
SKU: B087CJT4WY
MPN: WF-7447
Weight -

6.5/10

Bed size -

8.5/10

Capacity -

7.5/10

Packed size -

7/10

Ease of use & features -

9/10
Summary
This tent cot is heavy and bit bulky but the overall rating is still Good.
Pros
Full coverage fly.
Storage elements.
Vents.
Carry bag.
---
Specifications
Weight: 45.42 lb (20.6 kg).
Capacity: 600 lb (272 kg).
Bed size: 81.6 x 50.4 in (207 x 128 cm).
Tent total height: 47 in (119 cm).
Packed size (L x D): 44.1 x 12.2 in (112 x 31 cm).
---
Final thoughts
In summary, this Timber Ridge 2 Person Quick Setup Full Fly Cot Tent is really nicely built and functional with its two doors and two vestibules, with storage features and vents.
This is an outdoor sleeping set for two people, you can set it anywhere, and the price is reasonable. Fully recommended.
Best places to buy:
Walmart
For more 2-person options please check under the category Double Tent Cots. In particular, you might want to compare it with the Naturehike Cot Tent for 2 People.
Bookmark this site and visit again, you will always find fresh information here because we add texts about outdoor equipment on a regular basis. Thank you for reading and have a nice day.