---
This ARROWHEAD OUTDOOR Heavy-Duty Portable Folding Table is collapsible, very light, backpack-portable, and with a great price tag. Read more below.
---
Key features & benefits
Collapsible table.
Soft tabletop.
Fabric shelf.
4 Cup holders.
Very easy to use.
Carry bag.
Great price.
---
What type is this table
Here you have a table that has only two pieces, a tabletop and the legs/frame. You can see them below together with its useful carry bag.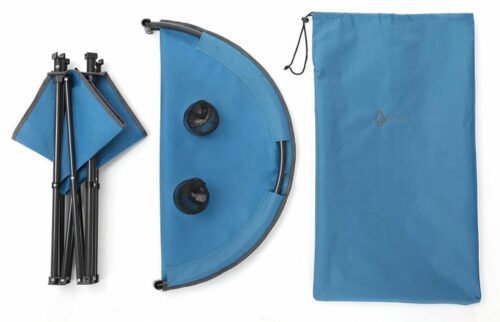 This is a unique construction because of its tabletop which is a fabric with four integrated cup/bottle holders and a solid ring that goes around its perimeter.
As the picture below shows, this ring folds in half together with the tabletop fabric, and this determines the size of its carry bag which measures around 29 x 14.5 x 2 inches (74 x 37 x 5 cm). So this is a relatively small packed size and it is also very thin.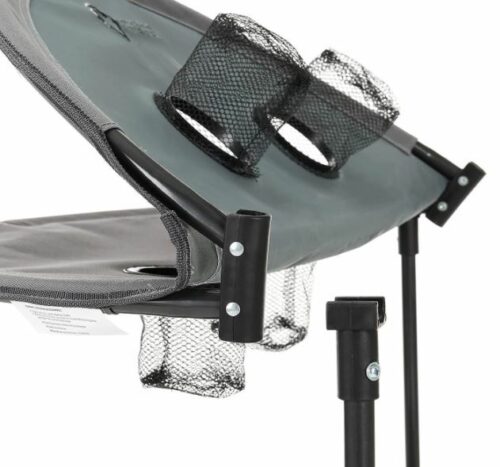 On the other hand, the frame and legs fold towards the center together with the fabric shelf, this is shown in the picture below. When you need the table, you expand the frame, unfold the tabletop and attach it to the clips which you see on the top of the frame. This is done in 10 seconds.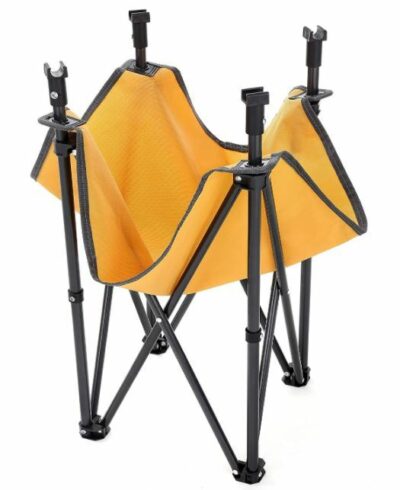 The materials
All the metal parts are steel, and you have quite a number of those X-shaped support bars that give the table its stability. When you attach the tabletop, the whole structure becomes completely rigid and very strong.
The tabletop is soft but it is not flimsy, nevertheless you have those cup holders so use them for cups instead of placing them directly on the top.
As you realize from the pictures, the fabric looks great and they offer four different colors.
The feet are wide and the table will not sink easily no matter where you use it. You can also use it without problems in a large floored family camping tent.
---
Who is it for
Regarding the weight, this table can be described as very light with its 4.1 lb (1.86 kg). The packed size you have already seen so it is a bit long when packed but you can still attach it to pack and carry short distances. But for the trail, you can check one of these ultralight backpacking tables.
So I see it as a camping item and this is why it is included in my list of collapsible camping tables.
Regarding the dimensions, this is a circle with a diameter of 28.75 inches (73 cm). So this is quite a large area. It is a bit low, the tabletop is 24 inches (61 cm) above the ground, and this makes it better as a side table than as a dining table, but it can serve both purposes. It is ideal for two people, but even three would have enough place.
Note also that you have a huge shelf underneath the tabletop, see the picture, so this is a very useful space to keep things off the ground, it adds a lot to the overall functionality of this table. This makes it more functional than its smaller cousin with a similar name the ARROWHEAD OUTDOOR Heavy-Duty Portable Camping Folding Table.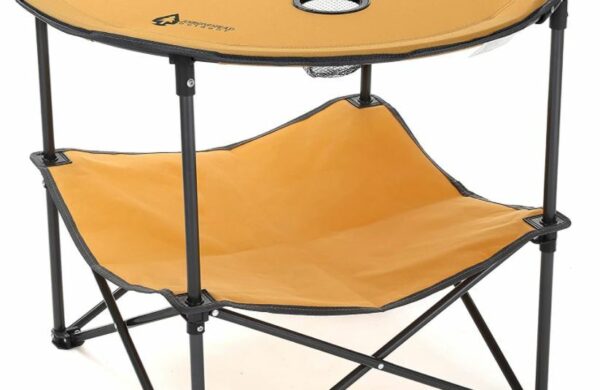 Regarding the price, I would say this is a bargain, as simple as this.

---
Specifications
Weight: 4.1 lb (1.86 kg)
Dimensions (D x H): 28.75 x 24 in (73 x 61 cm).
Packed size: 29 x 14.5 x 2 in (74 x 37 x 5 cm).
Frame: steel.
---
Rating, pros & cons
In the table below you have summarized my rating and pros and cons. The table scores great in all the rating criteria, with all the good reasons.
Great design, very light & very affordable table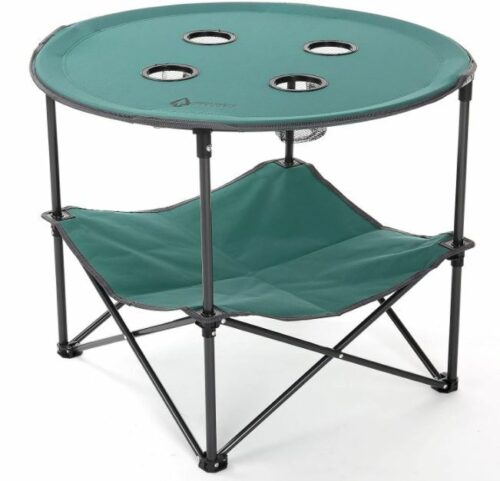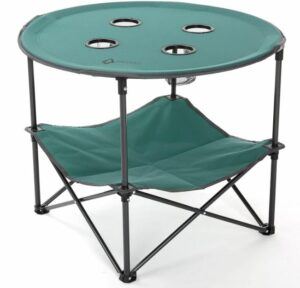 Product Name: ARROWHEAD OUTDOOR Heavy-Duty Portable Folding Table
Product Description: This ARROWHEAD OUTDOOR Heavy-Duty Portable Folding Table is Collapsible, Very Light, Backpack-Portable, and with a Great Price Tag.
Brand: ARROWHEAD OUTDOOR
SKU: B086B34M7Q
Weight -

9.3/10

Dimensions -

8.4/10

Packed size -

8/10

Craftsmanship & features -

9.7/10
Summary
This table scores great in all separate criteria so the overall rating is Excellent.
Pros
It looks cool.
Very light.
Easy to use.
Good packed size.
Great price.
Carry bag.
---
Final thoughts
So you have seen it, this ARROWHEAD OUTDOOR Heavy-Duty Portable Folding Table looks really cool and I find all its all 4 colors great. It is extremely easy to use, with a sizeable tabletop and its huge storage shelf.
This is a versatile table, suitable for camping, picnics, sporting events, indoor use, and you name it.

Note that there are many more options in the category Camping tables here in the site, so have a look if you need something different. In particular, check this unique Nemo Moonlander Dual Height Table.
Bookmark this site and visit again. We add texts here regularly so this will keep you informed. Thank you for reading and have a nice day.