---
Purenity Folding Military Bed Portable Sport Camping Cot is a collapsible lightweight tool for camping at places with a car access or to use at home as an extra bed.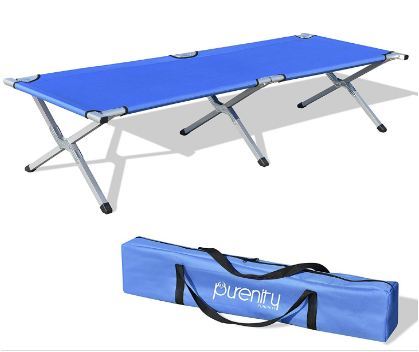 Key features & benefits
Incredible price.
Stable construction.
Storage bag included.
Versatile.
Lightweight.

What type is it
The Purenity Folding Military Bed is in the category of collapsible camping cots. This you can realize from its packed size which is really great, 37 x 8 x 4 inches (94 x 20 x 10 cm). So the cot does not take much space at home in the closet or in your car trunk.
They use the word 'folding' in the name, which is not so appropriate, this is a collapsible type. Folding cots are different they fold like a book preserving two large dimensions, see them here.
The word 'military' in its name indicates the style, so this is a cot with a simplistic design, and with end-bars which is both good and bad.
Good is that they give the strength, and these are among the strongest cots, you can see them on my long list of cots for heavy people. Bad is that the end-bars effectively make it shorter, you have to fit yourself between them to avoid pressure points on your legs or on your head.
Who is it for
The mentioned packed size and the weight of 12 lb (5.44 kg) determine its best use. So if used outdoor, this cot needs a car to be transported to your camping place. Once you are outdoor, you can use it practically for any activity, to mention just a few:
Camping at regular camping places.
Hunting.
Fishing.
Trailhead hotels.
Summer camps.
Open-air music festivals.
Beaches.
The cot comes with a nice carry bag, so this is useful to move it around in your camp. At home, this is useful too, to store it in a safe place and keep clean from dust, and use it as a nice spare bed for sudden guests and sleepovers.
Description
I already mentioned its military-style design, so you have a very durable water-resistant bed deck which is tensioned by the two side bars and two end-bars which all create the bed frame. So this tells you how much space you have.
The bars are aluminum and the legs are X-shaped steel, see the picture above. This is a stable structure with 6 legs and they are all with plastic caps for floor protection.
I love the colors of this bed and its included carry bag which is with a zipper and straps so that you can carry it attached to your shoulder.
Using it in a tent
The Purenity Camping Cot is not particularly long but it is a bit high, 18 inches (46 cm). So it may be difficult to fit it in a typical solo tent. But if you manage then this is a bonus, not only because of the extra comfort but also for the extra storage space under the bed. This you do not have when you sleep on the ground.
An ideal situation is to use it in a 2-person tent solo. In such a case you have plenty of space for you, your gear, plus eventually for your dog. Here are a few tents I would warmly recommend for solo use:
For two people, I would suggest these:
The legs are with plastic caps, but I would pay attention to the tent floor in particular if you place it on a soft ground. You might need to add some extra layer under the feet.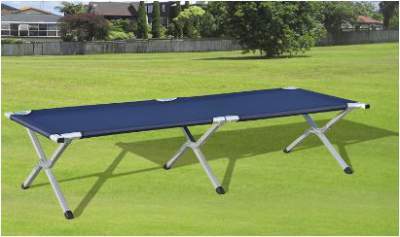 How about pads and insulation
In the summertime, in principle, you do not need anything, but you can add a pad for extra comfort.
In cold weather conditions, in the wintertime or if you sleep on some high elevation mountain passes like Stelvio or Gavia in the Alps, you will need insulation. But note that you are off the ground, therefore you need far less insulation as compared to the case when you are on the ground. Many great pads are available here, so please have a look.
My rating, pros & cons
The bed is not particularly big, and the end-bars reduce the usable space even further. So if you are a big person, better check something else here.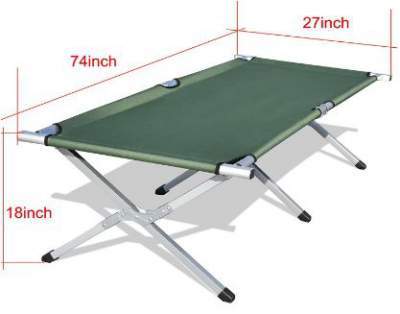 People have reported problems in adding the final end-bar when the bed is new, because of a lot of tension in the fabric. You might need a screwdriver to push the bar a bit. This is so only in the beginning, after some use the bed deck stretches a bit and adding the bars becomes easy.
The price is exceptional, in fact hard to believe, you can see it in the link below, it is updated daily.
There are hundreds of ratings by customers on Amazon, with plenty of information about this cot. See how I rate it:
My rating of the Purenity Folding Military Bed
Weight -

8.4/10

Size -

8.3/10

Capacity -

7/10

Packed size -

8.4/10

Ease of use & features -

9/10
Summary
My overall rating of this cot is Excellent:
Pros
• Extraordinary price.
• Carry bag.
• Stable construction.
• Versatile tool.
• Portable tool.
Cons
• Not for tall people.
• Setup may be hard.
Specifications
Weight: 12 lb (5.44 kg).
Capacity: 250 lb (113 kg).
Dimensions: 74 x 27 x 18 in (188 x 68 x 46 cm).
Packed size: 37 x 8 x 4 in (94 x 20 x 10 cm).
Bed deck: heavy-duty water-resistant 600D Oxford canvas.
Frame:
– Steel X-shape legs.
– Aluminum bars.
Included: sturdy carrying bag with straps.
Colors: 3.
Summary
In conclusion of this Purenity Folding Military Bed Portable Sport Camping Cot review to stress again, first, its really great price, and second, its size. I like it and its colors, it may be a great option for women and for shorter men, but if you are tall, better try something else.
If you need much more space, note that there are extra wide cots available on the market, I have prepared a list of them, have a look. But if you need something to carry in the backpack, you might want to see this text.

Thank you for reading and please use the comment box below if you have any questions or comments. Have a nice day.