---
Uquip Kids Camping Chair Kirby is a folding steel chair, easy to use, lightweight, with solid padded armrests, and very affordable.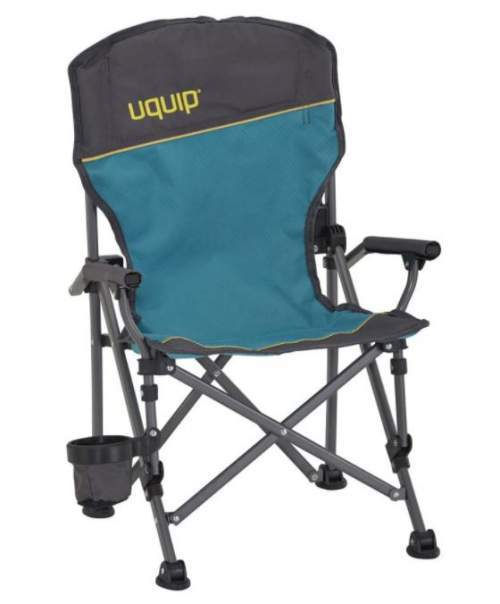 ---
Key features & benefits
Folding chair.
Lightweight.
Easy to use.
Large feet.
Solid armrests.
---
What this is about
Here you have a folding chair built for kids in the style and shape of their camping chairs for adults. The picture below shows that this is almost an exact smaller replica of a bigger chair from this brand: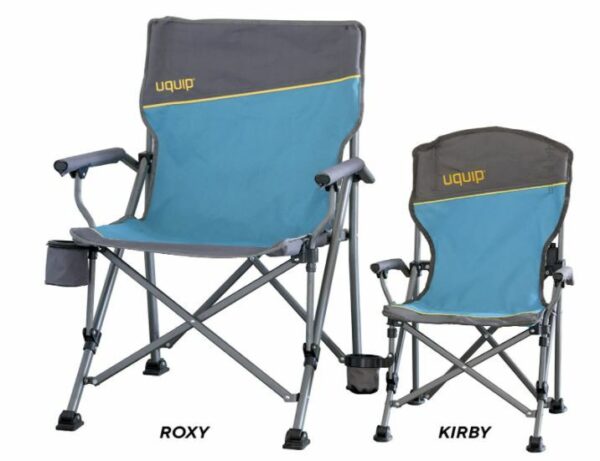 So this is a chair without assembly, you open it and close it in seconds. All the elements are pre-attached to each other and there is nothing for you to fix.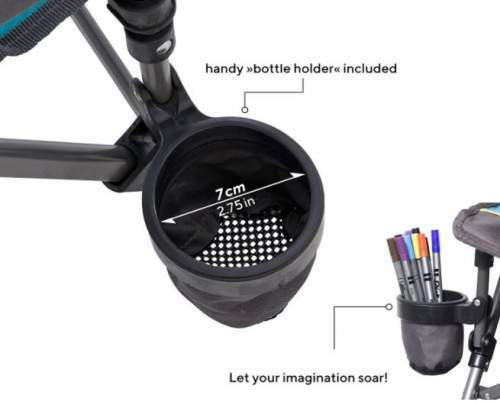 The chair comes with a side holder shown above, that can be used for a bottle or for anything else as the picture shows. I find it positioned a bit low. The armrests are solid but with some padding, so the kid will not be in contact with metal.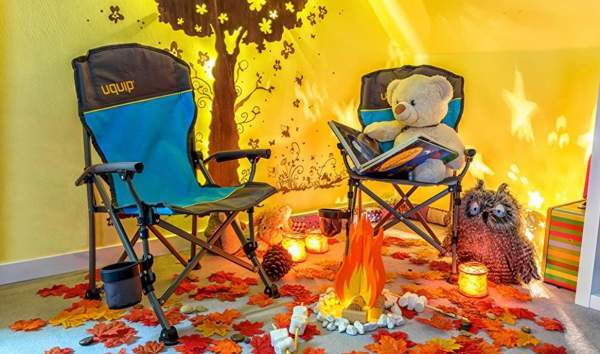 Materials
The frame is a powder-coated steel with supporting bars, all this looks stable and sturdy. They have added a lock button on the back, this is a feature that manufacturers usually include in chairs for kids.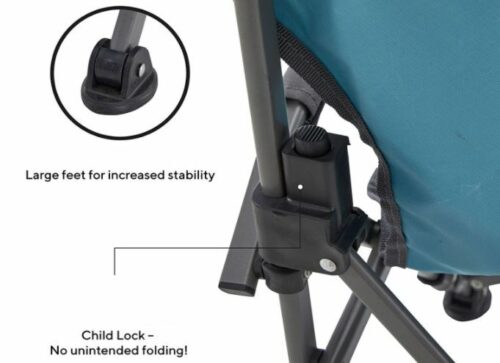 The fabric is a 600D ripstop polyester, so this is more than strong enough for a kid. The feet are extra wide so the chair will not easily sink in soft ground, and you can use it even in a floored family camping tent.
---
Who is it for
Regarding the weight, the chair weighs 4.4 lb (2 kg) so it can be described as a lightweight and portable chair. It is heavier than this Coleman Kids Quad Chair but the latter has soft armrests so it is normal to be lighter.
Note also that the packed size is 26.06 x 6.93 x 6.3 inches (66 x 18 x 16 cm), so I find it a bit long in view of its overall size and purpose.
Regarding the capacity, the chair is officially for up to 132 lb (60 kg), this is more than enough for a kid, but I am surprised that it is not more in view of how strong the chair looks.
Regarding the size, it is best to see the dimensions shown in the picture below. The height of the armrests is incorrect, this is the seat height. So this is slightly higher than in the mentioned Coleman's chair, but it is one centimeter lower than this STRONGBACK Prodigy Kids Folding Heavy Duty Camping Chair with Lumbar Support. As you realize, the differences are negligible.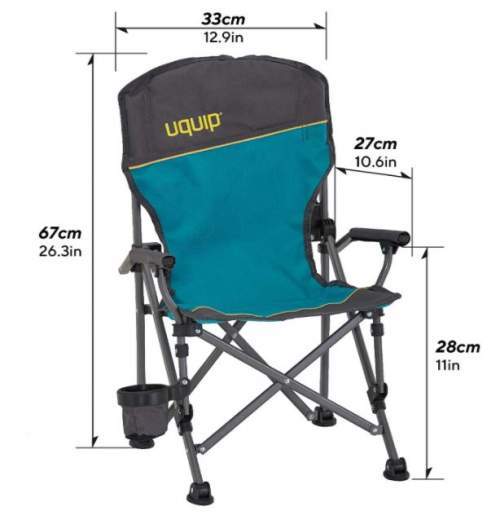 ---
Specification
Weight: 4.4 lb (2 kg).
Capacity: 132 lb (60 kg).
Seat height: 11 in (28 cm).
Backrest height: 26.3 in (67 cm).
Packed size: 26.06 x 6.93 x 6.3 in (66 x 18 x 16 cm).
---
Rating, pros & cons
Please see how I rate this chair and some of the pros and cons. The same criteria are used for all the chairs of this type so you can easily compare.
Reliable & built in the style of chairs for adults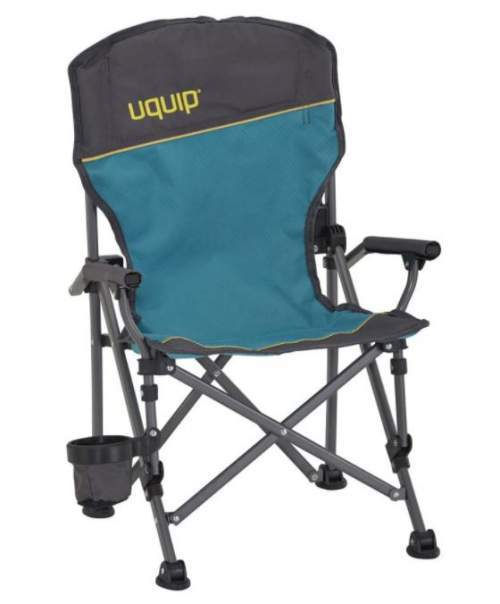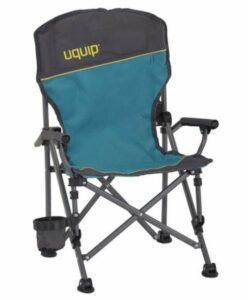 Product Name: Uquip Kids Camping Chair Kirby
Product Description: Uquip Kids Camping Chair Kirby Is a Folding Steel Chair, Easy to Use, Lightweight, With Solid Padded Armrests, and Very Affordable.
Brand: skanfriends
SKU: B01FK7CQOK
MPN: 244006
Weight -

7.3/10

Dimensions -

7.5/10

Packed size -

7/10

Capacity -

7.5/10

Comfort -

9.3/10

Craftsmanship -

9.4/10
Summary
The overall rating is high and this is well-deserved.
Pros
Easy to use.
Reliable.
Great feet design.
Great price.
Cons
A bit long when packed.
Heavy for a kid to carry it.
---
Final thoughts
To summarize this Uquip Kids Camping Chair Kirby review, this is a reliable and nicely built chair, completely in the style of chairs for adults. It can be used for any outdoor activity, at the beach, in the garden, and on the terrace. The price is more than fair, fully recommended.

If you need a chair for adults, just check under the group Camping Chairs here in the site, you will definitely find something appropriate for you. See also this Redmon Baby Umbrella Chair with Matching Shoulder Bag which is with an umbrella, and it is lighter.
As for kids, you might want to check also these camping cots for kids. Thank you for reading and have a nice day.