---
The REI Co-op Levitate Sleeping Platform is easy to use and unique with the removable bed top that has aluminum slats sewn in, and a folding steel frame.

---
Key features & benefits
Unique design.
Folding frame.
High bed.
Very long & wide.
Easy to use.
Great carry bag.
---
What is in the name
So they have chosen an appropriate word in the name of this product, it is indeed a platform. It has features of a camping cot, but it is without the usual bed fabric. It has something unique.
The structure is folding and collapsible, and it has essentially two elements:
The folding frame.
The sleeping platform that has two parts.
This all folds nicely and packs in its included carry bag shown in the picture below. It measures 41 x 12 x 6 inches (104 x 30 x 15 cm), and as you realize, it is equipped with nice carry straps and a shoulder strap.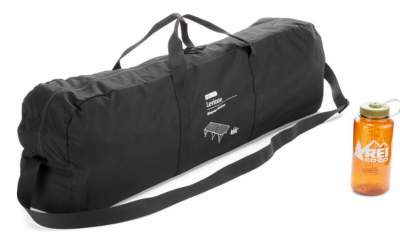 Now, you do not really levitate when you are on this bed, as the name suggests, but this is indeed a very high platform. The clearance is 18 inches (46 cm). Obviously, you can store lots of your camping stuff underneath the cot and have the rest of the tent free.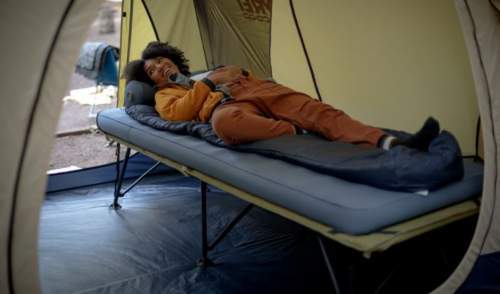 The materials & construction
The frame is steel. It has X-crossed support bars, and 6 feet. The feet are particularly large and pivoting, so they will adjust to an uneven ground. I am pretty sure that you can use it even in a floored family camping tent. The overall structure is very sturdy and stable.
The sleeping platform has two parts that connect with Velcro tabs. Note that this is a semi-rigid structure, you have aluminum slats covered with a water-repellent, abrasion-resistant recycled polyester. They claim it is bluesign approved.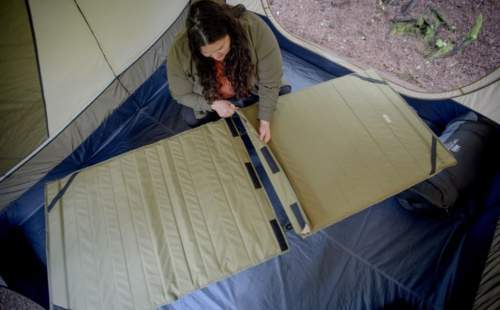 So the two pieces of the platform fold and expand like an accordion. When you unfold the frame, you put the platform pieces on it, and engage the Velcro connection that keeps them together, see the picture above. So this is a very simple assembly, all done in seconds.
There are straps at 4 corners (visible in the picture below) that are supposed to hold your sleeping pad if you use it.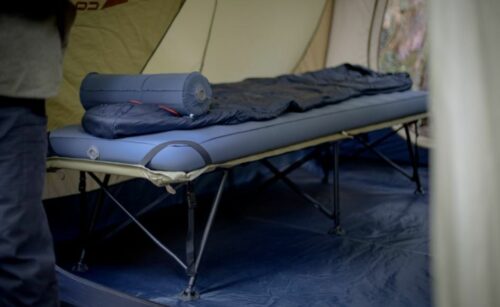 They write that this bed has been field tested in Arizona and Washington by campers, and with a variety of sleeping pads.
Note that in principle you do not need a sleeping pad, except for extra comfort. But I have seen some people complaining that it was not comfortable with a relatively thin pad.
---
Who is this cot for
Regarding the capacity, the cot is officially for the weight of up to 300 lb (136 kg). So this is a very typical value, and the cot is suitable for most of potential users. If this is not enough please check my list of cots for heavy people.
Regarding the dimensions, the cot is quite impressive, the bed measures 82 x 31.5 inches (208 x 80 cm). There are no bars at the foot and head side, so you are safe from pressure spots. The whole length is a true useful length, this makes it very suitable for tall people. The width is also very good, you have enough space to sprawl.
Regarding the weight, this is not the best side of this bed, it weighs 32 lb (14.5 kg). You have seen its packed size, so this is camping bed for places with a car access.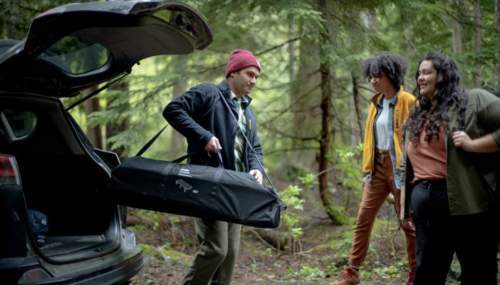 ---
Specifications
Weight: 32 lb (14.5 kg).
Capacity: 300 lb (136 kg).
Dimensions: 82 x 31.5 in (208 x 80 cm).
Folded dimensions: 41 x 12 x 6 in (104 x 30 x 15 cm).
Height: 18 in (46 cm).
Frame: steel.
---
Rating, pros & cons
The table below summarizes my rating and some of pros and cons. Please rate it yourself, there is a rating bar below.
Unique design and a reliable camping bed


Product Name: REI Co-op Levitate Sleeping Platform
Product Description: The REI Co-op Levitate Sleeping Platform is Easy to Use and Unique with the Removable Bed Top that Has Aluminum Slats Sewn-in, and a Folding Steel Frame.
Brand: REI
SKU: 192990
Weight -

5/10

Size -

9.1/10

Capacity -

7.5/10

Packed size -

7.4/10

Ease of use & features -

9/10
Summary
The weight is not the best feature of this bed, but the overall rating is still Good.
Pros
Easy to use.
Unique design.
Great carry bag.
---
Final thoughts
So this REI Co-op Levitate Sleeping Platform is completely unique on the market. As of the moment of writing this text, I do not remember seeing anything similar.
The bed is large and it is also quite high, but it can fit in practically any car camping tent. I have included it in my list of best cots for car camping. But this is also a nice emergency bed for home use. Fully recommended.
Best place to buy:
For more options, please check under the category Camping Cots, you will find them many here in the site. See for example this Coleman Living Collection Cot which is a bit specific design.
Let me know if you have questions, there is a comment box below. Thank you for reading and have a nice day.