---
If you are in search of outdoor furniture, you might want to check this list of Kelty camp chairs, all easy to use, folding, reliable, and affordable.

Kelty is a brand that has been around for more than half a century, and they build various outdoor items, including camping chairs. Those presented here are the most popular of what they currently have on the market.
The list includes single chairs, double-wide chairs for two people, and also triple chairs that can accommodate three users.
---
My list of the best Kelty camping chairs
The chairs in the list are ordered by weight from lighter to heavier:
---
1. Kelty Essential Camping Chair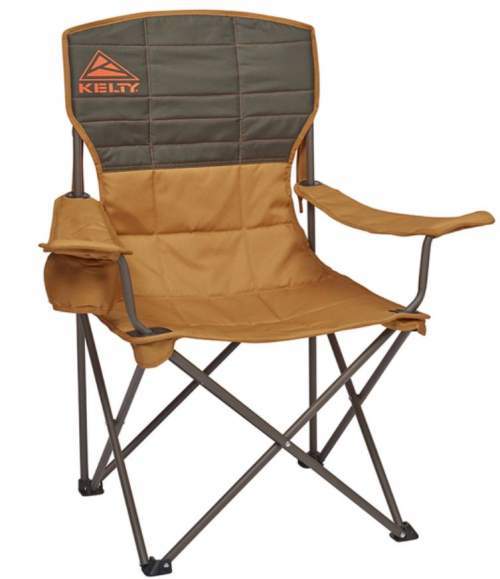 This is a folding and easy to use steel construction with soft and adjustable armrests. The chair is quilted all over the seat and the backrest. 
You have a bottle holder, and the chair comes with their unique roll-tote system for transportation.
The weight is 7 lb (3.18 kg) so it is moderately light, and its capacity is 300 lb (136 kg), this should be good enough for most of users. 

---
2. Kelty Lowdown Camp Chair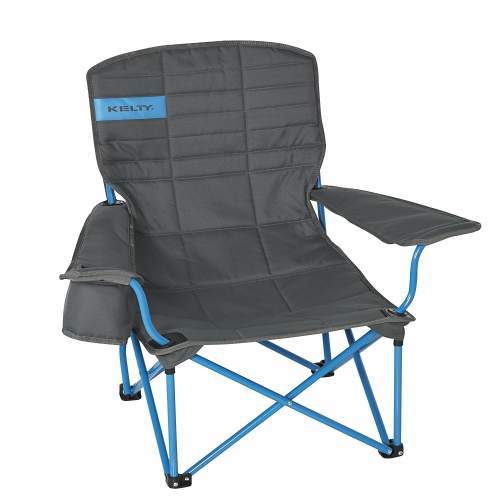 The name indicates what this chair is about. So you have a rather low seat, and it is padded. 
You cannot see it from the picture, but the chair is with adjustable armrests, and you have insulated & adjustable cupholders. The frame is a strong steel and the fabric is durable.
It comes with their roll-tote storage system, unique for this brand. The chair is moderately light, it weighs 7 lb 6 oz (3.4 kg), and the capacity is impressive 350 lb (158 kg).

---
3. Kelty Deluxe Reclining Lounge Chair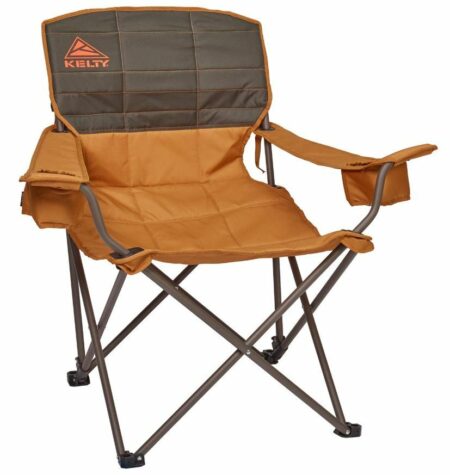 This is a folding chair and this should be obvious from the picture. But what you cannot see is the fact that this is also a reclining chair. It offers three different backrest positions.
The chair has been on the market for many years and the version shown here is its latest. 
The frame is typical for many chairs of this brand, so this is a sturdy steel. You have soft armrests that have 2 integrated insulated bottle holders.
Note also that the seat and backrest are quilted/padded. It comes with a multifunctional padded roll-tote for storage and transportation. The chair weighs 10.15 lb (4.6 kg). You will want to know it is very affordable.

---
4. Kelty Loveseat Chair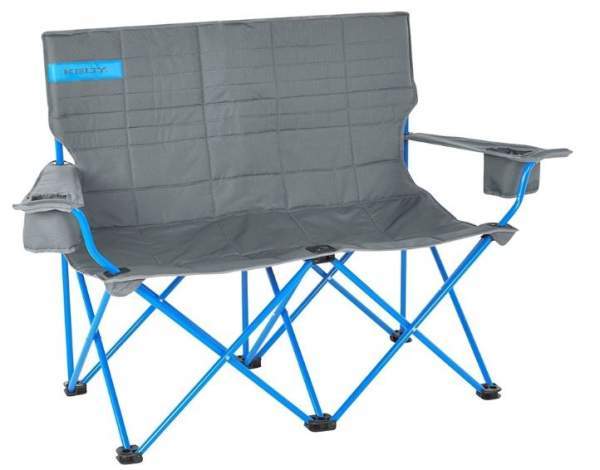 This is a double wide camping chair, which means you have two seats with a separation attachment points in between the seats under the fabric. The seat width is 44 inches (112 cm).
The seat is rather high, 19 inches (48 cm), so perhaps this is more suitable for taller people, and also for elderly users. Note that it is padded.
The structure weighs 16 lb (7.3 kg), and the total capacity is 400 lb (181 kg). It comes with their roll-tote carry system.

---
5. Kelty Lowdown Couch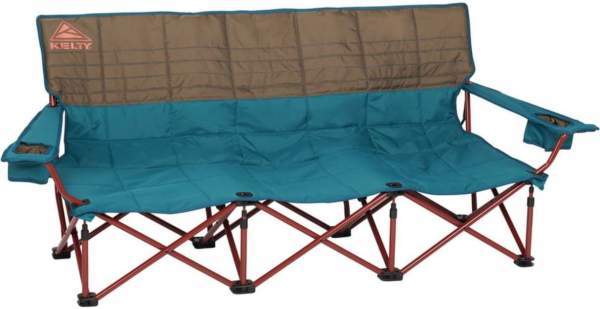 As you realize from the picture this is a triple-chair or a couch as they call it. It includes three seats, so it is not really designed to lay down on it although the width is impressive 163 cm.
The structure is folding, and it folds the same way as the single chairs shown above. It is just bulkier and this is the main difference.
You have a quilted seat and backrest, and it comes with their roll-tote carry system. The weight is 20 lb 15 oz (9.5 kg).

---
Final thoughts
So this was my selection of Kelty camp chairs, and I hope you are able to find something suitable. The list will be updated whenever I find a chair of this brand worth adding here. This is why you might want to bookmark this text and visit it occasionally, this will keep you informed.
But if you need more options, check under the category Camping Chairs here in the site. 
Let me know if you have questions, there is a comment box below. Have a nice day.