---
The Extremus Mission Mountain Camping Cot is a very light and compact, easy to use collapsible outdoor bed with a carry bag included.
---
Key features & benefits
Collapsible cot.
Very light.
Compact.
Easy to use.
Carry bag is included.
---
What this is about
This Extremus Mission Mountain Camping Cot belongs to the group of collapsible cots. This means it needs a simple assembly, but this is easily done without extra tools.
The picture below shows its all elements that include two side bars, three folding legs, and the bed deck fabric.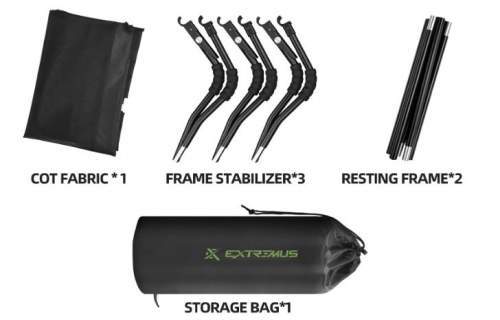 The good side of this design is that it packs small, the packed size when in its carry bag shown above is only 18.78 x 12.6 x 4.41 inches (48 x 32 x 11 cm).
Assembling is easy, you pass the two side poles through the sleeves on the sides and then add three legs one by one as the pictures show.

Note that each of the legs has its own locking lever that makes the cot very stable.
The materials
All metal elements are built from an aircraft-grade 7075-T6 aluminum, so this is a very light yet strong material. 
The fabric is a silver coated Oxford so it blocks out the moisture and cold by reducing the heat loss.
There are several colors available. From what I have seen, you can also order an extra bed fabric which is mostly mesh. This may be convenient to have in a warm climate. There are no many brands that offer such an option.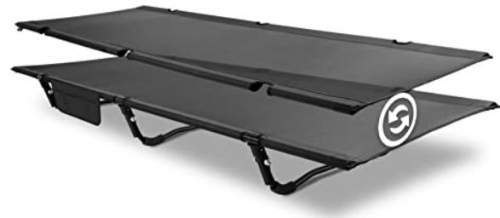 The bed comes with a storage set on the side, you can see it in the pictures. This is useful to keep your small items off the ground and close at hand.
---
Who is it for
Regarding the capacity, the cot officially supports up to 310 lb (140 kg). This is more than enough for most of potential users. But if you still need more, please check my list of cots for heavy people.
Regarding the dimensions, it is quite typical regarding the length, the width is good. The cot measure 75 x 27.5 inches (191 x 70 cm). 

Note that there are no end bars here, see the picture, so the whole length is a true useful length and there are no pressure spots at the two ends.
Regarding the weight, the cot is very light with its 4.4 lb (2 kg). But this is still not something to carry in the pack. You have already seen its packed size and you realize that you can easily transport it even on a bicycle.
Regarding the price, I think this is fair for what you have, though there are more affordable options on the market.

Using the cot in a tent
Note that the cot is quite low, the bed deck is 7.8 inches (19.8 cm) above the ground. This means it can fit in practically any tent.
This is still high enough to store some gear underneath the cot. I have included it in my list of very low camping cots.
The legs are bars and there are some covers at the places where they touch the ground. So this is a floor friendly design and you can use the cot in a floored tent without issues.
For warm weather camping you do not need a pad, except for additional comfort of course. You are off the ground in any case, so you always need less insulation in a cold environment as compared with sleeping on the ground.
---
Specifications
Weight: 4.4 lb (2 kg).
Capacity: 310 lb (140 kg).
Dimensions (L x W x H): 75 x 27.5 x 7.8 in (191 x 70 x 19.8 cm).
Folded dimensions: 18.78 x 12.6 x 4.41 in (48 x 32 x 11 cm).
Frame: aluminum.
---
Rating, pros & cons
Below you can see how this cot stands against my standard rating criteria. You can rate it from your side, there is a rating bar for this purpose.
Very light and compact reliable cot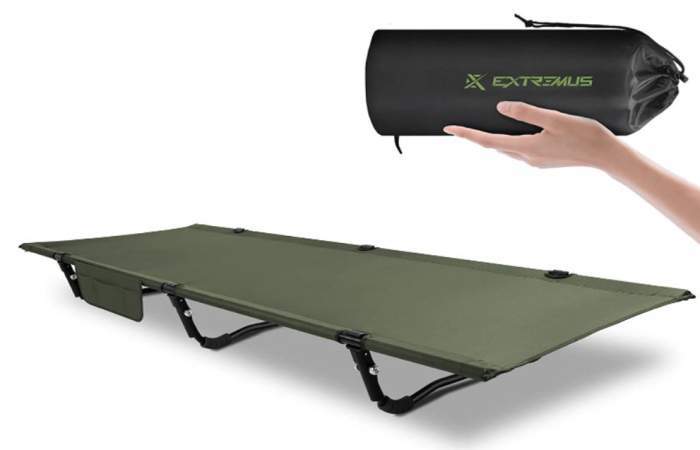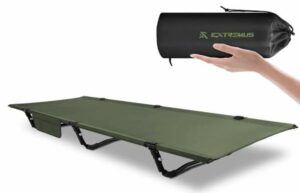 Product Name: Extremus Mission Mountain Camping Cot
Product Description: The Extremus Mission Mountain Camping Cot Is a Very Light and Compact, Easy to Use Collapsible Outdoor Bed with a Carry Bag Included.
Brand: Extremus
SKU: B09QSNZHYT
Weight -

9.6/10

Size -

8.5/10

Capacity -

7.5/10

Packed size -

8.8/10

Ease of use & features -

8/10
Summary
This cot scores great in almost all rating criteria so the overall rating is consequently Very Good.
Pros
Very light.
Compact.
Easy to use.
---
Final thoughts
So you have seen it, this Extremus Mission Mountain Camping Cot is an exceptionally light outdoor bed, and it packs small so you can transport it in a kayak, on a bicycle, etc.
The cot needs assembly, but this is easily done because of its lever locks that are on each of its three folding support legs/bars.
Best places to buy:
For more options, please check under the category Collapsible Cots, you will find them many here in the site, and in all sizes and shapes.
Bookmark this site and visit it when you find time, this will keep you informed, you have new texts added here on a regular basis. Let me know if you have questions, there is a comment box below. Thank you for reading and have a nice day.