---
Eureka! Quick Set Camping Cot is a very long and instant setup cot with a steel frame and a carry bag included.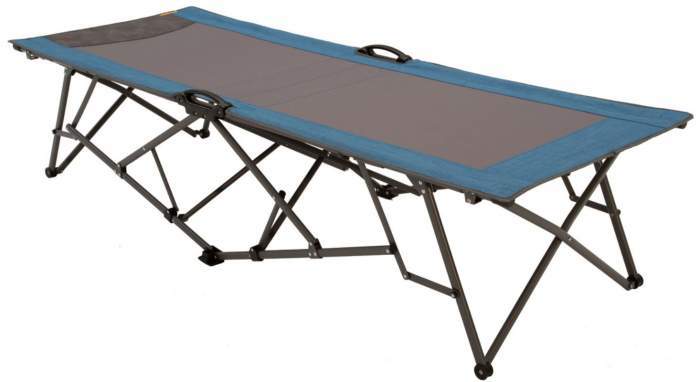 ---
Key features
Instant setup.
Very long cot.
Carry bag included.
Steel frame.
---
What type of a camping cot is this
This is a new cot on the market and this is a clever design so the cot can be deployed in seconds (in fact the manufacturer writes this is done in a second) and equally fast you can close it.
The picture below shows how to expand the cot to the sides, then by pressing to the ground the legs on the two ends get into the vertical position and the cot is instantly ready: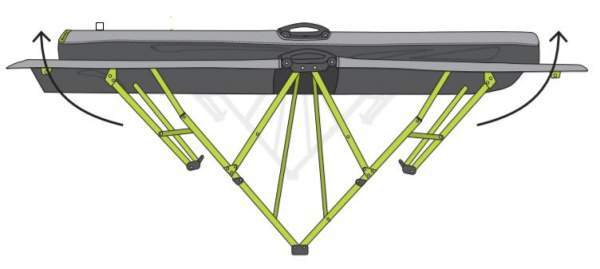 The next picture shows how to close it and pack. So you press the pedal shown in the zoomed picture and keeping the foot on it you pull the handle up. The cot folds instantly from all four directions towards the handles and the handles also fold to each other, and you can pack it into its carry bag.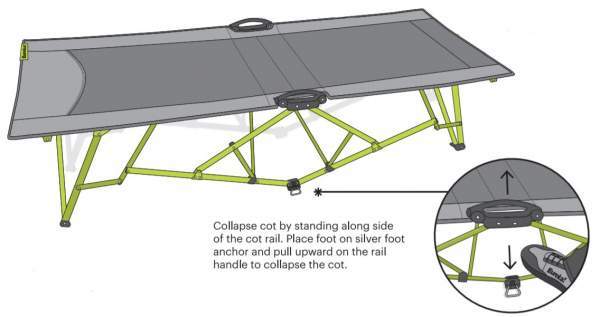 If you follow this industry you will know that this design is not new, you have it in this Kamp-Rite EZ cot and also in WolfTraders Deluxe cot. You will see below in the comparison table how these three cots compare. But if you follow these two links you will see videos for both cots, so the principle is the same as here and this will help you to understand better this Eureka cot.
So as you realize, this is a folding cot without a complicated assembly. Note also that it comes with a nice carry bag shown in the picture.

---
Who is it for
Size-wise, the width is standard but this is a very long cot, the bed size is 80 x 29 inches (203 x 74 cm). Note that you do not have end bars here so the whole length is a useful length. There are no bars anywhere close under the deck so no worry about pressure spots.
So if you are a tall person, this is a cot to consider. But if this length is not enough, check my list with extra long cots, all above 210 cm.
Capacity-wise, this tent is typical with its capacity of 300 lb (136 kg). So if you need something much stronger, check my list with cots for heavy people.
Weight-wise, with its 23 lb (10.4 kg) this is a heavy cot, but you will see below that it is lighter than its closest competitors. The packed size is such that you need a car for transportation.
---
Materials & construction
From the pictures above you realize that this is a one-piece design. The structure is built from a durable powder-coated steel, and the deck is heavy-duty 600D by 300D polyester fabric, and the headrest is a faux leather.
The feet are some sort of plastic, floor-friendly for sure. But if you use the cot in a floored tent and on a soft ground, it is best to add something underneath those feet on the two ends to avoid damaging the floor. The feet in the middle are large and good enough for any surface.
Eureka is a brand famous for its family camping tents, just to know because this cot is suitable for many of their cabin tent. This is a brand with a long history, they started in 1895.
The picture below shows the cot in a tent, note that it is 18 inches (46 cm) tall, so you need an appropriate tent. The space underneath the cot can be used to store lots of gear.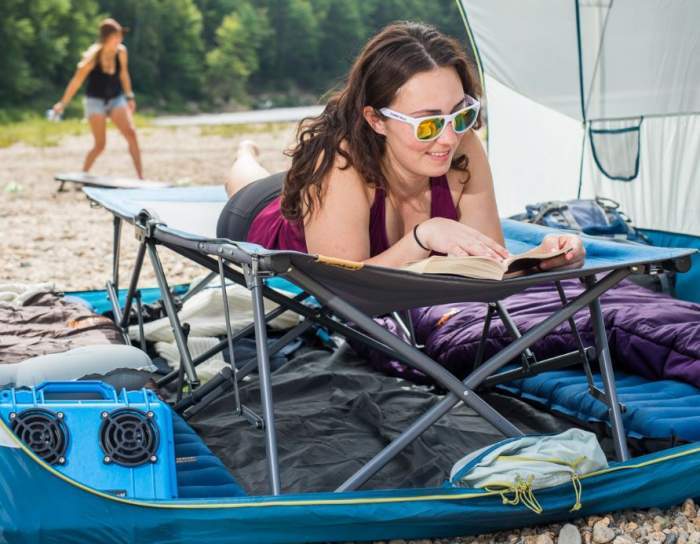 ---
My rating, pros & cons, price
This cot is currently on the market at the price shown in the link below, this is Amazon's price and it is updated daily. So it is a bit more expensive than its competitors, but this is a quality item and from a reliable brand. Please see how I rate it:
My rating of the Eureka! Quick Set Camping Cot:
Weight -

6.5/10

Size -

8.8/10

Capacity -

7.5/10

Packed size -

8.4/10

Ease of use & features -

9.7/10
Summary
My final overall rating for this great cot is Very Good:
Pros
High-level craftsmanship.
Carry bag.
Very easy to use.
Very stable and sturdy
Cons
Long when packed.
Expensive.
---
Specifications
Weight: 23 lb (10.4 kg).
Capacity: 300 lb (136 kg).
Dimensions (L x W x H): 80 x 29 x 18 in (203 x 74 x 46 cm).
Packed size: 38 x 8 x 7.5 in (97 x 20 x 19 cm).
---
Eureka Quick Set Camping Cot vs Competitors
I already mentioned the cots that are built in the same style, so here they are side by side with this Eureka Cot. As you see the number is are very similar, but it is a bit lighter and bigger than the other two cots:
38 x 8 x 7.5
(97 x 20 x 19)

---
Final thoughts
So this Eureka Quick Set Camping Cot is a very easy to use cot with instant setup. There is not much one could object to its design and craftsmanship. The size is great and this is a renown brand so if you can afford it you will have a great camping cot. I have included it in my list of best cots for car camping.
Note that they have yet another new item on the market under the name Eureka! Camping Cot, have a look.
This is not a sponsored text and I am not paid by the brand. Please use the comment box below in the case of questions or comments. Have a nice day.
---