---
So what is Rothco free-standing mosquito net tent cot system? In short, this is a great camping structure to use against mosquitoes, and it includes the net tent and the cot from the same brand. So this is a 2-component 3-in-1 system, where the two components can be used separately or together.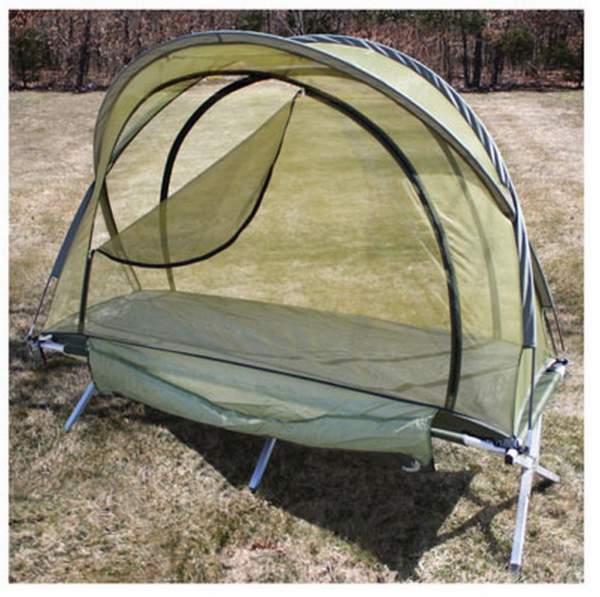 ---
Rothco Net Tent

Rothco free-standing mosquito net tent is made of a fine polyester mesh net, which makes the upper body of the tent, and a polyester bottom. This is a really versatile tool because of the following:
It is designed to fit standard camp cots. So you can use it to sleep comfortably off-the-ground, and safe from mosquitoes and other pests. You can use it at home as well, for pleasant sleeping on patios or in the garden, or just for sunbathing protected from mosquitoes and flies.

It can also be used independently on the ground as a free-standing tool, together with a sleeping bag. So you need no additional elements to anchor it to the ground. Used this way, this is a truly great tool for hikers and backpackers who like to go ultra-lightweight and sleep outdoor in the areas where rain is not an issue.
From the picture above you can see what makes the tent freestanding. You have sleeves where you slide the poles. Then you secure them into the corners of the tent bottom. So this is a self-supporting structure.
When packed, it folds into a tube of roughly 16 x 6 inches (41 x 15 cm), so it is very suitable for transport and to carry attached to the backpack.
The link below gives the daily updated price, so you see this is a very affordable product, and it is also an Amazon Prime item so you can have it shipped for free.
The tent has received many reviews and those by Amazon customers are quite mixed, all is available in the link above.
---
Specifications
Material: 100% polyester mesh.
Color: olive drab.
Package includes:
– Fiberglass poles.
– Tent.
– Carry bag.
Packed size: 16 x 6 in (41 x 15 cm).
Spread size: see the cot dimensions below, roughly the same.
Shipping weight: 3.4 lb (1.54 kg).
---
Rothco Company

Rothco is a company established in 1953. Nowadays this company is a top manufacturer of outdoor and survival products. They provide military clothing, tactical gear, footwear, paracord products, packs, and many other items.
Today they serve over 10000 dealers throughout the world. Rothco's product are built from the best materials, durable and designed to last for years.
---
Conclusion
So to summarize this text, I hope now you have a clear idea about what Rothco free-standing mosquito net tent is. This is a nice and versatile tool, in particular suitable for scouts.
I stress again its 3-in-1 feature. So you can use it as a camping tool in places with car access, and then take the tent alone with you and use as a hiking tool for overnight sleeping elsewhere, protected from mosquitoes, ants, and snakes. Really great, isn't it?
At the moment of writing this text, the combined price for booth tools is around $120, which is really reasonable for what you get here.
But if you are very tall and heavy, you might like to search for some bigger cot and tent.
There are many tent cots described in this site, single and double, and oversize models, so have a look. You will notice that the majority have a rainfly, which is only a bonus of course. You do not have to use it if you do not need it. But you still have a proper mosquito tent, and an off-the-ground comfort.

Thank you for reading. It will be great to hear from you, there is a comment box below. Have a nice day.
---