---
This Jet Tent Bunker Cot review is about a complete outdoor sleeping instant setup system with a cot, a tent, and an integrated sleeping pad.
Addition 2019: It appears that this tent cot is not available under its name from the title. There is an identical item on Amazon under the name Oztent Bunker XL Cot, will exactly the same features. Note that Jet Tent is just a US-branch of the OzTent, so this is the same product. The links in the text redirect you to the new name.
---
Key features & benefits
This is an all-in-one & 3-in-1 system (cot, tent, pad).
Incredibly easy setup.
Fully freestanding.
3 entrance points.
Very sturdy and reliable construction.
Poly-canvas fabric makes the tent cool and pleasant.
Gusseted fly creates vestibules on three sides.

---
What type cot-tent is this
The Jet Tent Bunker Cot is a single all-in-one cot-tent, fully freestanding, and with an express setup in seconds. It is essentially a bivy tent permanently attached to a sturdy cot. As such, it provides an excellent platform for an off-ground sleeping.
The system is fully-collapsible and it packs down to a bundle which is 3'4" x 9" (102 x 23 cm).
This is a double-layer tent design of a particular type. So you have the inner tent pre-attached to the frame, and this is why this is an instant-setup system. The waterproof rain fly is the second layer which you add, it is a full-coverage type (see the picture below), just like in any 3-season tent, but you have the tent here raised on the platform. This is an excellent tent-cot structure.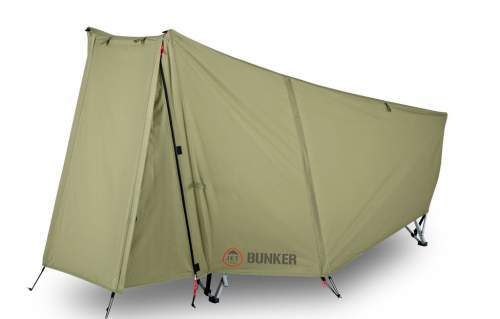 ---
Who is it for
The mentioned packed size and the weight, which is 37 lb (16.8 kg), tell you that this is a portable system but you need a car for transportation.
Sizewise, the cot is suitable even for very tall people. Indeed you have 6'6″ x 2'7″ (198 x 79 cm) of the bed size here.
This system is ideal for solo travelers on a cross-country tour, for hunters, for ordinary camping, for hikers and mountaineers staying the night on some high mountain passes close to the road, and for any place and activity where you would not carry it long distances.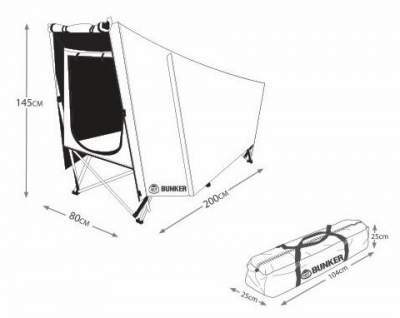 How many seasons & wind testing
Season-wise, I would say this is a 3-season-plus tool. It is fully waterproof, very stable and it is able to withstand lots of wind pressure, in particular, if you stake it down firmly and orient properly with respect to the wind direction. The tent is tested to the winds of 100 km/s (62 mph).
There is no central roof pole here, and the fly alone would not be able to withstand snow pressure. So I wouldn't use it in snow conditions. This tool is designed and built in Australia, and they probably didn't have snow in mind.
---
What is in the package
You have the following included in this system:
Tent + cot, they are permanently attached to each other.
The fly.
2 attached guyropes.
Guyropes: 4.
Stakes/pegs: 6.
Manual.
Carry bag.
---
Materials & construction
Everything here is built from strong and sturdy materials. So the frame is a heavy-duty steel, and it is with a cross leg stretcher design. The main head poles are telescopic, and you simply extend them to the desired length until you hear a click when the pole is locked in place.
The fly fabric is waterproof ripstop poly-cotton, a nice combination of cotton and polyester. Such materials are far better than synthetic alone because they create a cooler atmosphere in the tent during the day, and they are with some breathability as well. The walls are coated cotton. About tent materials in general please see more here.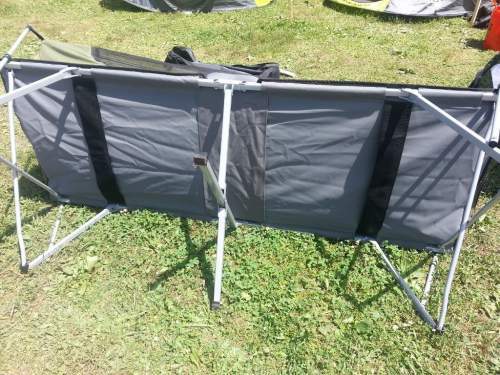 The bed deck is 600D x 600D PVC coated polyester and it is fully padded. So you do not need an extra pad, except if you want more comfort or you camp in a cool environment. In such a case, consider adding some insulated sleeping pad, you can see some great pads here.
You have no-see-um mesh windows panels on all sides for ventilation and for protection from insects. Once inside, you are fully enclosed and protected.
The tent is with three entry points (what a luxury for a solo use), so you can use one as a door and others to get to your gear which you store under the remaining two vestibules.
Vestibules
Note that the fly clips directly to the frame, so the structure is fully freestanding. But you can still stake it to the ground for extra security and to create vestibules.
So you have 3 vestibules created in this way, the fly is with a gusseted design so you get quite some space outside under these vestibules to store all your gear. This is a nice design indeed.
Storage pockets
Apart from the storage space under the vestibules, you still have storage elements inside the tent. There are dual pockets on both sides in the head area. So you have them 4 in total for all your small items to keep them close at hand.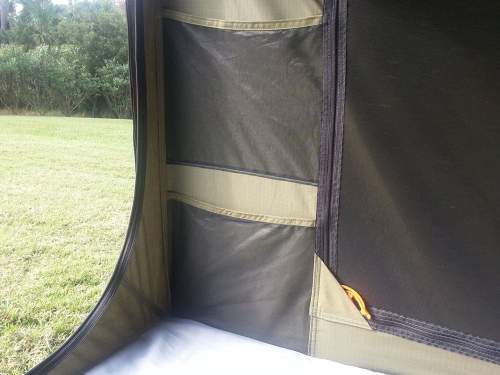 Ventilation
You should never have issues with ventilation in this tent-cot. Apart from the mesh on 3 sides and on the ceiling, you also have a vent in the foot area.
It is best to keep the vent staked all the time, there is a guy-rope attached to it. This is for two reasons, i) to keep the vent open, and, ii) to prevent the fly from sliding back. Namely, the fly is designed to fit the corner poles in the feet zone, but it tends to move back and this creates a depression on the top above the feet area, where the water might accumulate. When you use the guyline on the vent, it prevents this and it keeps the fly in place.
Note also that when you stake the vestibules down to the ground, there is an air flow from all sides because of the gap between the fly and the ground, which increases ventilation through the inner tent.
Carry bag
The system comes in a heavy-duty waterproof carry bag with 500D x 300D PVC fabric.
Waterproofness rating
You have tent walls made of a water-resistant 1000 mm PU coated cotton. As for the fly, they claim it is 100% waterproof poly-cotton, but I did not find any exact statement about its rating.
Setup
This is done in seconds, literally, I think it is best that you see this video:
---
My rating, pros & cons
There are no many things to object to this sleeping system. In the comparison table below you will see that it stands nicely against its competitors.
But this tent-cot is expensive, this is a good system, but there are other options available, all of them are presented here in the site. See how I rate this tent-cot:
My rating breakdown of the Jet Tent Bunker Cot
Weight -

4/10

Bed size -

8.9/10

Capacity -

8/10

Packed size -

8.2/10

Ease of use & features -

9.4/10
Summary
My overall rating of this tent-cot is Very Good:
Pros
Very sturdy.
Very comfortable.
The great fly material will keep you cool.
Express setup.
Good size.
Storage pockets.
Vestibules for gear.
---
Specifications
Weight: 37 lb (16.8 kg).
Capacity: 330 lb (150 kg).
Dimensions (L x W x H): 6'6″ x 2'7″ x 4'9″ (198 x 79 x 145 cm).
Packed size (L x D):  3'4" x 9" (102 x 23 cm).
Bed fabric: 600D fully padded polyester  PVC coated.
Frame: heavy-duty steel.
Heavy-duty cross-leg stretcher.
Warranty: 2 years.
---
Jet Tent Bunker Cot vs competitors
Here I give the Bunker Cot side by side with two other collapsible tent cots, so have a look, and for more please follow the links in the table:
43 x 10 x 9
(109 x 25 x 23)

---
Final thoughts
In the conclusion of this Jet Tent Bunker Cot review, I wish to stress again that this is a very comfortable and reliable sleeping system that provides a full protection in any environment in a 3-season use.
It comes at a price, but I am convinced it is worth the investment. All these materials are durable and built to last. Observe that this is not synthetic, the biggest part is cotton and its combination with polyester. Such materials perform far better in a warm environment than synthetic.

Thank you for reading. If this cot-tent is not for you, I have given a couple of options in the comparison table above, but there are far more options available here in the site, both single and double tent-cots. So just check in the Categories above. See for example this Ozark Trail One-Person Cot Tent.
Note that some of them are ultra-lightweight collapsible tent cots that can be used for hiking. See this UBOWAY Unique Tunnel Shape tent cot which is indeed unique on the market and backpack portable.
In the case of questions or comments, please use the comment box below. Have a nice day.

---