---
The iBed Hideaway Guest Bed is a folding cot with mattress suitable for home and outdoor use, a very wide and stable steel construction.
---

Key features & benefits
Very wide, 32 inches (81 cm).
Foam mattress included.
Bonus carry/stuff bag.
Leg Locks system for security.
---
Who is it for 
The iBed Hideaway Guest Bed is first of all what its name says, an excellent spare bed at home for sudden overnight guests, or when your children have sleepovers. It is very thin when folded, only 5.5 inches (14 cm), so it stores easily under an ordinary bed.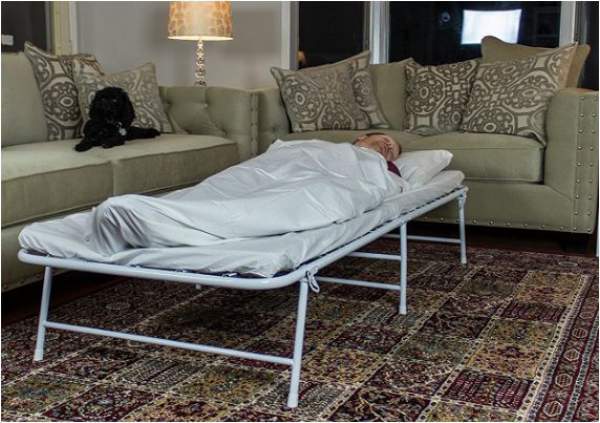 It stands up when folded and packed, and it has its own carry bag, zippered and with handless; when you store it, it will remain clean and dust-free. So when you need it, just pop it up in a minute.
Being so packable, it will not take much space in the office, to take a rest when you need it.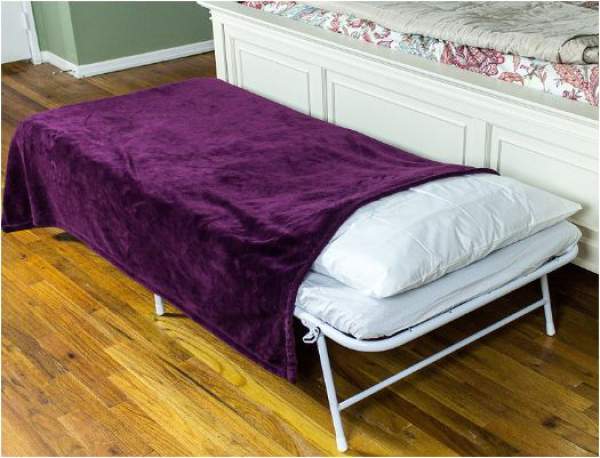 With the packed size 37 x 32 x 5.5 inches (94 x 81 x 14 cm) it will also fit in a car, so it can be transported and used:
at any camping place with a car access,
at trailhead hotels,
in summer camps,
at open-air music festivals and concerts or sports manifestation.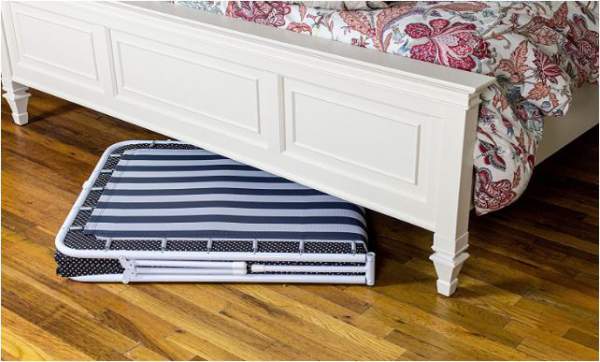 ---
Using  iBed Hideaway Cot in a tent
This cot can nicely fit in any 2-person tent when used solo or eventually with your dog. In larger tents you can use two of them. Its length and width in such an environment are not an issue, and note also that you have plenty of storage space under the cot.
This is what makes cots far more convenient than airbeds, or even sleeping pads when you use them on the ground. They simply take a lot of space, and airbeds also take a lot of time to inflate and deflate. On the other hand, such tools can get punctured and you might have to fix them. A cot of this type will last for many years, nothing to fix and to worry about.
But I would be careful with its legs; they are with plastic caps so this should be fine with the tent floor, but this may be dependent on the ground. If it is soft, I would put some extra protection under the legs.
How about insulation
You have the foam mattress and in 3-season use this is enough. But this is not a winter tool, so you would need some insulation.
In such cold conditions use a pad with R-value at least 2 or 3. One nice option is to use thin closed cell foam pads because they are warm, affordable and fit nicely under the existing foam mattress, so the structure will not be too bulky and shaky.
Note that you need far less insulation when you are sleeping off the ground, i.e., on the cot. This is because you effectively have air under you, and the air is known for around 50 times less conductivity than the ground (dependent on the type of ground of course). So you need far less insulation than when you sleep on the ground and you can save money; insulated pads can be expensive.
---
Description and setup
The iBed Hideaway Guest Bed is a steel construction with a flexible nylon mesh under the mattress, supported by steel springs all around. There are no bars under the deck, so you can be sure about this.
The 2 inches (5 cm) foam mattress does not move when you put it on the deck, and this is so even when used by children, so when you put it on the deck it stays there. Of course, the mattress is removable and the cot and mattress can be used separately and together.
You have included a carry bag with handles, see below, so you can move it around, but the cot is relatively heavy, 26 lb (11.8 kg).
The bed comes assembled, so you simply unfold it, you can see this in the video below.
Note that the legs have a lock mechanism, shown in the picture below, and when used the first time it may need a bit of pressure to get it into the lock position, but later it goes smooth.
See below how to use this cot:
---
Pros & cons, users' experience
Here is my list:
Pros

Cons

• No assembly needed.
• Included removable mattress.
• Easy setup.
• Foldable.
• Durable materials.
• Versatile.
• Stuff sack included.


• Expensive.


• A bit short.
• Classic legs, require some care when used in a tent.

The price at the moment of writing the text is steep, around $120, but this changes all the time, so please check the link.
The cot is really wide, but the length may be a problem for taller people and also the capacity. In this case, you might want to check for some other models without a mattress and with mattress.
I already mentioned about the legs design and potential issues when it is used in a tent. But the legs are indeed with plastic caps.
This cot has been on the market for several years already, obviously very popular and there is a huge amount of users' reports. Only on Amazon you have them more than 450, and the average rating for this cot is very high, 4.4/5. See how I rate this cot:
My rating breakdown of the iBed Hideaway Guest Bed
Weight -

6/10

Size -

8.8/10

Capacity -

7.5/10

Packed size -

4.4/10

Ease of use & features -

9.8/10

Price -

7.5/10
---
Specifications
Weight: 26 lb (11.8 kg).
Capacity: 275 lb (125 kg).
Dimensions: 74.5 x 32 x 13 in (189 x 81 x 33 cm).
Packed size: 37 x 32 x 5.5 (94 x 81 x 14 cm).
Mattress: Poly foam, 2 in (5 cm).
Cotton/Polyester mattress cover.
Zippered carry bag included.
---
iBed Hideaway Guest Bed vs competitors
I give the iBed Cot side by side with some other models presented in my long list elsewhere, all the same style, foldable and with mattresses, to see more please follow the links. See how they compare:
Size (L x W), inches (cm)

Packed size, inches (cm)

Weight
lb (kg)

iBed Hideaway Guest Bed

74.5 x 32




(189 x 81)

37 x 32 x 5.5 (94 x 81 x 14)

26 (11.8)

GigaTent
Folding Cot
79 x 29
(201 x 74)
40 x 29 x 5 (102 x 74 x 13)
18 (8.16)
Coleman
Ridgeline III Cot
74 x 26
(188 x 66)
36 x 26 x 5.5
(91 x 66 x 14)

16.5 (7.48)

Stansport Conifer Steel Cot

75 x 30 




(190 x 76)

37 x 31 x 4.5
(94 x 79 x 11)
18.6 (8.44)
Obviously, the iBed Cot is the widest of all given here, but it is relatively heavy. Regarding the prices, at the moment of writing this text they are, respectively, $120, 77, 73, 46, so this cot comes with a high price. Though the prices change all the time, so please check from your side, just follow the links.
---
Summary
To conclude this iBed Hideaway Guest Bed review, this is a very elegant folding bed, by style and design very suitable as an extra bed for home use. Perhaps it does not look like a typical camping cot, but it is definitely suitable for such a use as well. The price is steep but this is a quality tool, worth investment, large and comfortable, designed to last for many years. I can fully recommend it.
If you need something different, please check my text with a long list of cots with foam mattresses. But if you prefer something with air mattress, you will find them here.
Thank you for reading. Please let me know if you have any question or comment, there is a comment box below. I wish you a nice day.
---