---
This Kamp-Rite Kwik Pantry with Cook Table is very functional with a lot of storage space, easy to use, and with an aluminum tabletop.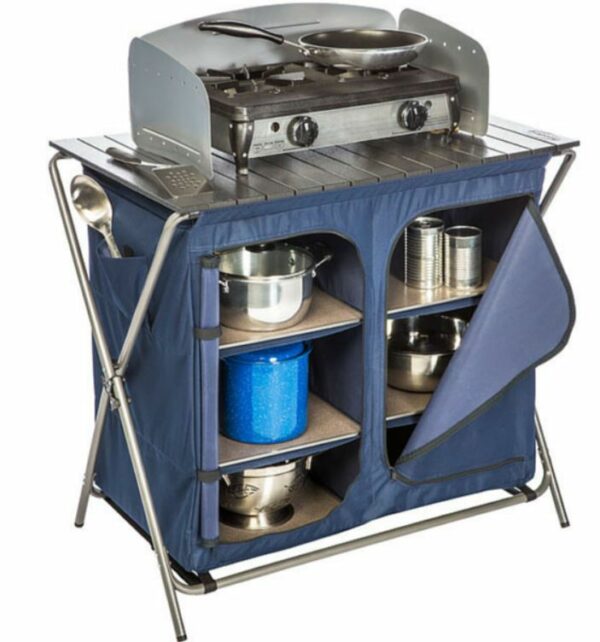 ---
Key features & benefits
Plenty of storage space.
Aluminum tabletop.
Collapsible design.
Carry bag included.
Windscreen.
Easy to use.
Reasonable price.
---
What this Kamp-Rite Kwik Pantry with Cook Table is about
Here you have a collapsible cooking center with plenty of features. This means that it needs a simple assembly, but this is easily done without tools, you will see this in the video below.
When not in use and for transportation it stores nicely in its carry bag that measures 38 x 23 x 5 inches (97 x 58 x 13 cm). So it is large in two dimensions but it is thin. You have straps and it can be carried short distances. See how it looks: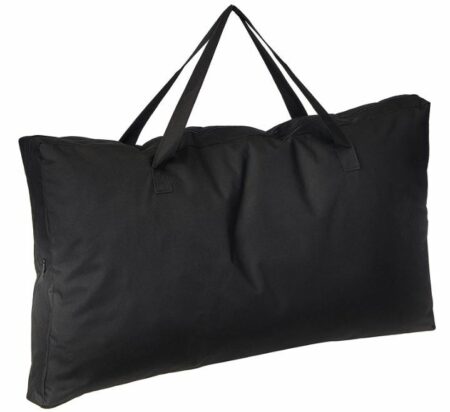 The tabletop is accordion-type aluminum construction, it is detachable and you store it separately. There are clips on the underside so attaching it to the frame is very easy. It is at around 33 inches (84 cm) above the ground so this is a great height for cooking.
Storage features: This is an important aspect of this table. It comes with 6 removable shelves that fit into the storage pantry underneath the tabletop. This storage remains attached to the frame. The fabric is waterproof, and the shelves are engineered fiberboard material.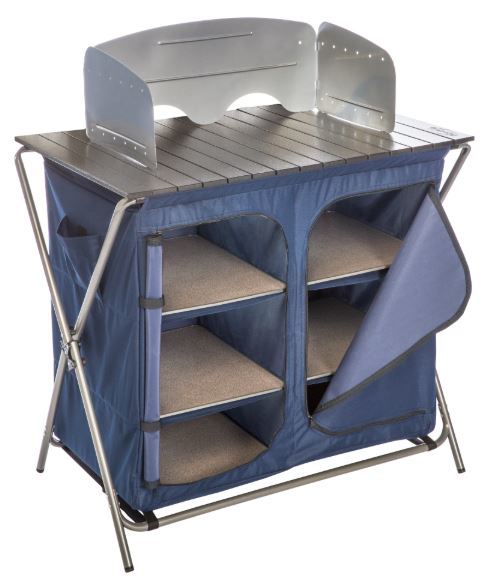 There are two zippered doors on the front, and you can roll them to the side. On the back there are two mesh windows for ventilation, they are shown in the picture below: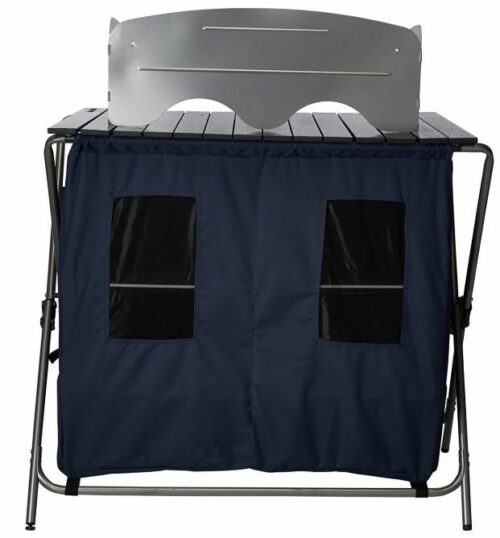 Because of these features I have added it to my list of best camping tables with storage elements.

Windscreen: This is a useful addition that saves fuel and makes cooking faster in the case of winds. Its length is 24 inches on the back and 13 inches on the sides. The top picture above shows that a stove fits nicely inside. Below, it is shown without anything on the tabletop.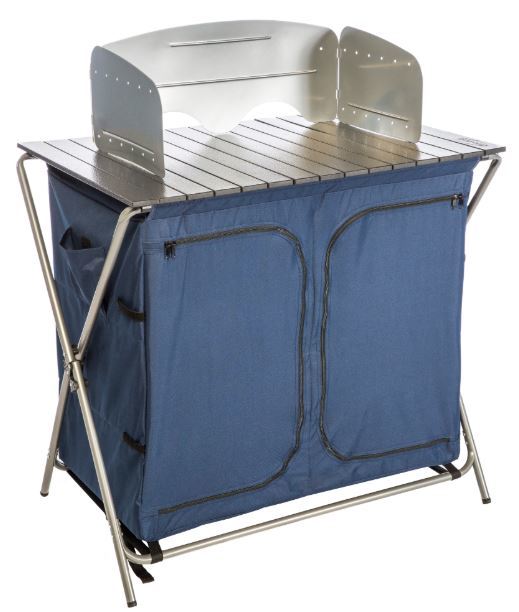 Note also that there are a couple of side pockets for utensils and small items. One is visible in the picture above. The frame appears to be steel, it looks strong and really cool.
Please see how to make this table ready:
---
Who is it for
Size-wise, the tabletop is not particularly large but this is quite standard for a grilling and cooking table. But the volume of the storage space is excellent. I have added it to my list of best outdoor tables for grilling and cooking.
Note that it is strong enough to support the weight of up to 70 lb (32 kg). I doubt you will ever need more.
Weight-wise, with its 22 lb (10 kg) this is a heavy item and obviously not to be carried long distances. You have already seen its packed size, so this is a table for places with a car access.
If you use it in a floored camping tent, it is best to add something underneath the feet. They are with plastic caps but they are also very narrow. It is best to use it underneath a floorless porch or a camping screen house.
---
Specifications
Weight: 22 lb (10 kg).
Capacity: 70 lb (32 kg).
Dimensions (L x W x H): 35 x 22 x 33 in (89 x 56 x 84 cm).
Packed size: 38 x 23 x 5 in (97 x 58 x 13 cm).
---
Rating, pros & cons
My overall rating is not particularly high, this is because I consistently use the same criteria for all the tables so you can easily compare. In this particular case, it was the weight and packed size that formally reduced the rating.
But the weight is not necessarily a bad thing, this is a camping table and you will not carry it anywhere.
Huge Storage Area & Aluminum Tabletop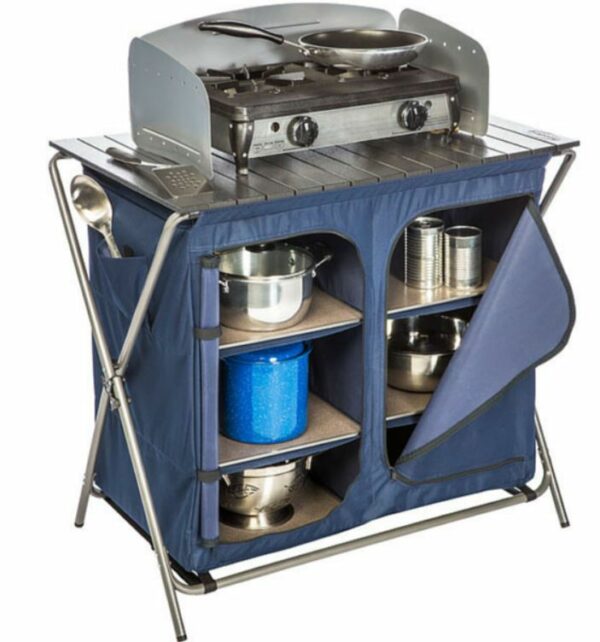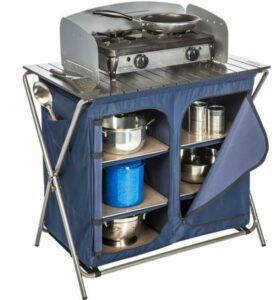 Product Name: Kamp-Rite Kwik Pantry with Cook Table
Product Description: This Kamp-Rite Kwik Pantry with Cook Table is very functional with a lot of storage space, easy to use, and with an aluminum tabletop.
Brand: Kamp-Rite
SKU: B01449MBQ8
MPN: KPT172
Weight -

3/10

Dimensions -

8.8/10

Packed size -

3.5/10

Craftsmanship & features -

9.5/10
Summary
My overall rating is negatively affected by the weight and packed size but it is still Good.
Pros
Great materials.
Very functional.
Good size.
Reasonable price.
Carry bag.
Cons
Large when packed.
Heavy.
---
Final thoughts
So to summarize this Kamp-Rite Kwik Pantry with Cook Table review, although my overall rating is low, this is a nicely built and very functional outdoor product. You have great materials, and the storage features are excellent. Fully recommended.
I did not find my sellers of this item, but you have the two of the most important given in the link below, so follow the links and see more.
If you need more options, just search a bit in the category Camping Tables here in the site. You will find many and in all shapes and styles.
Thank you for reading. Note that I add texts here regularly, so bookmark this site and visit occasionally. Stay informed and subscribe to my weekly newsletter, there is a subscription form below. Have a nice day.