---
Suyi Ultralight Portable Folding Single Camp Cot is a very lightweight and nicely packable backpack-friendly versatile camping bed suitable for various outdoor activities and for home use.
Key features
Completely collapsible.
Great packed size.
Backpack portable cot.
Simple and quick setup.
Good size.
Two different models to choose.
Very versatile.
Storage pouch included.
Carry bag included.
Pillow included.

What is in the name
First, observe that they have two very different models under the same name. The picture above shows the bigger new model. Below, you will see the other with legs based on the bow frame technology.
The title is close to what they use for this tool on Amazon. But it is a bit misleading as this is not a folding cot; this is a collapsible cot. The difference in the packed size between these two types is essential.
They also describe it as 'ultralight'. So this depends on which cots you compare it with. With 1.9 kg of weight, this Suyi Camp Cot is surely backpack-portable ane very lightweight collapsible tool. But there are far lighter cots in this group and you can see them in my separate text.
Who is it for
The packed size is really great, 38 x 16 x 15 cm (14.9 x 6.3 x 5.9 in), so this together with the weight very much determines the best use of this cot. Obviously, it is portable and you can carry it attached to the backpack.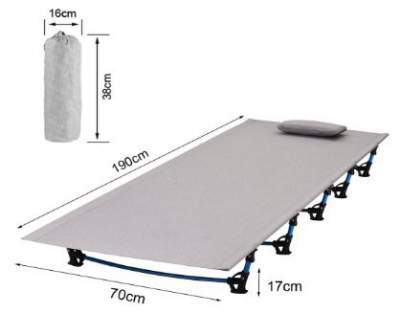 It is small enough so that you can carry it on a motorbike, on the bicycle, in a kayak, and in the car of course. So no doubt this is a very versatile outdoor tool.
The cot can also be used as a spare bed at home and for any emergency situation.
The bed size is 190 x 70 cm (74.8 x 27.5 in), see it above. So these are very decent numbers, typical for cots of this type. But it is fair to say that it is not for very tall people.
Overview
All metal parts are 7075 aviation aluminum alloy, so this is the hardest that you can have. The metal bars and plastic feet are all shock-corded so there is no danger of losing anything or mixing parts. This makes the setup very easy and self-evident, see the picture below: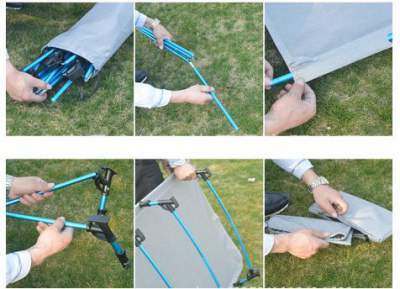 When the legs are added, they create tension in the bed deck and this is strong enough for up to 242 lb (110 kg).
The height is 6.7 inches (17 cm), so you are safely above the ground, so if you use the cot in a tent, you can even store some pieces underneath it, like poles, an axe, etc.
Note that there are no bars under the deck, and there are no bars on the ends of the bed. So all the length is a useful length, and you are safe from pressure points.
It is good to have the storage pouch for small items which you want to have at hand, see it in the picture below.
Using the cot in a tent
The feet are floor-friendly plastic shown below, and there are so many of them, so the weight is well distributed and there should be no issues with the tent flor regardless of the type of ground.
Being off the ground, you do not need a pad in warm conditions. If you use the cot in a cold environment, at high elevations or in winter, you will need some insulated pad of course.
But you need far less insulation for such an off-ground sleeping, so no need to go for very high R-value; this is not so when you sleep directly on the ground. The ground takes around 50 times more body warmth than the air under the cot, so you see the difference.
The cot is not high and its dimensions are moderate. So it will fit even in the lowest and smallest solo tents (see many of them here).
How to shed the weight
Naturally, you will want to reduce the weight if you plan to carry this cot in the backpack. So here are some options:
There are 5 bars-legs with 2 feet each shown below. So if you are a very light person, you might experiment by trying the bed with 4 bars only.
In the summertime, you do not need a pad if you have a cot.
In a cold environment, you will need a pad under the bag. But think about using a bottomless sleeping bag – there are bags of this type, with a sleeve only where you slide the pad. This is a clever design, the bag's insulation under your body is compressed and this makes it useless, this is why it is removed completely.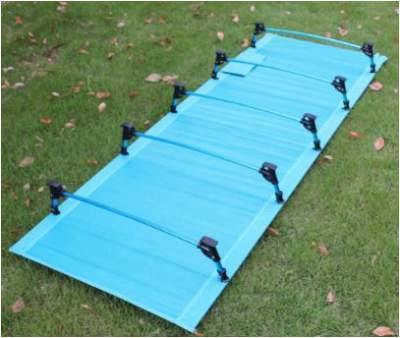 Pros and cons
Here is my summary:
Good

Less good
• Great packed size.
• Very versatile.
• Simple setup.
• Very good price.
• Easy to use.
• 3 colors to choose.
• Pillow included.


• 

Not for extremely tall people.
• Not for very heavy people.

The capacity is not bad but this cot is not for very heavy people. The same holds for its length, bear this in mind if you are very tall.
The price
At the moment of writing this text, the Amazon price for this cot is $65. So this is quite reasonable, and you will realize this from the comparison table below. See how I rate this cot:
My rating of the Suyi Portable Camp Cot
Weight -

9.8/10

Size -

8.4/10

Capacity -

7.0/10

Packed size -

9.9/10

Ease of use & features -

8.2/10

Price -

9.4/10
Specifications
Weight: 1.9 kg.
Capacity: 242 lb (110 kg).
Size (L x W x H): 190 x 70 x 17 cm (74.8 x 27.5 x 6.7 in).
Packed size: 38 x 16 x 15 cm (14.9 x 6.3 x 5.9 in).
Poles: 7075 aviation aluminum alloy.
Fabric: waterproof breathable anti-tear thickened nylon.
Feet: hard anti-slip plastic.
Comparison with competitors
See how the Suyi Cot compares with some other brands, all built in the same style:
Bed size, inches (cm)

Packed size, inches (cm)

Weight
lb (kg)
Suyi
Camp Cot

74.8 x 27.5




(190 x 70)

14.9 x 6.3




(38 x 16)

4.2 (1.9)

Kingcamp
Ultralight
Camping Cot
75 x 25
(190 x 64)
14 x 5.1
(36 x 13)
4.4 (2)
Moon Lence Camping Cot
74.8 x 27.5
(190 x 70)
14.9 x 6.3
(38 x 16)
4.1 (1.86)
Obviously, they are all similar in size and by the design. To see more please follow the links.
The prices of the three cots at the moment of writing this text are, respectively, $65, 125, 90. So this says it all.
Bow-frame model
I mentioned above that they have yet another model, completely different, under the same name. See the picture: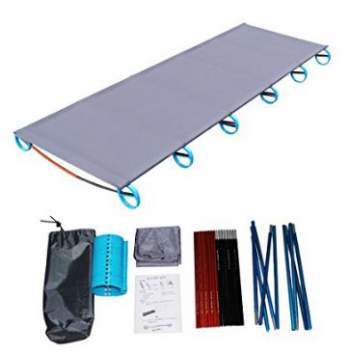 So what you have here is a smaller and lighter cot. The legs system is completely different, the setup is a bit more complicated.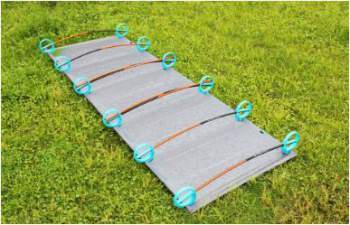 Specifications
Weight: 1.68 kg.
Capacity: 220 lb (100 kg).
Size (L x W x H): 180 x 58 x 10 cm (70.8 x 22.8 x 3.93 in).
Package size: 41 x 12 cm (16 x 4.7 in).
Summary
In conclusion of this Suyi Ultralight Portable Folding Single Camp Cot review to stress again the really affordable price of this cot and its nice size. You have probably noticed that there are many cots of this type available on the market, and the comparison table above shows this as well.
I suspect that some of them come from the same factory and are only sold under different names. So overall quality is the same or similar, and it makes sense going for a better price. In this particular case, you also have two completely different versions available.

If you still feel you need something different, please look around. This site is about cots and tent-cots. So have a look in the Categories above, you will surely find something for you.
Thank you for reading. Please let me know if you have a question or comment, there is a comment box below.


---