---
The Helinox Tactical Cot Convertible is compact, lightweight, and very easy to use, with a pocket, daisy chains on the sides, and a 5-year warranty.
---
Key features & benefits
Collapsible cot.
Very light.
Ultra compact.
Lever lock system for legs.
Extension legs available as accessories.
Storage pocket.
Pillow tab.
5 Years warranty.
---
What is in the name
So here you have yet another variant of their famous Cot One. This is again a collapsible and easy to use cot that needs a simple assembly.
The good side of this collapsible design is that it also packs incredibly small, the carry bag shown below measures only (L x D) 21 x 6 inches (51 x 16 cm).

As you see, it has handles on both sides, so you can attach it anywhere. A full-length zipper is on the side, so it is easy to to store the cot inside.
The word Convertible in the name means that you can order extensions for its legs, there are 12 of them in total. The picture below shows some details: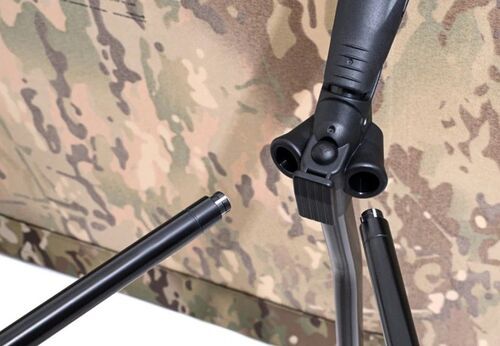 With this, you are then higher above the ground so you can store more gear underneath the cot. This is also more suitable for elderly users because it is easier to get in and out.

Without extensions the legs are shown in the picture below. So you see that there are wide feet and this should be safe to use in a floored camping tent.

In this setup the cot is 6.5 inches (17 cm) high, so you still have place for gear underneath it. It is low and it will fit in any tent, no matter how low it can be.
Attaching legs is easy, you have their innovative locking levers (one shown in the picture below) that provide supportive tension to the bed without the need for bulky diagonal braces.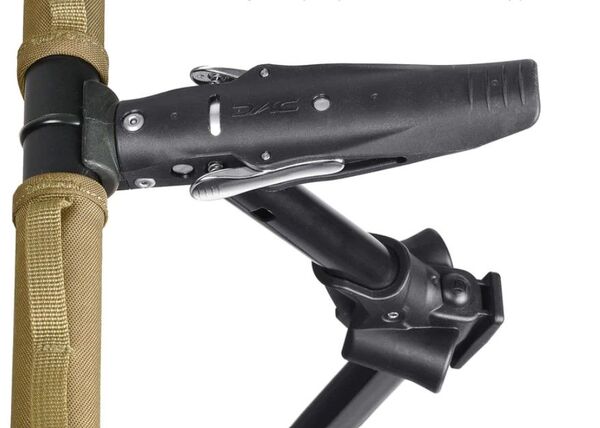 Regarding the word Tactical in the name, the cot has several extra features.
1. From the picture above you can also see those daisy chains added on the side of the cot. You have them on both sides and on the full length of the cot. This may be useful to attach some stuff and keep off ground.
2. There is a pocket on the underside of the bed, see the picture. So here you can put the carry bag when not in use, or any other personal item.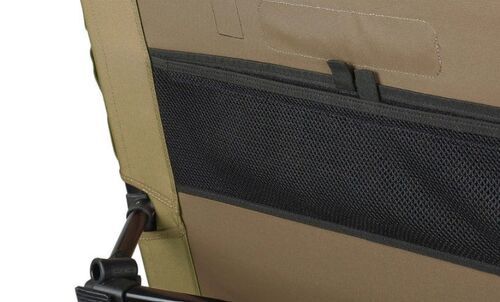 3. There is also a Velcro patch on the upper side, see the picture below. They have added this to keep a pillow in place. They have their own pillows that match this tab so you can order them separately.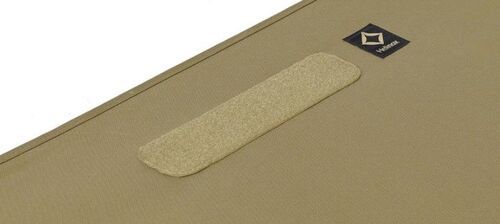 Materials
The frame: The metal parts here are made from an advanced high-tech aluminum alloy. It offers a perfect blend of strength and minimal weight. It is a higher specification than aircraft-grade aluminum.
They claim it goes through over 70 production processes from raw billet to finished pole section. This all is to make it ultra-durable, sturdy, and packable.
In view of this, it is not surprising that you have a 5-year warranty with this product. This is unmatched in the cots' industry. With this they show lots of confidence in their product.
All hubs and joining components are custom-designed in-house and molded from high-strength, fiber-reinforced Nylon 66.
This provides a solid and secure connection for sturdy comfort and easy assembly.
The fabric: I could not find information about the fabric. Most likely this is a polyester, and from the pictures you realize they make it in several different colors.
Please see more in this video:
---
Who is it for
Regarding the capacity, the cot is officially for users of up to 320 lb (145 kg). So this is quite impressive. But if you still need more, please check in my list of cots for heavy users.
Regarding the dimensions, they are quite typical, you can see them in the picture. Note that there are no end bars here so the length is all useful.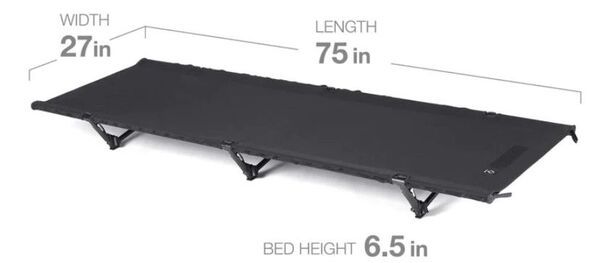 They have Helinox Cot One Long, just to know if you are a very tall person.
Regarding the weight, this is a very light cot, it weighs only 5 lb 1 oz (2.31 kg) and with its described packed size it is backpack portable. You can transport it in every possible way, even on a bicycle.
Regarding the price, well, this is not for people on a budget. But this is a top quality product and with an exceptional warranty.
Using this cot in a tent
You have already seen its dimensions so it will fit anywhere.
For summer camping, in principle you do not need a sleeping pad, except for extra comfort.
In a cooler environment you will need a pad. They offer a comforter and also their Insulated Pad for Cot One.
But you can use any sleeping pad that you have, no need to order anything extra.
---
Specifications
Packed weight: 5 lb 1 oz (2.31 kg).
Capacity: 320 lb (145 kg).
Dimensions (L x W x H): 75 x 27 x 6.5 in (190 x 68 x 17 cm).
Folded dimensions (L x D): 21 x 6 in (51 x 16 cm).
Warranty: 5 years.
---
Rating, pros & cons
Below you can see how this cot stands against my standard rating criteria. You can rate it from your side as well.
Ultra compact, light and top quality cot


Product Name: Helinox Tactical Cot Convertible
Product Description: The Helinox Tactical Cot Convertible is compact, lightweight, and very easy to use, with a pocket, daisy chains on the sides, and a 5-year warranty.
Brand: Helinox
SKU: NA
Weight -

9.6/10

Dimensions -

8.3/10

Capacity -

8/10

Packed size -

9.9/10

Ease of use & features -

8.7/10
Summary
This cot stands great in all the rating criteria so the overall rating is very high.
Pros
Ultra compact.
Very light.
Great carry bag.
Easy to use.
Great warranty.
---
Final thoughts
In summary, this Helinox Tactical Cot Convertible is a top-quality and reliable outdoor sleeping bed. It is ultra compact and light enough to be carried even in the backpack. It comes with a 5-year warranty for the peace of mind. Fully recommended.
Best places to buy:
For more options, please check under the category Collapsible Cots, you will find them many here in the site, and in all sizes and shapes. If you are on a budget, check this ultra compact Robens Outpost Low cot.
Bookmark this site and visit it when you find time, this will keep you informed, you have new texts added here on a regular basis. Let me know if you have questions, there is a comment box below. Thank you for reading and have a nice day.