---
Cascade Mountain Tech Compact Low Profile Outdoor Folding Camp Chair is a very stable and light chair with a carry bag and an incredible price tag.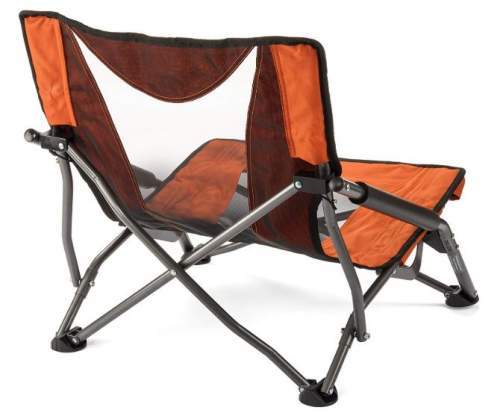 ---
Key features & benefits
Incredibly affordable.
Easy to use.
Lightweight.
Carry bag included.
---
What type of a camping chair is this
There is lots of information given already in the name of this chair. So it is a folding type, you make it ready in seconds and equally fast you take it away and fold.
The term 'low profile' simply means it is very low, the lowest point is at some 9 inches (23 cm) above the ground.
The word 'compact' describes the fact that its packed size is quite good for such a type. It packs down to (L x D) 26 x 8 in (66 x 20 cm).
Note that it comes with a carry bag (shown below) so you can keep it clean from dust when stored at home, and you can carry it attached to the shoulder.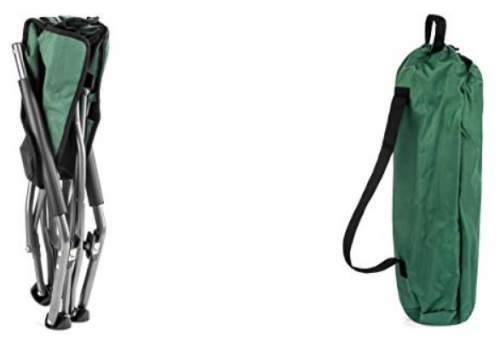 Note also that the chair has solid and padded armrests, and they are very angled forward.
---
Who is it for
Capacity-wise, the chair supports the weight of up to 250 lb (113 kg). So this is quite a modest value but it is typical. If you need something much stronger, check my list with folding chairs, some have the capacity of 800 lb.
Weight-wise, with its 6.56 lb (3 kg) this is a lightweight chair for such a type. You will see below how it compares with some similar chairs from other brands. But if you need something backpack-portable, check these ultra-lightweight backpacking chairs, all below 1 kg of weight.
Size-wise, the dimensions are good, see in the specifications below. Bear in mind this is a very low chair, see the picture below, so perhaps not suitable for elderly people. But it has solid armrests and this helps to get in and out.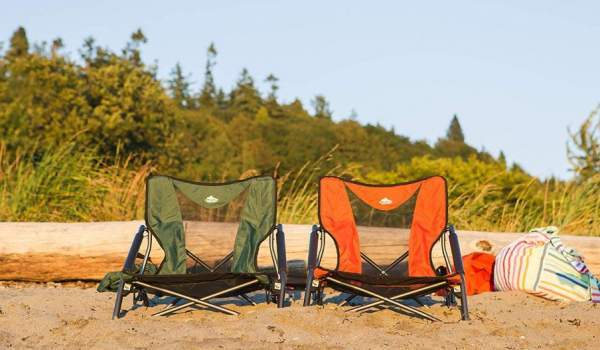 ---
Materials & construction
The frame is steel and aluminum and the chair is very low, so the center of gravity is close to the ground and this is a very stable construction. This is helped with its massive feet which are such that the chair will not sink considerably even if you use it on the sand.
The fabric is some synthetic, a breathable mesh in the middle and the border area around is a solid fabric. The feet are made of plastic and very durable, see the picture. All the screws are stainless steel. The back is at a reasonable angle, but as I said above, the chair is very low.
Please see a bit more in this short video:
---
The price & rating
The chair is built in three different colors and the price seems to be affected by this. But in any case, it is in the range $30 – 38 on Amazon. I doubt you will find many chairs that could match this.
The chair is popular and it has been on the market for a few years already so there are many reports everywhere. On Amazon alone there are more than 180 reports and the average rating is incredibly high 4.6/5.
Now, my rating is lower, but I use the same criteria for all chairs here in the site. So it is best to compare the rating and not to focus on the absolute value of the numbers.
My rating breakdown of the Cascade Mountain Tech Compact Chair:
Weight -

8/10

Dimensions -

6.9/10

Packed size -

6/10

Capacity -

7/10

Comfort -

8.8/10

Craftsmanship -

9.3/10
Overall rating
My average rating for all parameters is – Very Good:
Pros
Great price.
Very stable.
Great quality.
Very easy to use.
Cons
Low for some users.
No cup holder.
---
Specifications
Weight: 6 lb 9 oz (6.56 lb; 3 kg).
Capacity: 250 lb (113 kg).
Assembled dimensions (W x L x H): 19 x 19 x 22 in (48 x 48 x 56 cm).
Packed size (L x D): 26 x 8 in (66 x 20 cm).
Seat height: 9 in (23 cm).
Seat depth: 14 in (36 cm).
Frame: steel & aluminum.
---
Cascade Mountain Tech Compact Low Camp Chair vs Competitors
There are several chairs of this type with the same design presented here in the site, and I thought you might want to see how this chair compares with them. So here are two of them with some really good features. Observe that the Strongback chair is with the integrated lumbar support. Please follow the links for more details.
Dimensions
(W x D x H), in (cm)

Cascade Mountain Compact Chair
19 x 19 x 22
(48 x 48 x 56)

26 x 8 x 8
(56 x 20 x 20)

Strongback Low Gravity Chair
21.5 x 23.5 x 24
(55 x 60 x 61)

22.8 x 23.2 x 26.4
(58 x 59 x 67)

30.7 x 7.9 x 5.1
(78 x 20 x 13)

---
Final thoughts
So as you see, this Cascade Mountain Tech Compact Low Camp Chair is really well built, but it is not unique and some features are missing. However, its price is really great as you realize when you compare it with some of its competitors.
Check on Amazon
Check at Walmart
If you need more options to consider, just have a look in the category Camping Chairs here in the site. You will find them in all shapes. If you need something higher but also with solid armrests, please check this Zenree Folding Camping Director's Chair.
Note that this is not a sponsored text and I am not paid by the manufacturer or related to them in any way.

Thank you for reading. Please use the comment box below in case of questions or comments. I wish you a nice day.