---
Goplus Foldable Camping Bed is a padded and very long cot which is easy to set up and to fold away, with an iron frame and a locking mechanism.
---
Key features
Folding design.
Padded cot.
Very long.
Easy to use.
Iron frame.
Locking mechanism.
---
Where to buy
This folding cot is available on Amazon. They have a very efficient shipping service and you might save some money.
---
What this is about
This Goplus Foldable cot should not be mixed with yet another cot from this brand presented here in the site which is a completely different model.
So what you have here is a true folding cot that folds to half of its size when packed.  As you realize it remains quite large when packed, the packed dimensions are 42 x 30 x 4.5 in (107 x 76 x 11 cm).
But this is also a nicely padded cot, see the picture, and I have included it in my separate list of padded cots.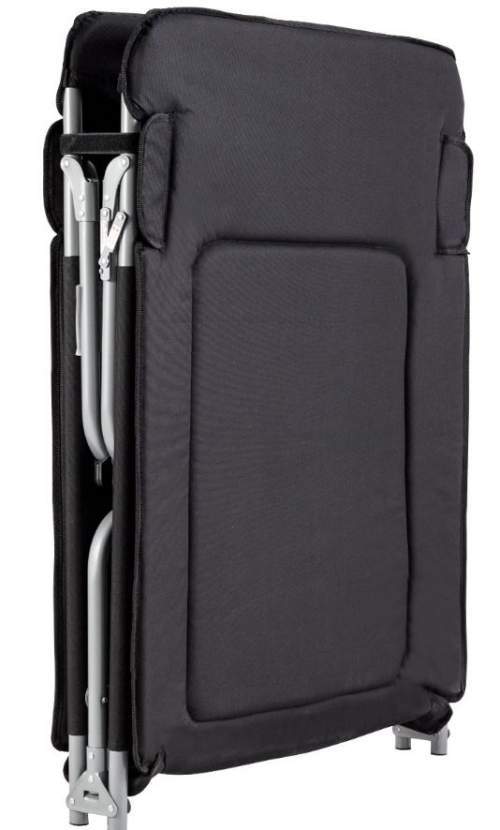 ---
Who is it for
Size-wise, the dimensions of this cot are great. It measures (L x W x H) 84 x 30 x 16 inches (213 x 76 x 41 cm) so clearly, it is very long and it deserves to be included in my exclusive list with extra long cots.
If you need something much wider, please consult this list with extra wide cots.
Capacity-wise, this cot is not so impressive, the declared capacity is 250 lb (113 kg). This is enough for most users, but if you need something stronger for big guys, please check my list with cots for heavy people.
Weight-wise, they write it is 'easy to carry'. But in view of the earlier mentioned packed size and its 22 lb (10 kg) of weight, it does not look so easy to me. Nevertheless, this is quite a typical weight for such a type and you will realize this from the comparison table below.
---
Materials & construction
The frame is iron and it is equipped with a locking mechanism shown in the picture, for extra stability when you sleep. But when folded, you have a Velcro strap to keep it closed, it is visible in the picture of the folded bed given above.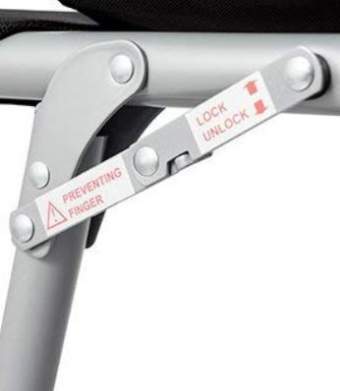 They write that the material inside is cotton, which is quite unusual for padding in such items. The cover is 600D x 300D polyester, so this is a durable fabric.
Note that all metal areas where the cot folds are covered by padded flaps so you do not touch iron anywhere. There are no bars anywhere under the deck, only the frame around which is covered by the padding.
The legs are bars, and you have plastic feet added for floor protection, see the picture below. So this is a design which you can use in a floored tent without any extra protection.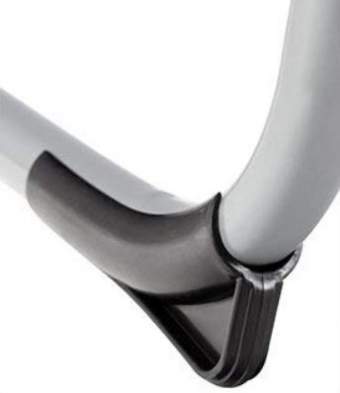 Also, with such three bars on the ground, the weight is distributed and the cot will not sink considerably regardless of where you use it.
Note that you have 16 inches (41 cm) of clearance under the cot, so when used in a tent, you can store lots of gear underneath it. This is one extra advantage of using cots in tents.
With such a padding, you will not need any extra pad for insulation in a 3-season use for camping.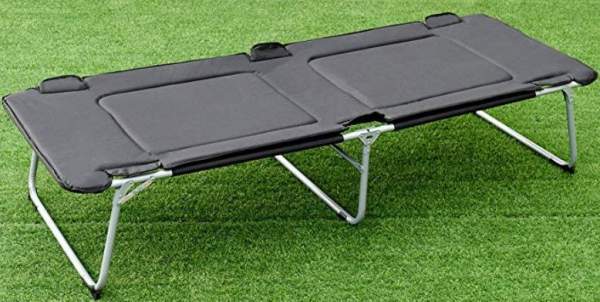 ---
My rating, pros & cons
This is a very affordable cot, in particular bearing in mind the padding. Please see how I rate it against the same criteria used for all the cots here in the site:
My rating of the Padded Goplus Foldable Camping Bed:
Weight -

6.6/10

Size -

9.1/10

Capacity -

7/10

Packed size -

4.2/10

Ease of use & features -

9/10
Summary
My overall rating of this cot is Very Good, but I have some objections:
Pros
Very good price.
Great size.
Very soft and pleasant.
Completely padded.
No sinking in the ground.
Cons
Large when packed.
No stuff sack.
---
Specifications
Weight: 22 lb (10 kg).
Capacity: 250 lb (113 kg).
Dimensions (L x W x H): 84 x 30 x 16 in (213 x 76 x 41 cm).
Packed size: 42 x 30 x 4.5 in (107 x 76 x 11 cm).
Frame: iron.
---
Padded Goplus Foldable Camping Bed vs Competitors
In the table below you can see how this Goplus cot stands when compared with some other padded cots presented here in the site. Note that the frame is different, this is the only one with bars instead of standard legs. It is slightly larger and taller, but its packed size is much bigger because it folds only once, the other models fold twice.
Goplus Foldable
Camping Bed
42 x 30 x 4.5
(107 x 76 x 11)

Timber Ridge
Juniper Padded Cot
31.2 x 30 x 4.6
(79 x 76 x 12.2)

Westfield Outdoor
Quick Set Cot
31 x 30 x 5
(79 x 76 x 13)

---
Final thoughts
So this Goplus Foldable Camping Bed is very comfortable, large, stable, easy to set up, and to fold away. This is a great option as a spare bed at home for emergency situations and for sudden guests, and for hunting and camping adventures. No extra pad or mattress is needed with such a padded cot.

If you need more options to consider, please check under the category Folding Cots, and check also my text with padded folding cots. If you need more padding, check this AMENITIES DEPOT Memory Foam cot which is with a thick memory foam as the name suggests.
Note that this is not a sponsored post and I am not paid by the brand. Please use the comment box below in the case of questions or comments. Have a nice day.

---