---
Timber Ridge Juniper Heavy Duty Quickset Adjustable Folding Camp Cot is a padded steel structure with an adjustable backrest, and very affordable.
---
Key features
Folding design.
Padded cot.
Adjustable backrest.
Steel frame.
Great price.
---
What type of cot is this
The title given above is what the manufacturer uses, so it is very descriptive.  The word 'folding' describes the fact that the cot folds from two sides like a book and it remains quite large when packed as the picture below shows. But it is relatively thin and you can store it in narrow spaces at home or in your car.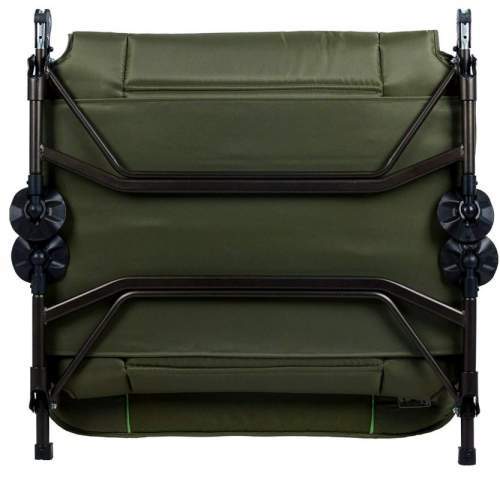 The word 'quickset' is related to this folding design because you do not have any assembly. Just unfold it and it is ready in seconds.
The term 'adjustable' is about the backrest or the part of the bed's head section, on the left in the picture below. So it goes from completely flat as in the picture, to multiple angles of support. This means you can use it as a lounger or as a chair with footrest as well as a standard cot for sleeping.

This is a padded cot as well, so you have a soft foam inside and you do not need a pad for summer camping.
---
Who is it for
Regarding the capacity, the declared number is 300 lb (136 kg), so this is quite a modest value but good enough for most of the users. If you need more, you will see some options in the comparison table below.
Regarding the size, this cot is quite impressive. The bed is 79.2 x 29.9 inches (201 x 76 cm) and this is again good enough for many people. But you will have some larger options below.
Weight-wise, with its 18.2 lb (8.3 kg) I would say it is quite reasonable. This is a camping item so you are not supposed to carry it long distances in any case.
So the cot is useful for camping, for hunters, or as a spare bed at home for sudden guests and for emergency situations.
---
A bit more about materials & construction
This is a powder-coated steel structure, and the fabric is a 600D Shadow Embossed & 840 Velocity Dobby polyester which wraps a foam mattress inside.
The cot is with four legs only so the floor they occupy is less than half the length of the bed. This may be useful if you set it up at home for your sudden guest, the bed can fit above some low objects in the room. On the other hand, the bad thing is that you can sit only on its central part between the legs. The same is if you put some heavier stuff on one end, it may swing in the air.
But the feet are enormous and the cot should not sink easily if used on a soft ground in the camp. This is a pivoting design so they adapt to the ground and also become flat when you fold the bed, see the picture above.
---
My rating, pros & cons
This Juniper Cot is far more affordable than its closest competitors. Please see how I rate it, I apply the same criteria used for all other cots so you can easily compare:
My rating of the Timber Ridge Juniper Folding Camp Cot:
Weight -

7.2/10

Size -

8.9/10

Capacity -

7.5/10

Packed size -

4.8/10

Ease of use & features -

9.2/10
Summary
My overall rating of this cot is Very Good, but I have some objections:
Pros
Great price.
Great size.
Adjustable backrest.
Very soft and pleasant.
Cons
Large when packed.
No stuff sack.
---
Specifications
Type: folding padded cot.
Weight: 18.2 lb (8.3 kg).
Capacity: 300 lb (136 kg).
Dimensions (L x W x H): 79.2 x 29.9 x 12.2 in (201 x 76 x 31 cm).
Packed size: 31.2 x 30 x 4.8 in (79 x 76 x 12.2 cm).
Frame: steel.
---
Timber Ridge Juniper Camp Cot vs Competitors
I give this Juniper Cot in the table below side by side with two other cots built in a similar style. As you realize, the other two are even bigger. Its capacity is lower, so check the other two if you are really heavy. But Juniper Cot is far more affordable, you will realize this if you check the prices, so please follow the links.
Timber Ridge Juniper Padded Cot
31.2 x 30 x 4.6
(79 x 76 x 12.2)

Chinook Heavy Duty Padded Cot
34 x 30.5 x 10
(86 x 77 x 25)

Bushtec Adventure Cot Sierra 440
33 x 32 x 10
(81 x 81 x 25)

---
Final thoughts
So this cot with such a long and descriptive name, the Timber Ridge Juniper Heavy Duty Quickset Adjustable Folding Camp Cot is really affordable and comfortable. If you do not want to spend much and need a padded cot for occasional camping and as a spare bed at home, this is the model to consider.

If you need more options to consider, please check in the category Cots and also Foldable Cots. You will find them many in all sizes and styles. Note that this brand has yet another cot in the same style, the Timber Ridge Camping Cot XL.
Note that this is not a sponsored text and I am not paid by the manufacturer. Please use the comment box below if you have questions or comments. Do you have any experience with this cot? If so, please share it here. 

---