---
Goplus Heavy Duty Foldable Camping Cot is a military-style outdoor bed with a simple and easy setup, and with an incredible price tag.
Key features & benefits
Great price.
Carry bag included.
Good packed size.
Simple assembly without tools.
What type is this
They use the term 'foldable' in the name of this camping bed. In fact, this is a completely collapsible tool, which packs to a really small size of 36 x 7 x 3 inches (91 x 18 x 8 cm). Note that the green version has slightly different packed size, see in the specifications below.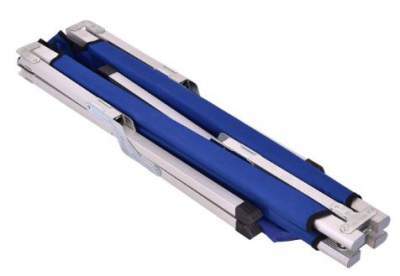 On the other hand, this is a military-style cot, with standard X-shaped legs and with side bars and end bars. This is both good and bad. Good is because such structures are stable and tested in real life for decades, while the bad side is that the mentioned end bars effectively reduce its useful length for several centimeters.
Being the military type, this implies it needs assembly. But this means only adding the end bars into the sleeves and attaching them to the side bars, see the picture below. All other elements are permanently attached to each other, the bed fabric, the legs, and the side bars. You do not need any tool for all this, all is done in a couple of minutes.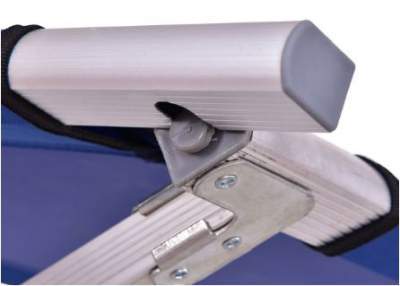 Who is it for
In view of its great packed size mentioned above, this is a very versatile camping bed which will fit in many car trunks so you can transport it easily to your camping spot.
With the weight of 11 lb (5 kg), this is not something to carry attached to a backpack (see here for such tools), but you can surely move it around to some short distances.
So the Goplus Camping Cot is suitable for any place with a car access, like trailhead hotels, fishing spots, regular camping places, open-air music gatherings, etc.
At home, you can store it anywhere, it will be protected from dust in its stuff sack and you can use it as a spare bed whenever needed.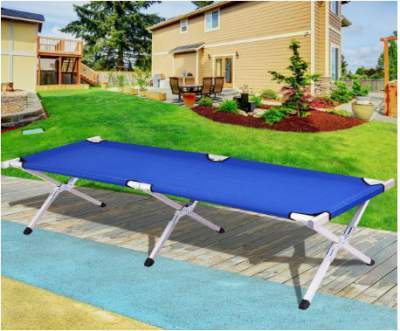 Fitting the Goplus Cot in a tent
If you are looking for the smallest tent suitable for such a cot, then probably you should try some 2-person tent used solo. The standard solo tents will not be the best choice because the cot is quite high. But in a 2-person tent you will have plenty of space both around and underneath the cot. The fact that you have a storage area under the cot is what makes it very different from sleeping on the ground when the pad occupies the whole space.
It may be good to look for a tent with the front door (see this great example); in such a case you can assemble the cot outside and bring it in the tent unfolded. With the side door, it may be tricky to do so.
As for the tent floor, I would be a bit careful. The legs of this cot are indeed with plastic caps (see the picture below) but on a soft ground, I would add something for extra floor protection (pieces of a thick cardboard will do the job).
How about insulation? Note, you are off the ground, and this means that you need far less insulation than when you sleep on the ground. Check here for many great sleeping pad options.
Normally, in warm conditions, like in the summertime, you will not need any pad, except for more comfort.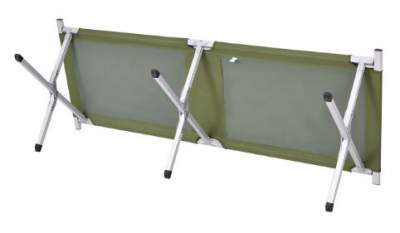 My rating, pros & cons
The length of 190 cm (75 in) of this cot is quite typical. But you have end bars on both ends that take a few centimeters, so bear this in mind if you are a very tall person. In this case, check these cots.
The price on Amazon for this cot is given in the link and as you see it is very affordable.
Please see how I rate it:
My rating breakdown of the Goplus Heavy Duty Foldable Camping Cot
Weight -

8.4/10

Size -

8.5/10

Capacity -

7.5/10

Packed size -

8.6/10

Ease of use & features -

9/10
Summary
My overall rating for this cot is Excellent:
Pros
• Great price.
• Very lightweight.
• Carry bag included.
• Stable construction.
• Versatile.
• Portable.
Cons
• Not for very tall people.
Specifications
These are the data for the blue bed:
Weight: 11 lb (5 kg).
Capacity: 264 lb (120 kg).
Size (L x W x H): 75 x 28 x 17 in (190 x 71 x 43 cm).
Folded size: 36 x 7 x 3 in (91 x 18 x 8 cm).
Fabric: 600D water-resistant polyester Oxford.
Frame: aluminum and steel.
Carrying bag included.
Differences in the green bed (other features are the same):
Weight: 10 lb (4.54 kg).
Capacity: 250 lb (113 kg).
Folded size: 36 x 7 x 7 in (91 x 18 x 18 cm).
Summary
In the conclusion of this Goplus Heavy Duty Foldable Camping Cot review to stress again that this is a simple and reliable tool, no wow factors here, but this is not expected from a military-style tool. It is designed to do the job and you can be sure it will. You have seen the price, it is really hard to find anything that would match it.
To stress again the size, it is reasonable and typical, in fact, it is better than many of its competitors; but if you are a big person, try some of these.

Thank you for reading, if you have any question or comment please let me know, there is a comment box below. I wish you a nice day.

---