---
If you need a super lightweight and compact backpacking and hiking chair this Alite Designs Monarch Chair review is the place to start. Here you have a chair that weighs only 1.3 lb (590 g). But it has only 2 legs. Intrigued? Read more here.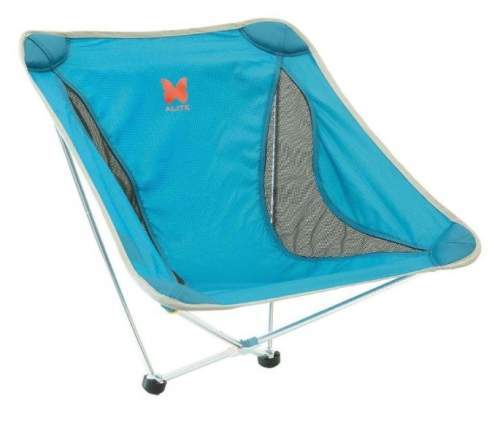 Key features & benefits
Crazy design – 2 legs only!
Ultra-lightweight.
Fully collapsible
Ultra easy setup.
Reasonable price.
---
What type of camping chair is this
Before you continue just to stress, what you have here is something totally unique – this is a chair with only two points on the ground. With two legs, if I have to be more specific, see the picture below. So regardless if you like it or dislike it, you will notice it, this is one of those items that turn heads. I have included it in my list of best ultralight backpacking chairs.
I think it is also known under the name Alite Monarch Butterfly chair, I guess this is because of the butterfly picture on the back. Note that this chair has been on the market for around a decade already. So it has been tried and tested, and it has been used by people. Everything is known about it, this was a totally unique item when it appeared on the market.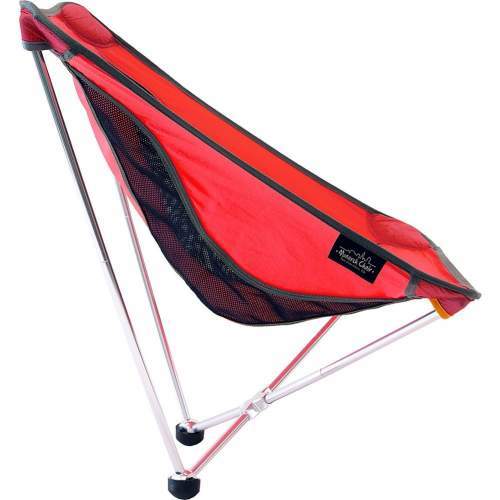 So how does it work? Well, with the help of your own legs. When you sit, you balance and add two extra points at the ground, your own feet.
Now, many find this crazy and many will not even think of using it. But the fact is that many are using it, and you realize this when you search a bit and see so many reports about this chair. Note that on Amazon only you have 118 reports at the moment of writing this text.
This is an ultra-lightweight chair that is also fully collapsible and it reduces to a bundle of 12 x 4.5 inches (30.5 x 11.4 cm). This also implies that it needs assembly, but this is really easily done.
---
Who is it for
So two legs may look strange but there is something in the crazy design. It is far easier to find a balance on an uneven terrain if you have only two points on the ground. So as a backpacking and hiking tool, this chair makes sense.
On the other hand, with 1.3 lb (590 g) it is ultra-lightweight and as such this is a tool for those who carry their stuff in the backpack. And if it good for them, then it may be good for any other outdoor activity. So this is a versatile chair.
Though, if this is about ordinary camping at places with a motorized access, you would rather have something more comfortable, so check in the category Camping Chairs here in the site.
---
Materials & construction
You have a very breathable 210D nylon here, it is strong enough to support the weight of 250 lb (113 kg). It attaches to the frame which is 7075 aluminum, so this is a very strong type, comparable to some types of steel. It is also very corrosion-resistant. So you definitely have quality materials here.
Note that there is some color coding on the poles in the frame for an easy setup. But I doubt that you might need this. In any case, the poles are shock-corded and you cannot lose any segment of them. Most importantly, there is nothing to guess.
Note that the legs are with caps, this is great for a hard surface. They are not so narrow so it will not sink like many other chairs with four legs, but on a very soft ground it will not perform well, and you will not be able to swing much.
The stuff sack is included and you will notice that instructions are printed on it, so you can clearly see how to assemble and disassemble this chair. All in all, they have done a great job here.
The chair is available in 6 great colors, for such an item I believe this is enough for everybody's taste. After all, this is not a jacket.
Please see a bit more in this nice video, you will see its unpacking and assembling:
---
The price & rating
The daily updated Amazon price is given below. This is an expensive item but you have seen its features.
The reports about this chair are really positive. On Amazon, the average rating is very high. This is remarkable for a chair with two legs only. See how I rate it:
My rating breakdown of the Alite Designs Monarch Chair
Weight -

9.9/10

Dimensions -

6.9/10

Packed size -

9.8/10

Capacity -

7/10

Comfort -

6.5/10

Craftsmanship -

9.5/10
Summary
My overall rating for this unique chair is Very Good:
Pros
Great weight.
Great packed size.
Very easy to use.
Great quality.
Not bad price.
Cons
Obviously, not so stable.
---
Specifications
Weight: 1.3 lb (590 g).
Capacity: 250 lb (113 kg).
Dimensions (W x D x H): 21.5 x 17 x 23 in (55 x 43 x 58 cm).
Seat height: 7 in (17.8 cm).
Packed size (L x D): 12 x 4.5 in (30.5 x 11.4 cm).
Fabric: nylon.
Frame: aluminum.
---
Alite Designs Monarch Chair vs Competitors
In fact, it is hard to find true competitors. So I give a couple of backpacking chairs so that you get some feeling about the weight of this chair and its dimensions.
Dimensions
(W x D x H), in (cm)

21.5 x 17 x 23 (55 x 43 x 58)

20.5 x 19.7 x 17.3 (52 x 50 x 44)

12.2 x 5.9 x 5.9
(31 x 15 x 15)

19.7 x 18.9 x 25.2 (50 x 48 x 64)

---
Final thoughts
In the summary of this Alite Designs Monarch Chair review, my feeling is as follows. If you like the idea you will be willing to use it, and then you can compare the weight, packed size, seat size, comfort,  with its competitors. But if you dislike the concept, all these features are pointless.
The truth is, there are even lighter chairs on the market, you have seen one in the comparison table above. So buying this swinging item is a completely personal choice. But it does not cost much so it is worth trying and have it as a spare chair in the camp, which can also be taken on the trail. The carry bag is with webbing so attaching it to the pack is easy.
Thank you for reading. If you need more choices, check in the category Camping Chairs.  You might want to check this Trekology YIZI GO chair which is a unique design with adjustable height.
Remember also that this site is about camping items for sleeping and sitting, so all possible types of cots are presented here in the site, just have a look around. Have a nice day.
---