---
Texsport First Gear Extra Large Camp Cot, or Mammoth XL as they describe it, is a huge capacity cot for tall people.
Key features
Huge capacity.
Very long cot suitable for tall people.
Easy setup without tools.
Sturdy and reliable.
No end bars.
Nice carry bag.

What type is it
This is a folding cot with all pieces attached to each other all the time. This means that there is no assembly, you just unfold it in all directions.
The weight of 23 lb (10.4 kg) makes it portable but definitely not to very long distances. It comes with a carry bag which will be useful when you have to move it from the car to the parking spot, or to store at home and keep clean from dust.
The materials used in the construction are durable. So you have 600 denier PVC coated polyester fabric and the frame is a heavy-duty powder-coated steel. This is a stable structure with 6 feet and with support bars.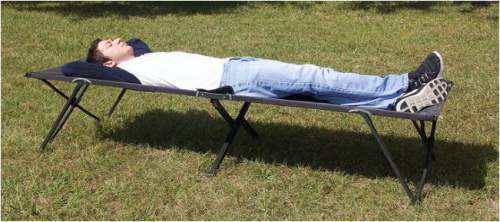 Who is it for
In the packed state, it is roughly half its length, 40 x 7 x 6 inches (102 x 18 x 15 cm), and this determines its best use. So for outdoor use, you will need a car to transport it, perhaps it can even fit in a kayak.
The cot is also very long, 81 x 30 inches (206 x 76 cm), so this is a tool for tall people. But see also its capacity, it is no less than 600 pounds (272 kg), so if you are a heavy guy, this is a tool for you.
For home use, this is a great spare bed for sleepovers. Use it when you need it, and keep clean in its carry bag when it is not used. Being so collapsible, it will not take much space in your closet or in the attic.
Note that there are no bars under the bed deck, and there are no end bars either, so the whole length is a useful space and no pressure spots anywhere.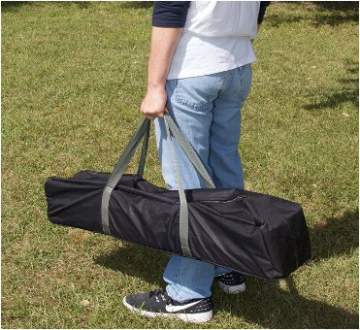 Using the cot in a tent
This is a large and high cot, so it will not easily fit in small and low solo tents. But you should have no issues in using it solo in a 2-person tent, or in any larger tent. Note that you have a huge storage space under the cot, so this is yet another advantage of sleeping on a cot.
The feet are with plastic caps, but I would take care of tent floor in the case of a soft terrain.
In warm conditions you will not need any pad. But at high elevations and in wintertime, you should plan some insulated pad. See here a nice collection of top sleeping pads for any season.
My rating, price, pros & cons
If you check its description on Amazon, you will find two different numbers for the fabric denier. Even the name is written in two ways on Amazon. This is disappointing to see.
The link below gives its daily updated price so at least this is accurate. Note that this is an Amazon Prime product and you can have it shipped for free. This is also an Amazon's Choice item, which means recommended by Amazon.
So far the rating of this cot by users has been excellent. See how I rate it:
My rating breakdown of the Texsport First Gear Mammoth XL Cot
Weight -

6.5/10

Size -

8.9/10

Capacity -

9.8/10

Packed size -

8.4/10

Ease of use & features -

9.6/10
Summary
My overall rating of this cot is Excellent:
Pros
• Huge capacity.
• Great size.
• Durable materials.
• Very reliable.
• Reasonable price.
• No end bars.
• No assembly required.
Cons
•  Confusing description.
Specifications
Type: collapsible cot.
Weight: 23 lb (10.4 kg)
Capacity: 600 lb (272 kg).
Dimensions (L x W x H): 81 x 30 x 18 in (206 x 76 x 46 cm).
Packed size: 40 x 7 x 6 in (102 x 18 x 15 cm).
Fabric: 600 denier PVC coated polyester.
Frame: heavy-duty powder-coated steel.
Carry bag included.
Summary
In the conclusion of this Texsport First Gear Extra Large Camp Cot review to stress again the capacity of this strong cot, which is one of its best features, together with its length. The price is reasonable and affordable, and I can fully recommend it.

If you are still undecided, please look around, check in the Categories above. This site is all about cots and tent-cots, and you will surely find something for you. Check also this Deluxe Cot from the same brand, built in the military-style and with the adjustable bed deck.
Thank you for reading. If you have any question or comment, please use the comment box below.

---