---
This Forfar Camping Cot Review is about a very elegant cot with an incredibly easy setup, a nice packed size, and a really affordable price.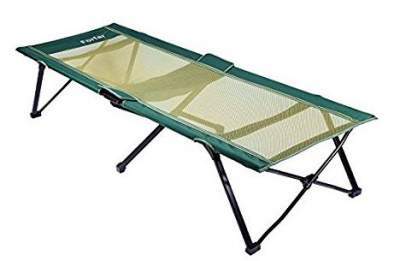 ---
Key features & benefits
Very elegant construction
Simple and easy setup.
Very affordable price.
No end bars.
Collapsible.

---
Who is it for
Forfar Camping Cot is with the weight 16.6 lb (7.53 kg), and it packs in a size which 35.8 x 6.3 in (91 x 16 cm). So if you compare it with other camping cots, it is reasonably lightweight, but this is not something to carry long distances, you will use it at places with a car access.
The size is such that it can easily be transported in a car, and it can nicely be stored in your closet at home; its great carry bag only adds to this, see the picture.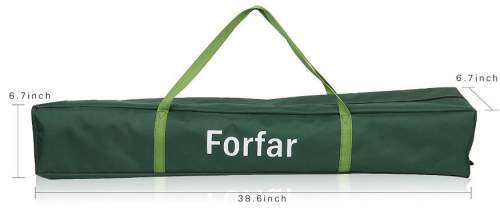 So it is for campers, fishermen, kayakers, for stays in trailhead hotels, for festivals and concerts in the open space (we have one right now in Werchter in Belgium, a huge mass of people is there for several days).
These same features make it a nice tool to keep in the office or at a workplace in general, to use it when needed and to have a quick nap.
Can it be used in any season for sleeping outdoor
Yes, it can, if you have a good pad under you and a quality sleeping bag, the cot will be fine even in wintertime. The reason for this is the following. It is about heat conduction, so you lose far more body warmth to the ground than to the air, in fact around 50 times more. This is why pads are so important and expensive.
Now, if you are on a cot, you have air under you, so you need far less insulation than if you sleep on the ground.
---
Fitting in the tent
The dimensions of this cot are such that it fits in any tent. I like the fact that they build it in two lengths so you can choose what most appropriate is for you and for the tent.
The height of 15 inches (38 cm) may be problematic for very low solo tents, but if it fits, I would not hesitate to put it there. The reason is that if you manage to put it in the tent, you will have a lot of space under the cot. So compare this with ordinary sleeping pads which take all the floor in such a tent. This is one of the main reasons for using such a cot in the tent, apart from comfort of course.
It may be a bit complicated to unfold it in the tent, so better do it outside. Now, to take it in the tent, it may be more convenient to have a tent with a front door than a side door. One great example of this type is this Kelty Horizon 2 tent which they launched in 2017 season.
The cot is with 6 feet, all protected by caps, so the weight is distributed and there should be no problems with the tent floor. But you might consider putting something underneath. One thing that comes to mind (and probably never used by anybody) is if you have a footprint, you might not use it under the tent. Instead, fold it once or twice and put under the cots' legs.
Otherwise, if you are concerned about the floor, you might consider one of those cots with bars instead of classic legs. See here several nice models of Coleman.
Using the cot without a pad
Yes, it is possible in warm weather conditions, but it is not only about the cold; it is much more comfortable to have a pad under you. When you are on such a cot, even a very thin inflatable pad will be fine.
---
Construction and style
I love the style of this cot. This is a stable aluminum construction with 6 points on the ground, and with a nice breathable bed mesh fabric. There are no end bars, so the full length of the bed is at your disposal. All metal parts are covered by fabric, so no touching of cold surfaces during the sleep.
There are no bars under the bed fabric, all you have are several fabric straps for reinforcement. This is good for the weight and for your back.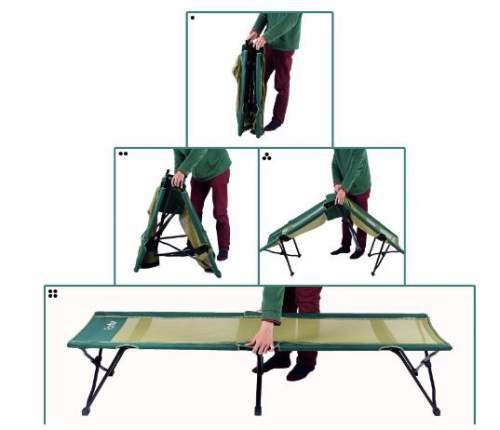 The setup cannot be easier. You take the cot out of its carry bag and unfold it in one single move, no tools are needed, no walking around and fixing anything. The same is when you pack the cot back in the carry bag, easy and simple.
---
My rating, pros & cons
There are two sizes available, but even the L size is "only" 75 inches (190 cm). This is more than enough for me, but it may be short for some people. Otherwise, it is hard to find any true objection to this elegant cot.
The rating by users on Amazon is exceptionally high, see below my own rating:
My rating breakdown of the Forfar Camping Cot
Weight -

7.4/10

Size -

8.3/10

Capacity -

7/10

Packed size -

8.8/10

Ease of use & features -

9.5/10
Summary
My overall rating of this cot is Very Good:
Pros
• Nice design.
• Great price.
• Easy setup.
• Durable materials.
• Nicely packable.
• No end bars.
• Versatile.
Cons
• The cot is not so big.
---
Specifications
Best use: camping, home, office use.
Weight: 16.6 lb (7.53 kg).
Capacity: 260 lb (118 kg).
Dimensions: 75 x 25.6 x 15 in (190 x 65 x 38 cm); there is 71 inches (180 cm) version as well.
Packed size (L x D): 35.8 x 6.3 in (91 x 16 cm).
Color: Military Green.
Bed fabric: PVC Oxford.
---
Summary
To conclude this Forfar Camping Cot Review, it is hard to find any true objection to this cot. It looks good, it is reliable, and the price is really affordable. I can fully recommend it.
The only thing to bear in mind is its length. Also, if you are a particularly heavy person, you might want to consider one of these cots designed for heavy people. In any case, if you are still undecided, please check this long list, it contains the best cots available on the market. See also this Magshion folding cot, a completely different style.

Thank you for reading. If you have any question or comment, please use the comment box below. I wish you a nice day.