---
This selection of Coleman camp tables includes a variety of designs and materials, with tabletops made of wood, aluminum, and fiberboard.
Coleman has many outdoor tables on the market, and here I have tried to present some of their best products of this type. The selection includes complete camping cooking kitchen sets, dining tables, and grilling tables.
As usual for Coleman, these are very affordable products and incredibly popular.
You will see that several of them have the words Pack-Away in the name. This indicates the fact that each of them folds into an elegant and thin box so they do not take much space in the car.
---
My list of Coleman camping tables
Here is my list with the camping tables listed by weight from heavier to lighter:
---
1. Coleman Pack-Away Deluxe Portable Kitchen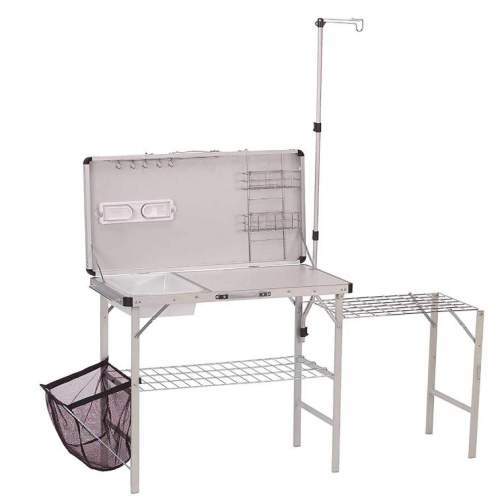 This set is heavy, it weighs 33.07 lb (15 kg) but it has many features so the weight is justfied.
Here you have a very functional structure with a cooking tabletop and a sink, plus a side stand for a grill.
The sink is on the left in the picture, and it measures around 14 x 10 inches (35 x 25 cm) and it is around 4 inches (10 cm) deep. This is a plastic tub and it cleans up easily, it is without a hole to drain it out. You can use the sink also as a storage area close at hand.
There is also a side bin, a lantern hanger, and plenty of attachment options for utensils, towels, etc.
When it is time to move, everything folds into itself, and the packed size is 39.5 x 20 x 7 inches (100 x 51 x 18 cm). As you see it packs thin and it easily fits in narrow spaces.

---
2. Coleman Pack-Away Portable Kitchen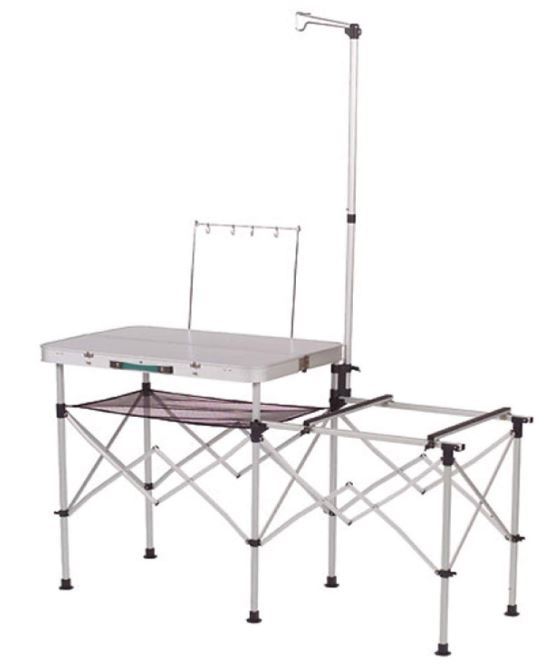 This camping cooking set has multiple storage and attachment features visible in the picture. So you have the main tabletop, a lantern hanger, a hanger for utensils, a storage net, and a side stand for the grill.
You have a collapsible construction, and it is incredibly packable. It packs into itself and it becomes a box that measures 32 x 11 x 4 inches (81 x 28 x 10 cm). So I have included it also in my list of best collapsible camping tables.
The table with all the elements weighs only 13.9 lb (6.3 kg) and I think this is quite remarkable for all that it offers.

---
3. Coleman Store More Cupboard Table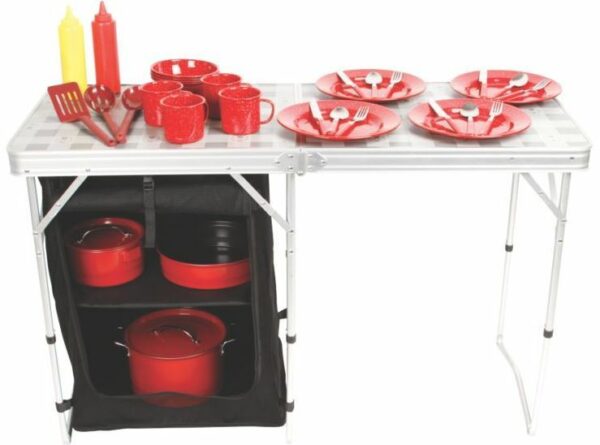 Here you have again a nicely designed aluminum folding table that stores into itself for transportation. But it also has a great storage system, so this is a collapsible soft cupboard that stores together with the table.
The frame is lightweight aluminum and the whole set weighs 13.45 lb (6.08 kg). When packed it becomes a very thin box, only 4.5 inches (11.5 cm). So this is a folding and portable camping table.

---
4. Coleman Living Collection Folding Table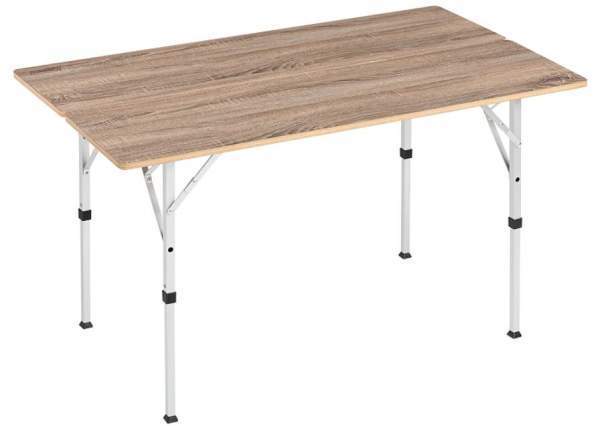 This table is from their Living Collection that includes 5 separate products. It weighs 12.5 lb (5.7 kg) and the weight is justified because you have a wood tabletop. So this is something that sets it apart from the tables here in the list, and in general. This all folds nicely into its included carry bag.
The legs offer two heights, so you effectively have two tables in one, a dining or cooking table, and a side table in the camp. This is why I have included it in my list of best camping tables with adjustable legs.

---
5. Coleman Pack-Away 4-in-1 Adjustable Height Folding Camping Table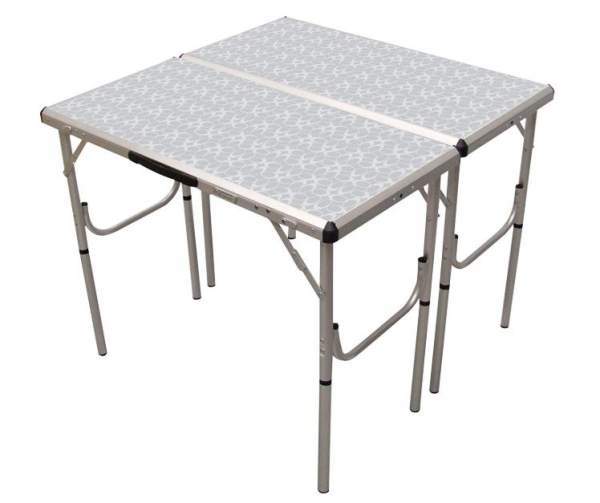 This Coleman table is again something unique here in the list, and also on the market in general. As the name suggests, this is a 4-in-1 camping table and a modular design.
So you have two tables and they can be combined in several ways. Each tabletop dimensions are 31.5 x 15.5 inches (80 x 40 cm).
Both tables are folding, so there is no assembly, and they fold in a single box. This is not all, the legs are adjustable and you have 4 different heights.
As for materials, the frame is aluminum and the tabletop is an MDF laminate. The weight is 12.3 lb (5.6 kg). You might want to know that this is an Amazon Choice product, and it is very affordable.

---
6. Coleman Mantis Space Saving Full Size Table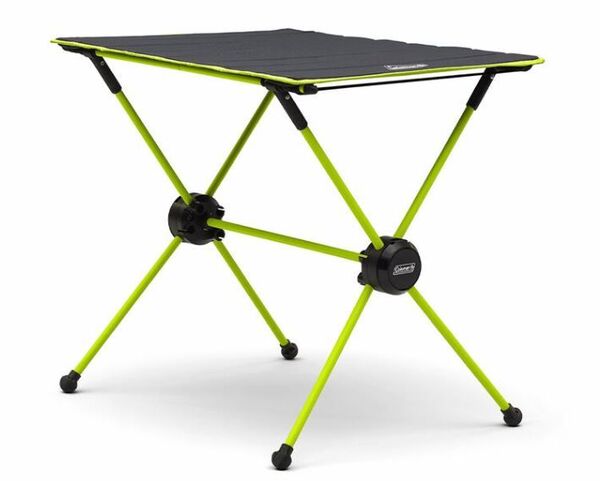 This is an easy to use compact collapsible outdoor table with a unique shock-corded frame. There are two hub elements as you see from the picture.
The unique details here are two cup holders integrated in those hubs. You can open them when needed, or keep closed.
The frame is steel and the tabletop is accordion type, with some fabric so it is not for hot items.
You have a carry bag included. The table weighs 10.12 lb (4.6 kg), and its overall dimensions are (L x W x H) 31 x 26.5 x 27.5 in (79 x 67 x 70 cm).

---
7. Coleman Compact Camping Table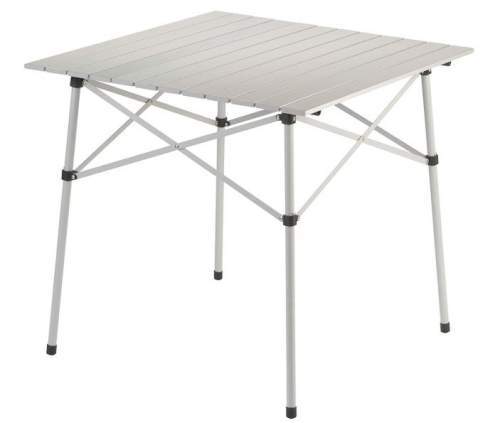 This Coleman Compact Camping Table looks very different from the other tables in the list. You have an aluminum/steel combination. So the frame and legs are steel and the rectangular hardtop is aluminum. The tabletop dimensions are 27.6 x 27.6 inches (70 x 70 cm).
It is quite light for the tables here in the list, it weighs 8.86 lb (4 kg), but its capacity is 100 lb (45 kg). The packed size is very good 27.6 x 5.5 x 5.5 inches (70 x 14 x 14 cm).

---
Final thoughts
In conclusion, the Coleman Camp Tables presented here come with a variety of useful features. So I am sure you can find something suitable for any outdoor activity, except for the trail.
These are all car camping items, easy to use, and compact for transportation. There are big differences in the weight and also in the functionality, so you can choose what suites you best.
The list will be updated whenever I find a camping table from this brand that is worth adding here. You might want to bookmark this post and visit it occasionally, this will keep you informed.
Let me know if you have questions or comments, there is a comment box below. Thank you for reading and have a nice day.