---
The Slumberjack Pine Vista Ultralight Camp Cot is a collapsible military-type lightly padded cot with a carry bag included.
---
Key features & benefits
Military style cot.
Needs assembly.
Good packed size.
Lightly padded.
Carry bag included.
---
What is in the name
You have seen the word Ultralight, this is the part of its official name and it sounds like a joke for a cot that weighs 14.72 lb (6.68 kg). So I have no idea why they needed this.
In fact, the weight is typical for such cots, neither ultralight nor exceptionally heavy. You can compare it with Timber Ridge TR Cedar Deluxe Camo Heavy Duty Folding Cot. But indeed it is lighter than the Bass Pro Shops Eclipse Camp Cot.
So this is a very typical military style collapsible cot, and it needs the usual assembly that is standard for such cots. This means that only two end bars are separate, all other elements are pre-attached to each other.
The picture below shows how you unfold or fold its legs and frame. The mentioned end bars shown in the picture are the only separate elements here.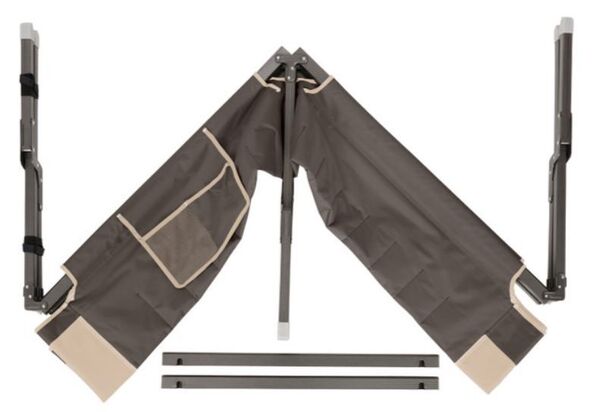 When folded as in the picture below, the dimensions are 39 x 9 x 5 inches (99 x 23 x 13). This is reasonable for such cots.

In the picture below you can see how one of those end bars is added to the cot.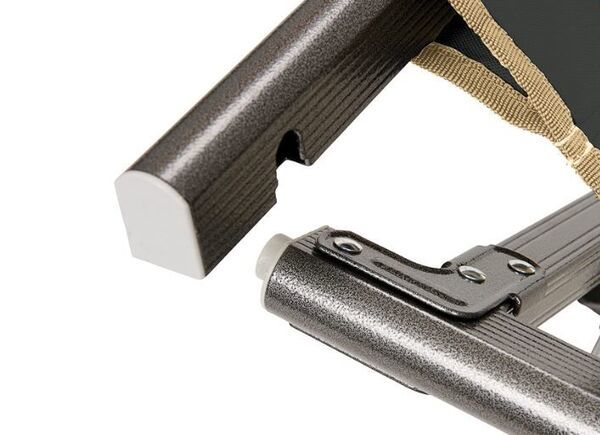 Other details & materials
The cot comes with a storage set on its side, see the picture. So here you can keep some small items close at hand.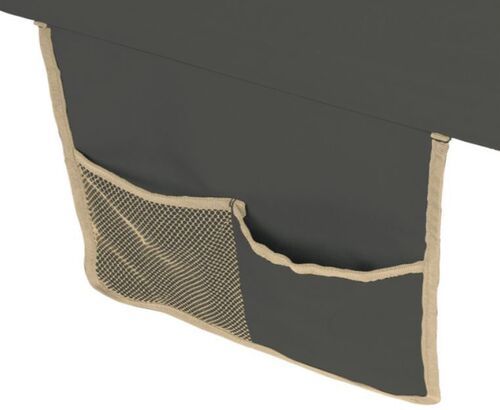 The frame is something what they call Duralite. I have no idea what this may mean, but this is a metal alloy. They claim it is a sustainable alternative to steel and aluminum.
There is no info about the fabric, but this is clearly a polyester, so this is a typical material. But there is a light padding here. It is quite symbolic, so if such cots are too hard for you, it will be necessary to add some pad.
The feet are with caps, but I would not use them without extra protection in a floored camping tent.
---
Who is it for
Regarding the capacity, it is quite typical 300 lb (136 kg). Most of the cots on the market are around this value. If you need more, please check my list of cots for heavy people.
Regarding the dimensions, the bed is 74.5 x 28.3 inches (189 x 72 cm) so this may look wide enough, but it is definitely not very long.
However, note that it has a frame on all the sides, so the actual bed size is even smaller. Bear this in mind if you are a very tall person. You will need one of the cots for tall people.
The height is 15.7 inches (40 cm), and from the picture below you realize that this implies lots of storage space for your gear.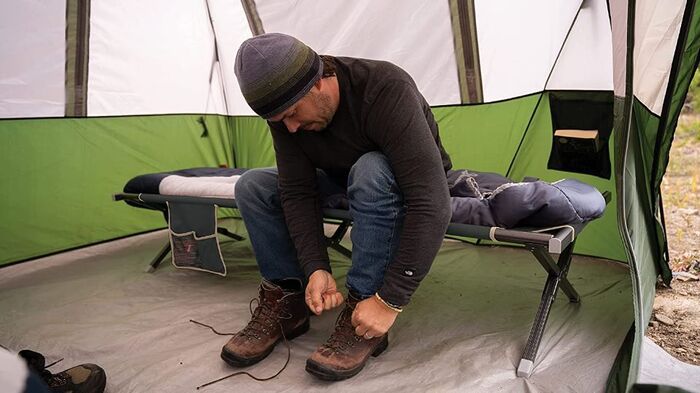 Regarding the weight, I already addressed this question above, this is a heavy item. It is lighter than many military-type cots built in the same style, but there are lighter options on the market.
You have already seen its packed size, not much to say here, it is similar to all the other cots of this type.
Regarding the price, it is a bit steep, there are more affordable options on the market. But you have an established brand behind this product, and it comes with a 2 years warranty.

---
Specifications
Weight: 14.72 lb (6.68 kg).
Capacity: 300 lb (136 kg).
Dimensions (L x W x H): 74.5 x 28.3 x 15.7 in (189 x 72 x 40 cm).
Folded dimensions: 39 x 9 x 5 in (99 x 23 x 13).
Warranty: 2 years.
---
Rating, pros & cons
Below you have my rating and some of the pros and cons. You can rate the cot from your side, there is a rating bar for this purpose.
Military style lightly padded cot.


Product Name: Slumberjack Pine Vista Ultralight Camp Cot
Product Description: The Slumberjack Pine Vista Ultralight Camp Cot Is a Collapsible Military-Type Lightly Padded Cot with a Carry Bag Included.
Brand: Slumberjack
SKU: B0B9HQQWMP
Weight -

7.8/10

Size -

8.5/10

Packed size -

8.2/10

Capacity -

7.5/10

Ease of use & features -

9.1/10
Summary
The cot stands good in almost all rating criteria so the overall rating is also good.
Pros
Light padding.
Easy to use.
Carry bag.
Cons
Expensive.
Not very long.
---
Final thoughts
So in this Slumberjack Pine Vista Ultralight Camp Cot is is best to ignore the word 'ultralight' in the official name. It is completely misleading and unnecessary.
This is a very standard military style cot, the only feature that sets it apart is its light padding. It is tall enough to be used for sitting in the tent, and also to store lots of gear underneath it.
Best places to buy:
For more options, please check under the category Military Cots, you will find them many here in the site.
Bookmark this site and visit it when you find time, this will keep you informed, you have new texts added here on a regular basis. Let me know if you have questions, there is a comment box below. Thank you for reading and have a nice day.