---
Here you have my selection of best portable lightweight folding camping stools and tripods, easy to use, and reliable products from the best-known brands.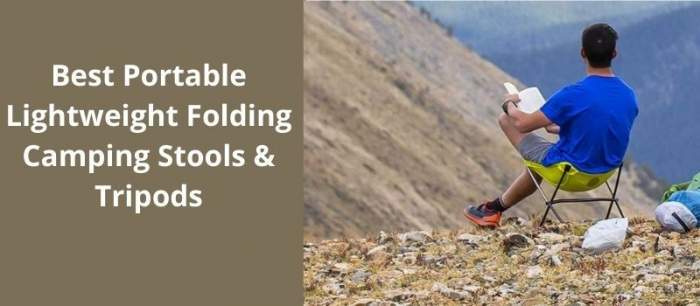 ---
As you realize from the title, you have stools and tripods included here. They are all folding, but they are different from standard camping chairs in various ways. They are usually smaller, lighter, and more compact than most of the chairs, but they are also less comfortable.
But you will see here some examples of tripods with a backrest. This extra feature adds a lot to their comfort.
---
My list of portable fold up stools & tripods
Below you have the stools and tripods ordered by weight, from heavier to lighter:

All of them are described in detail in my separate texts, so follow the links to read more.
---
1. ALPS Mountaineering Grand Rapids Chair/Stool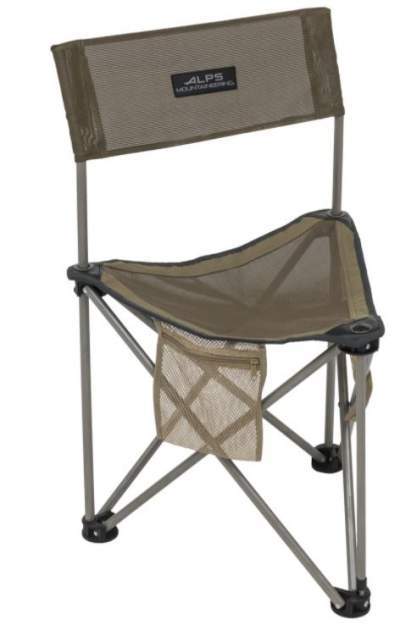 This Alps Mountaineering product is a folding three-leg construction with an impressive capacity of 375 lb (170 kg). This is really amazing to have with such a small chair that weighs only 5 lb 6 oz (2.44 kg).
The frame is a frame is a powder-coated steel and the fabric is very breathable so this makes it suitable for warm weather use. Note that it comes with a carry bag included. You also have two storage pouches. The seat is quite high for such a type, it is 17.5 inches (44 cm) above ground.

---
2. GCI Outdoor Quick-E-Seat Folding Tripod Field Chair with Backrest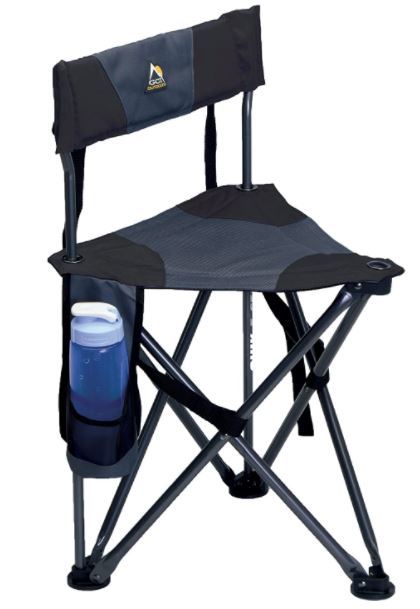 The name of this GCI Outdoor Quick-E-Seat Folding Tripod Field Chair with Backrest describes what you have here. So this is a tripod with a bonus backrest that adds lots of comfort.
But it is still lightweight with its 4.4 lb (2 kg) although the frame is steel. There is no assembly, you open it or close in seconds. It comes with a bottle holder. The seat height is 17.3 inches (44 cm), and the capacity is 250.22 lb (113 kg).

---
3. Pacific Pass Easy Carried Tripod Chair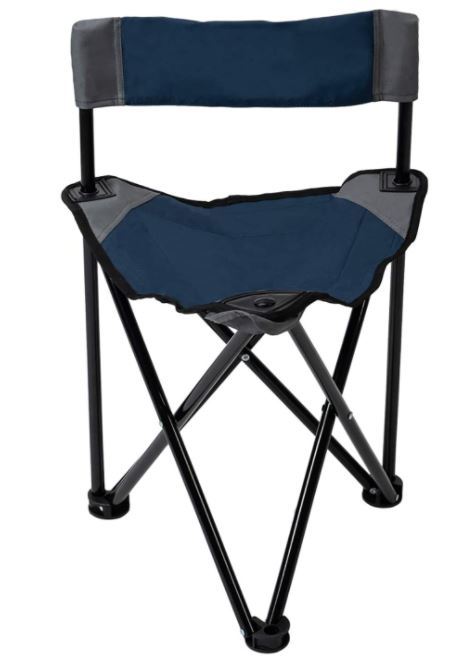 This is yet another tripod here that has a backrest. This is a steel structure but it can be described as very light, it weighs only 3.3 lb (1.5 kg).
I am sure you realize already from the picture that this is a purely folding construction so there is no assembly, it is very easy to use. It comes with a carry bag included.
The capacity is a bit modest, 200 lb (91 kg), and the seat height is 15.7 inches (40 cm). Note also that it is incredibly affordable.

---
4. Big Agnes Skyline UL Stool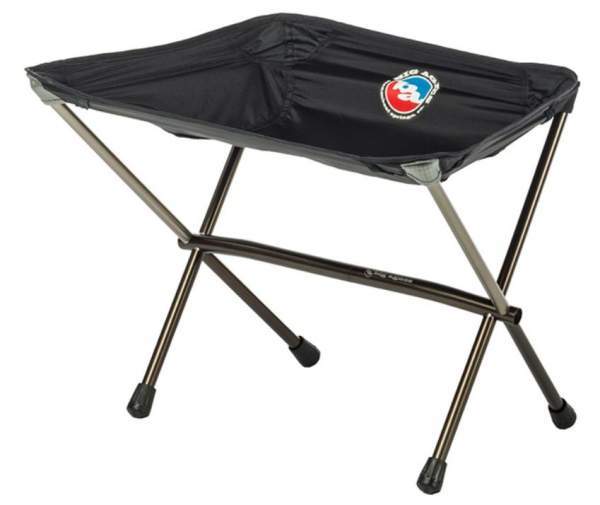 The letters UL in the official name of this Big Agnes Skyline UL Stool mean ultralight. This is very appropriate because it weighs only 1 lb 2 oz (510 g).
Its packed size is also exceptional, it measures (L x D) only 12 x 3.5 inches (30 x 9 cm) so you can carry it in the pack and transport in any way you want.
There are no plastic elements here, only the feet are some sort of nylon. The capacity is 250 lb (113 kg).

---
5. Helinox Speed Stool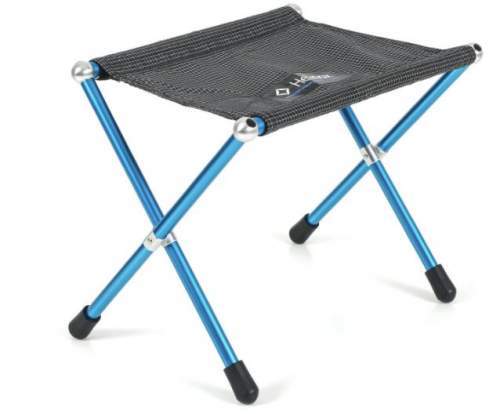 This is an ultralight and ultra-compact camping stool. It is folding as you would expect and this makes it easy to use. It is hard to find a stool that would match its 1 lb (0.47 kg) weight.
But perhaps even more important is its incredible 5 years warranty. It comes with a carry bag included. The official capacity is 220 lb (100 kg).

---
Final thoughts
So this my list of best portable lightweight folding camping stools and tripods. It will be updated whenever I find a product worth adding here. So stay tuned and bookmark this text.
You have seen the weight and the packed size for each of these items, and you realize that not all of them are really suitable for the trail. Though some of them are the lightest and the most compact that you will find on the market. But these are all versatile outdoor products that can be used for fishing, hunting, camping, picnics, and you name it.
Editor's Choice stool
I have decided to put forward this stool as my choice product because if its overall quality, weight, and packed size:
Ultralight and ultra-packable top-quality stool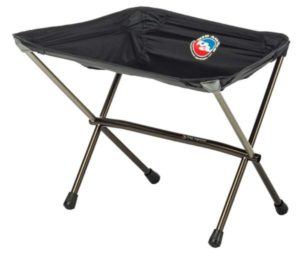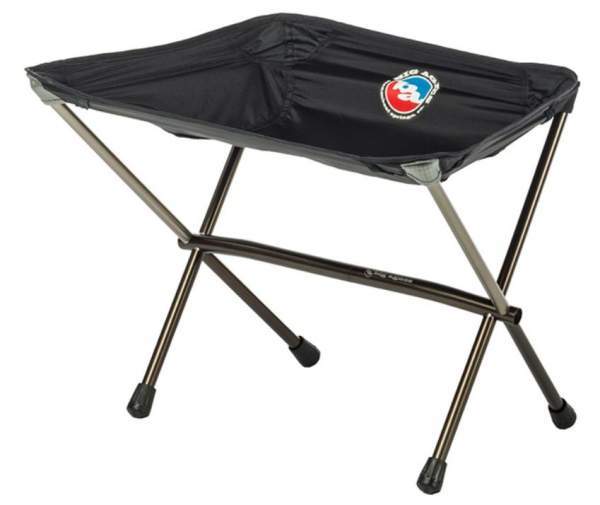 Product Name: Big Agnes Skyline UL Stool
Product Description: This Big Agnes Skyline UL Stool review is about a new ultralight and ultra packable backpacking chair with an innovative hubless design.
Brand: Big Agnes
SKU: B07M65DV3T
MPN: FSULSB19
Weight -

9.9/10

Dimensions -

6/10

Packed size -

10/10

Capacity -

7/10

Comfort -

8/10

Craftsmanship -

9.7/10
Summary
My overall rating of this stool is Very Good:
Pros
Incredibly light.
Very easy to use.
Top quality.
Great packed size.
Great carry bag.
Thank you for reading. There is a comment box below so let me know if you have questions or comments. Have a nice day.