---
The GCI Outdoor Quick-E-Seat Folding Tripod Field Chair with Backrest is a very light and affordable easy to use and portable outdoor chair.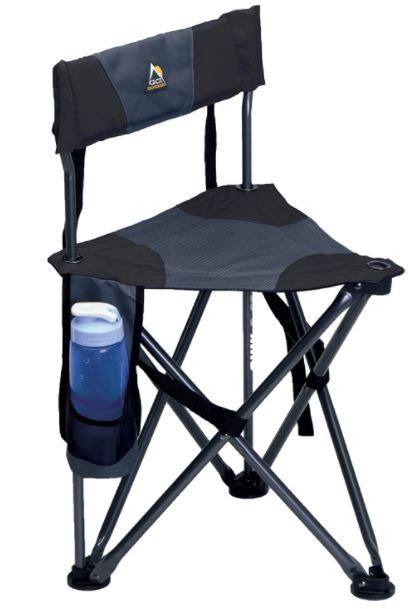 ---
Key features & benefits
Folding stool/chair.
Light chair.
Backrest.
Easy to use.
Bottle holder.
Great price.
---
What is in the name
There is a lot of information in the long name of this chair. I would start with the word 'backrest'. So this is not an ordinary tripod as the name tells you, you have this extra feature for additional comfort.
The words Quick-E-Seat and Folding imply that this is a chair without assembly. In fact, it comes with what they call auto fold technology. You will see this in the video below, but the picture below indicates what this is about. The chair has a strap that you pull up and the chair will fold itself.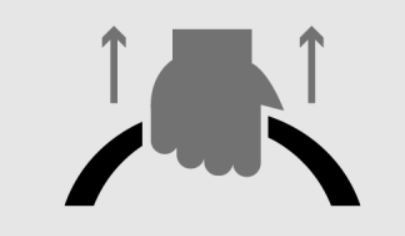 Perhaps you did not know but the letters GCI mean 'great chair innovations'. This is what best describes this brand that is specialized in outdoor chairs and all of them come with some unique and interesting detail.
With the mentioned strap you can carry the chair attached to your shoulder, see the picture: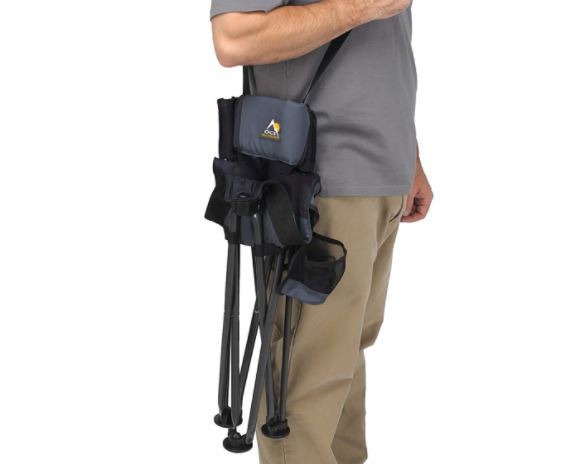 When folded for transportation, the measures of the chair are shown in the picture below. So it is a bit elongated but it is thin. Note that there is no carry bag included.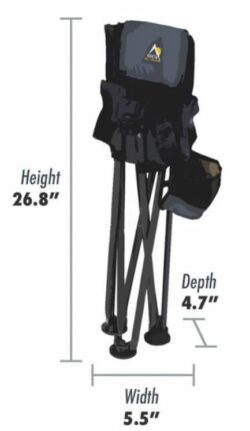 You have an extra feature here, and this is a bottle holder on the side, see how it looks: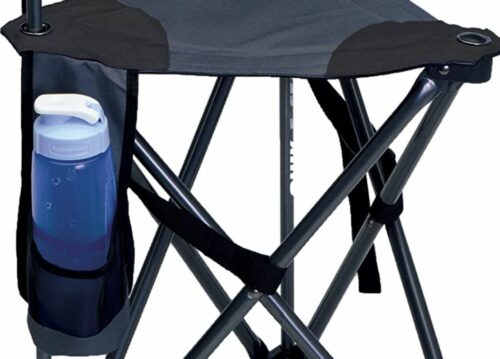 The materials
The frame is sturdy and lightweight powder-coated steel. Each of the back legs consists of three poles that converge to its wide plastic feet. So this chair will not easily sink in the ground.
The fabric is polyester and there is some padding in the seat and in the backrest. Please see a bit more in this video:
---
Who is this GCI Outdoor Chair for
Regarding the capacity, with 250.22  lb (113 kg) official weight capacity I would describe it as modest to average. For example, this ALPS Mountaineering Grand Rapids Chair is built in the same style and its capacity is better, but there are tripods of this type with a lower capacity.
Regarding the weight, the chair is light with its 4.4 lb (2 kg). There are lighter but there are also heavier tripods of this type on the market.
For example, the mentioned Alps Mountaineering chair is a bit heavier, but this is because it is stronger with its officially higher capacity that is probably due to the fact that even the front leg in this chair contains three tubes as compared with two tubes in this GCI Chair.
Regarding the dimensions, the chair is moderate, you will see the numbers below. Note that the seat height is the same as in the Alps Mountaineering chair.
Regarding affordability, the price of this chair is more than fair, it is a bargain.
Specifications
Weight: 4.4 lb (2 kg).
Capacity: 250.22  lb (113 kg).
Dimensions: 27.4 x 17.1 x 14.6 in (70 x 43 x 37 cm).
Seat height: 17.3 in (44 cm).
Packed size: 26.8 x 5.5 x 4.7 in (68 x 14 x 12 cm).
Frame: steel.
Warranty: Manufacturer's limited lifetime warranty.
---
My rating, pros & cons
The table below summarizes what I think about this GCI Outdoor Quick-E-Seat Folding Tripod. I use the same criteria for all the chairs, so this is a consistent rating and you can easily compare with other chairs of this type here in the site. 
Light and easy to use folding tripod with a backrest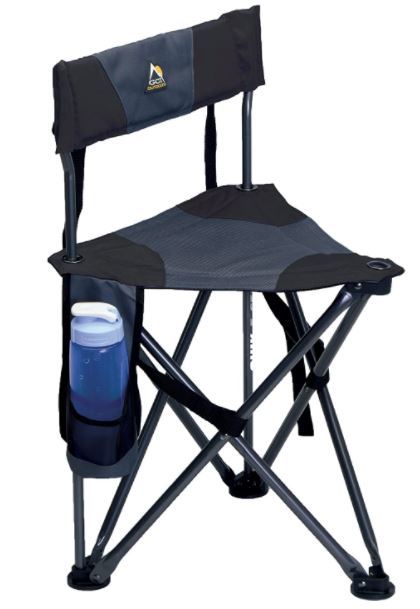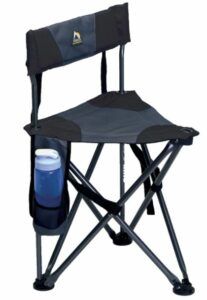 Product Name: GCI Outdoor Quick-E-Seat Folding Tripod Field Chair with Backrest
Product Description: The GCI Outdoor Quick-E-Seat Folding Tripod Field Chair with Backrest Is a Very Light and Affordable Easy to Use and Portable Outdoor Chair.
Brand: GCI Outdoor
SKU: B0042X33TQ
MPN: 19010
Weight -

8.3/10

Dimensions -

6.8/10

Packed size -

7.2/10

Capacity -

7/10

Comfort -

9.5/10

Craftsmanship -

9.7/10
Summary
This chair scores very good in almost all the rating criteria, so the overall rating is consequently Very Good.
Pros
Very easy to use.
Quality craftsmanship.
Great price.
Cons
No carry bag.
A bit long when packed.
---
Final thoughts about this GCI chair
You have seen it, this GCI Outdoor Quick-E-Seat Folding Tripod Field Chair with Backrest is a product from one of the best-known manufacturers in the outdoor chairs industry. 
This is a reliable and very easy-to-use chair, with some unique details as you would expect from such a reputable brand.
They describe it as suitable for camping, boating, hunting, fishing, tailgating, sporting events, and also for travel. No doubt they are right. Fully recommended. 
Please check under the category Camping Chairs if you need to see more options. Note that there is a comment box below, so let me know if you have questions or comments. Thank you for reading and have a nice day.