---
The NEMO Moonlite Reclining Chair is an ultralight and ultra-compact unique outdoor chair with truly advanced technology and features.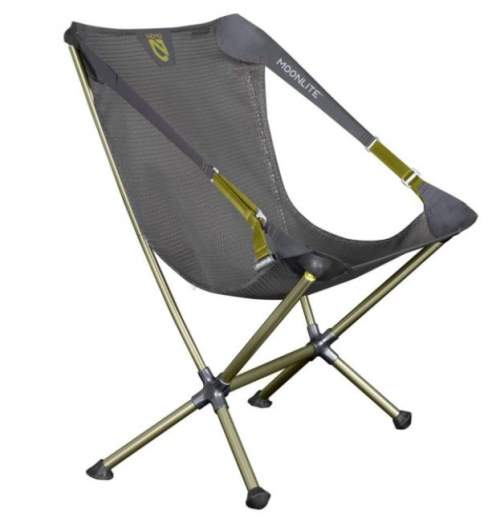 ---
Key features & benefits
Ultralight.
Ultra-compact.
Reclining.
Unique design.
Seamless breathable seat fabric.
---
Overview
This Nemo Moonlite Reclining Chair is completely unique on the market with its original patent-pending reclining system. It allows for continuous multi-position adjustability that lets you sit up straight or lean backward.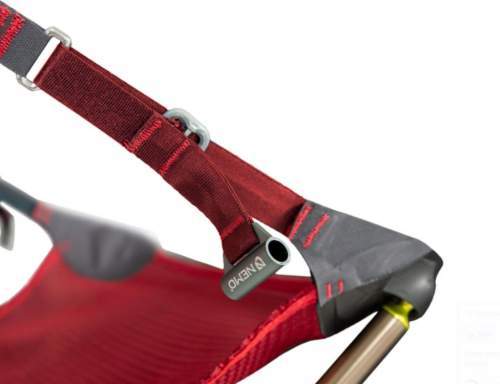 The picture above shows some details of its side straps used for reclining. You have them two on the side so adjusting your optimal backrest position is very easy.
Below you can see how the backrest moves when you change the positions on the side straps buckles. The backrest poles are flexible enough to allow for different backrest positions within a range of angles. Obviously, I have plenty of reasons to include this chair in my list of best reclining camping chairs.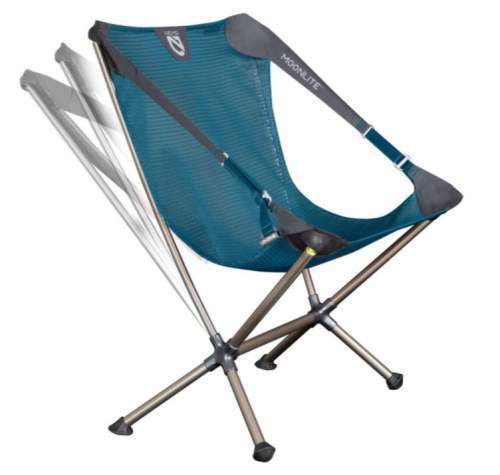 How it is built & materials
This is a collapsible chair so it needs a simple assembly. But this is easily done with its shock-corded frame and the sling that attaches easily to it. But you have many unique details here.
See for example this incredibly well-designed ball and socket connection point where the seat attaches to the backrest pole. I do not know any chair to the market with such a design.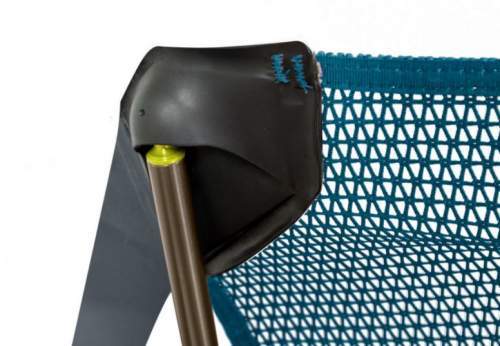 So you have a smooth contact between the two elements that rotate and adjust to your body movement. The same connection is on all four ends of the poles to which the seat attaches.
The chair folds to a very small size when packed. The picture below shows this visually. So the packed size in its nicely designed carry bag is only 14 x 4 x 4 inches (35 x 10 x 10 cm).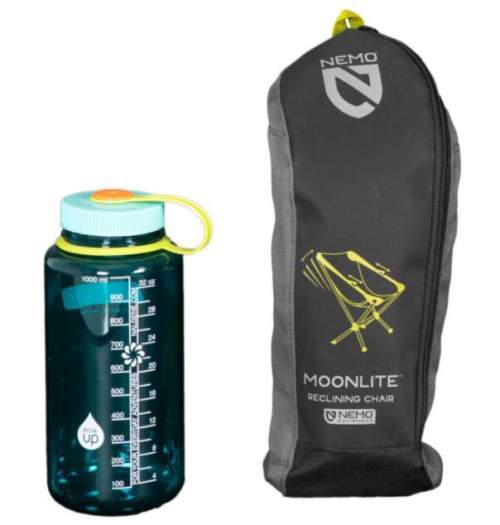 You have 100% post-consumer recycled polyester materials in the chair's mesh, edge binding, and webbing. So these elements are bluesign approved. As you realize from the pictures, this is the most breathable mesh you can imagine. This is seamless construction with smooth and pleasant edges.
Each of the tubes in the frame is with its own unique diameter and profile. So for example, the bottom crossbar (visible below) is oval for increased strength. See below also one of its 5-way hub elements. This is a premium forged and hardened 6061 series aluminum.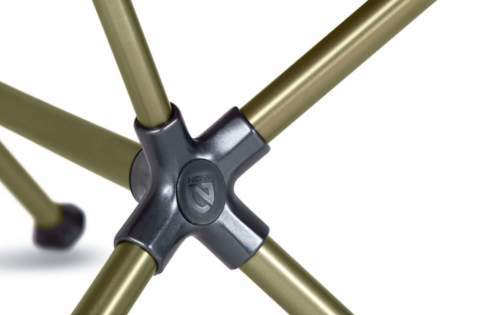 The rest of the frame is built from 7001 series aluminum. Note also that the two pairs of feet are differently shaped for an optimum grip on any terrain. The rear pair is wide and flat to prevent sinking when you lean backward: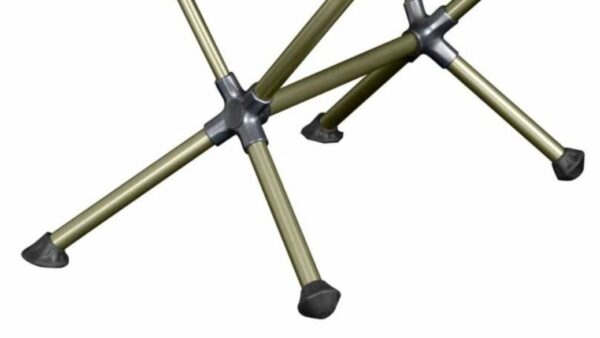 Note also that they build it in three different colors, they are shown on purpose here in the pictures.
---
Who is this NEMO Moonlite Reclining Chair for
Regarding the weight & packed size, they are such that you can carry it in any pack no matter how small. The chair weighs 1 lb 14 oz (850 g). So I have included it in my list of ultralight backpacking chairs. You have already seen its incredible packed size. So my rating for these two features is maximum, you will see this below.
Regarding the capacity, it is quite typical for camping chairs, officially it supports the weight of up to 300 lb (136 kg).
Regarding the size, the chair is not so large, the dimensions are shown below. Note that the seat is 15 inches (38 cm) above the ground, so this is moderately low.
But the size is compensated with exceptional custom-engineered comfort and its adjustable seating position.
Please see more in this video:
---
Specifications
Packed weight: 1 lb 14 oz (850 g).
Capacity: 300 lb (136 kg).
Dimensions: 20 x 20 x 26 in (52 x 51 x 65 cm).
Packed size: 14 x 4 x 4 in (35 x 10 x 10 cm).
Seat height: 15 in (38 cm).
Protected by the NEMO Lifetime Warranty.
---
Rating, pros & cons
In the table below you have summarized my rating and pros and cons. You can rate it yourself so do not hesitate.
Ultralight & top-level craftsmanship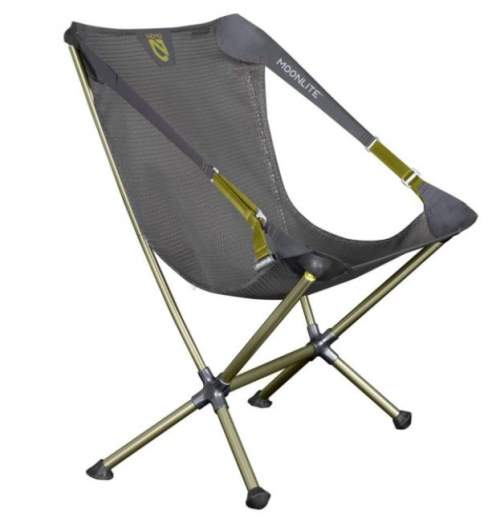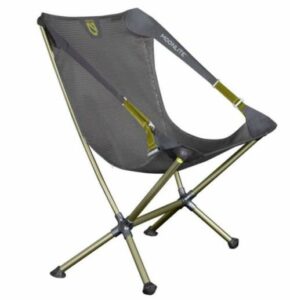 Product Name: NEMO Moonlite Reclining Chair
Product Description: The NEMO Moonlite Reclining Chair Is an Easy to use Ultralight and Ultra-Compact Unique Outdoor Chair with Truly Advanced Technology and Features.
Brand: Nemo
Weight -

9.4/10

Dimensions -

7.1/10

Packed size -

10/10

Capacity -

7.5/10

Comfort -

9.7/10

Craftsmanship -

9.8/10
Summary
The dimensions and capacity of this chair are moderate, but everything else is simply extraordinary.
Pros
Ultralight.
Ultra-compact.
Reclining.
Great carry bag.
Patent pending.
Unique features.
---
Final thoughts
So this NEMO Moonlite Reclining Chair is a top-level product with exceptional design and technology. It is easy to transport and to use, and it will deliver maximum comfort wherever you decide to use it. This can be on picnics and also on extended backpacking tours. Fully recommended.
If you still need more options, just search in the category Camping Chairs here in the site, you will find them in hundreds. There are more products of this brand here in the site, you can see them here.
Let me know if you have questions, there is a comment box below. Thank you for reading and have a nice day.