---
Here I give the list of 8 best double camping chairs handpicked out of many similar items on the market, all folding, portable, and reliable outdoor items.
The chairs in the list are ordered alphabetically so the numbers are for navigation and not for ranking.
---
1. Coleman Quattro Lax Double Quad Chair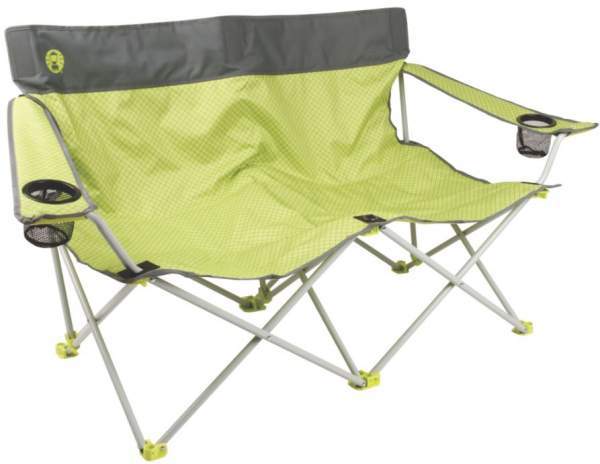 This Quattro Lax folding double camp chair is very wide, 55 inches (140 cm) from one end to another and it is nicely packable for a double chair. But the seat is rather low, 14.6 inches (37 cm) above the ground. So bear this in mind if you are a very tall person.
One particular feature that sets it apart is its two very large pouches on the back, where you can store your stuff and pieces of clothing. It comes with cup holders integrated in the armrests, and you also have a carry bag included.
The weight is 10.5 lb (4.8 kg), so it is among the lightest here in the list, and its capacity is 450 lb (204 kg). This is a very popular and affordable chair.

---
2. Guide Gear XL Club Love Seat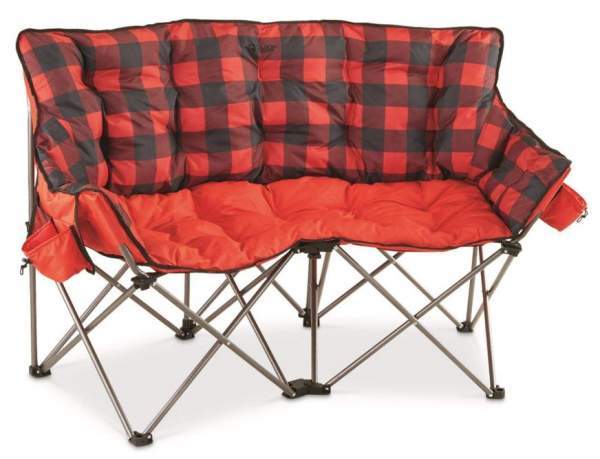 This Guide Gear chair is with a padding which is without a match, soft and comfortable, and you can realize this from the picture. I have included it to my list of best padded camping chairs.
It offers padded armchairs, and on both sides you have storage elements that include a cup holder and a pocket. It comes with a carry bag included.
You probably want to see some numbers, so the weight is 18.7 lb (8.5 kg) and the capacity is 500 lb (227 kg). The dimensions are (L x D x H) 58 x 20 x 38 inches (147 x 51 x 97 cm) and the packed size is 38 x 16 x 12 inches (97 x 41 x 30 cm).

---
3.
Kamp-Rite 2-Person Camping Double Folding Chair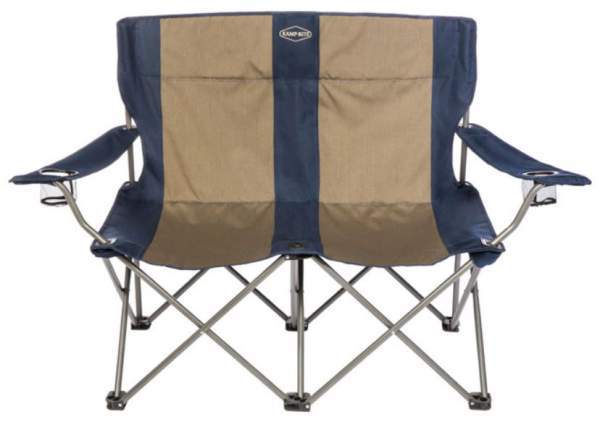 This Kamp-Rite folding chair is a great option for camping, sporting events, and for using it at home in the garden. The frame is a powder-coated steel and the overall structure and the fabric are really elegant. With 14 lb (6.3) of weight, it is still portable and its capacity is 500 lb (227 kg) in total.
You have two cup holders in its soft armrests, and the length from one side to another is 42 inches (107 cm). The seat is at 17 inches (43 cm) above the ground.

---
4. Kelty Loveseat Chair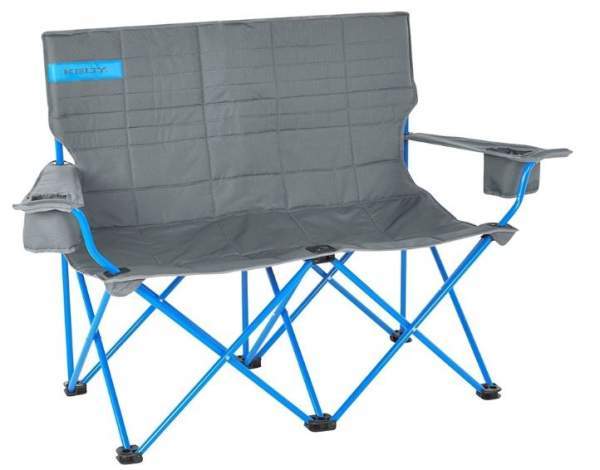 This Kelty's double folding chair is a part of a collection which includes several items all built in the same style in the same colors. It is a bit heavier than some other chairs in the list, so the weight is 16 lb (7.3 kg), and the total capacity is 400 lb (181 kg).
Note that the seat is rather high, 19 inches (48 cm), so this is more suitable for taller people. The seat width is 44 inches (112 cm). Note that it is padded.
The particular feature here is its carry bag, in fact, this is a unique Roll-Tote carry tool that can be used in various ways, even to sit on it on the ground, and also to bring firewood. Please follow the link for more.

---
5. Kelty Low Loveseat Chair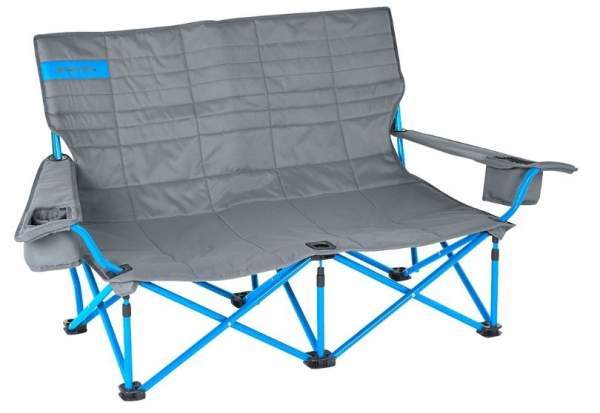 As you realize from the name and from the picture, this Kelty Low-Love Chair is a low version of the LoveSeat chair presented above. So this is from the same collection which I mentioned earlier.
The weight is slightly different, 15 lb 6 oz (7 kg), and the capacity is much better than in its taller cousin above, it is 500 lb (227 kg). Note that the seat is at 13.5 inches (34 cm) above the ground, as expected from its name.
The chair comes with the same Roll-Tote carry bag, and you have two insulated cup holders. The frame is steel, and the fabric is a durable 600D polyester.

Note that they have a new 2019 version of this chair in several different colors.
---
6. OmniCore Designs MoonPhase Home-Away LoveSeat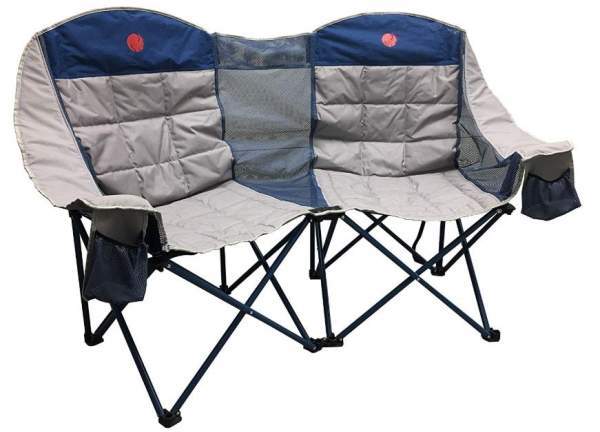 This is a double folding camp chair with a really particular design that sets it apart from the chairs in the list. This is partly described in its name, the MoonPhase words are here to describe the fact that chair has some extra fabric in between the two seats so you can use it with a curved set up as in the picture above.
This is the heaviest chair here, it weighs 20 lb (9.07 kg), but its capacity is impressive, 600 lb (272 kg). The width is also great, you have 53 inches (135 cm) from one end to another, and it is padded.
The backrest is high so you have headrest as well. The seat is 17 inches (43 cm) high. Please follow the links to check for the price updates.

---
7. Timber Ridge Spruce Duo Loveseat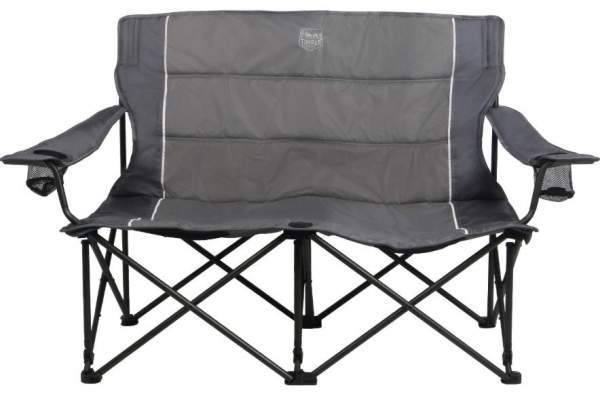 This is a padded chair and with a quite high backrest, with soft armrests on the sides and with integrated cup holders. One extra bonus here is a mesh phone pocket under the seat.
The total weight capacity is quite good, 500 lb (227 kg). The seat height is around 12.8 inches (33 cm) above the ground, so it may be a bit low if you are a very tall person. The width is 41.3 inches (105 cm).
You have a powder-coated steel frame and the fabric is 600 Shadow Embossed & 840 Velocity. In spite of such a material, it is rather lightweight for such a type, with the weight of around 10.5 lb (4.8 kg). The chair comes with a carry bag included. Note that it is also very affordable.

---
8. Trademark Innovations Loveseat Style Double Camp Chair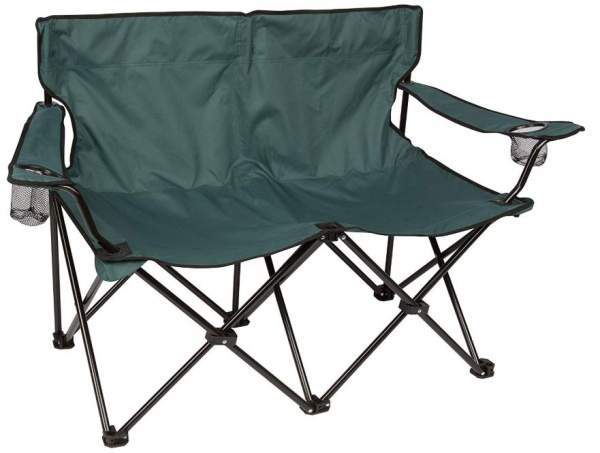 This is a double camp chair with a steel frame, with two armrests and the total width of around 50 inches (127 cm). The capacity is 400 lb (181 kg) so it is quite modest as compared to some other chairs above.
The backrest is rather low, the overall height from the ground is 31.5 inches (80 cm), and the seat is at some 17 inches (43 cm) above the ground.
The chair has two mesh cup holders and it comes with a carry bag. This is probably the most affordable chair here, please check the link for the price updates.

---
How to choose
All the double camping chairs in the list are very affordable and the basic design is very similar. Those are folding and portable tools that do not take much space in the car trunk.
But there are a few features that make the difference, and they include:
The padding. So some of them are padded and this you might bear in mind, such a feature adds a bit of comfort but you might not want it if you plan to use the chair in a very warm environment where you would want more breathability instead.
Extra storage elements. See for example the Coleman chair with its huge pouches on the back.
Curved setting instead of a linear one. This is what you have in the OmniCore chair presented above.
Seat height. If you are a very tall person or an elderly person, perhaps you might want a chair with a higher seat. Some of them are rather low, like the Coleman chair or the Kelty Low Loveseat, so better choose some higher model like the Kelty Loveseat chair.
Backrest height. Some of the chairs have a high backrest which also gives some headrest. For example, you have this in the OmniCore chair.
Colors. Some are built in many colors, a great example is the Trademark Innovations Loveseat which is available in 6 nice colors.
Capacity. This may be of importance for heavy users, so I have mentioned this parameter for all of them. The OmniCore chair is one of the strongest here.
Weight. This is not such a critical parameter because all of them are tools to be used at places with a motorized access. But there are differences indeed so check if this is important to you.
Thank you for reading. This is my temporary list with the best double camping chairs that are currently on the market. It will be updated as I find new and quality models on the market, so bookmark this page and check it from time to time.
Please use the comment box below in the case of questions and comments.
---