---
If you are in search of a great camping cooking station for the next camping season, check this list with some of the best camping kitchen tables with sink.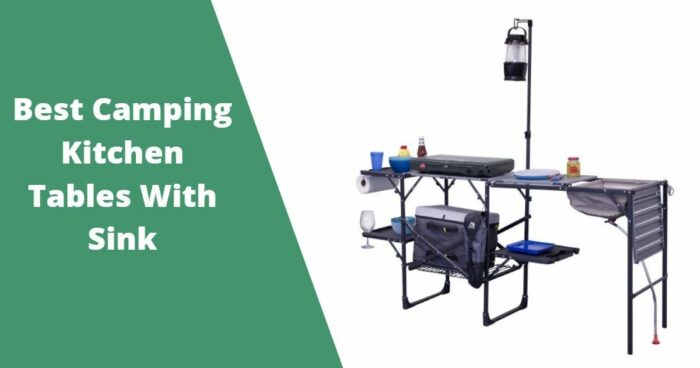 ---
Our list of best camp tables with sink
Here is the list with the tables listed by weight from lighter to heavier so if you are choosing by weight this should help:
---
1. Durable Ozark Trail Portable Camp Kitchen and Sink Table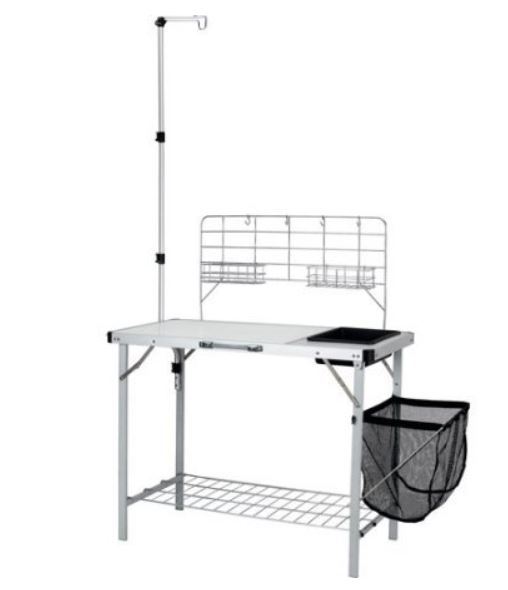 This table is here because of its sink which you see on the right of the tabletop. This is a hard plastic and it is removable, there is no drain. The dimensions are 13.4 x 9.5 x 3.7 inches (34 x 24 x 9 cm). It can remain in place when you fold the station and pack it in the carry bag. It can hold up to 1.8 gallons (7 L) of water.
There are more features here of course, you have a lantern hanger and several storage options visible in the picture. The system weighs 20.5 lb (9.3 kg). Please follow the link for more.

---
2. Ozark Trail Deluxe Camp Kitchen with Storage and Sink Table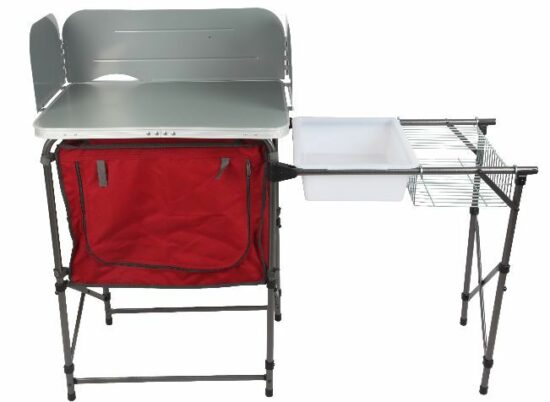 In this case the sink is a removable plastic dishpan without a drain. The dimensions are around 15.75 x 11.4 inches (40 x 29 cm), and it is 4.33 inches (11 cm) deep.
This is a great system with the main tabletop for cooking and grilling, equipped with a windscreen. You also have plenty of storage space in the pantry and also on the side stand.
It comes with a carry bag, and all the frame elements which you see in the picture are pre-attached to each other. This makes it easy to use, just unfold and add the tabletop and the other removable pieces.
It is included in my list of best tables with storage elements. The complete set weighs 21.46 lb (9.7 kg), and it is very affordable.

---
3. GCI Outdoor Master Cook Portable Folding Camp Kitchen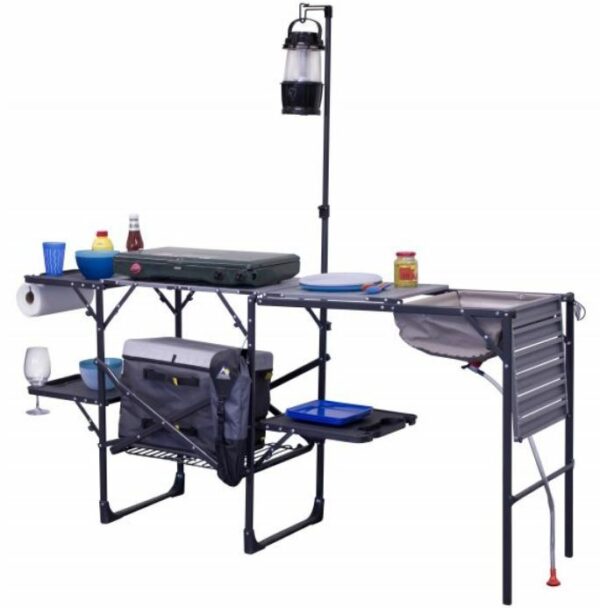 This cooking station is with a non-removable sink, and it is built from a soft material. So when you fold the system, the sink remains in place. Note that you also have a drain on the sink.
This is a folding system and this is why it is also in our list of best folding camping tables. You have practically all you need for your outdoor cooking. This includes several side tables, storage elements, and a lantern hanger.
The frame is steel and the tabletop is aluminum. You should know that its total weight capacity is more than 170 lb (8o kg). This is why it is included also to our list of grilling outdoor tables. The whole system weighs 22.7 lb (10.3 kg).

---
4. Giantex Portable Camping Kitchen Table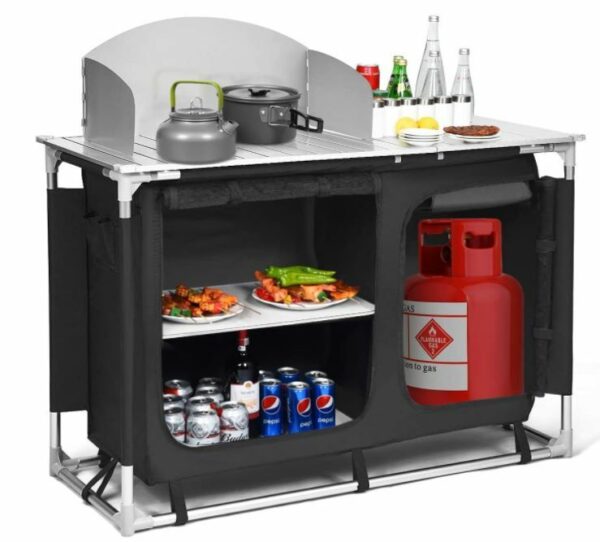 This Giantex Portable Camping Kitchen Table is a steel/aluminum construction, fully collapsible, and with lots of storage space as you realize from the picture. This is why I have added it also to my list of best camp tables with storage elements.
But it is here because of its removable sink that can be attached to the part of the tabletop. Other features include a heat resistant tabletop, a windscreen, and a carry bag is included.
The table weighs 23 lb (10.4 kg) and its overall dimensions are (L x W x H) 48 x 21.5 x 47 inches (122 x 55 x 119 cm).

---
5. Coleman Pack-Away Deluxe Portable Kitchen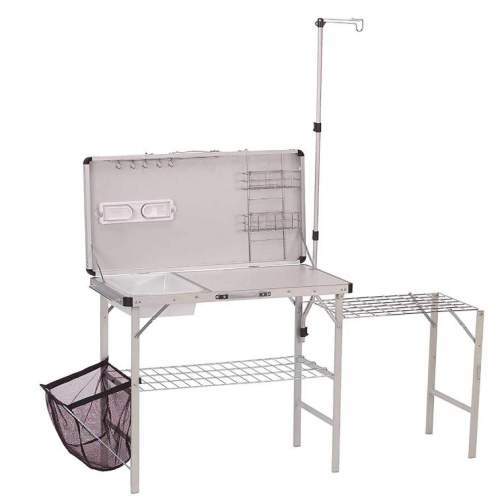 This is a beautifully designed and very functional structure with a cooking tabletop and a sink, plus its side stand for a grill. The sink is around 14 x 10 inches (35 x 25 cm) and it is around 4 inches (10 cm) deep. This is a plastic tub and it cleans up easily, it is without a hole to drain it out. You can use the sink also as a storage area close at hand.
The system includes also a side bin, a lantern hanger, and plenty of attachment options for utensils, towels, etc. The whole structure folds in itself for transportation.
The weight is 33.07 lb (15 kg) of weight, and the packed size is 39.5 x 20 x 7 inches (100 x 51 x 18 cm). As you see it packs thin and it easily fits in narrow spaces.

---
How to choose your camp table with sink & Editor's Choice
So you have some great options presented above, and here are a few tips that might help in choosing one.
Packed size
If you have a small car or a limited space in your trailer, this might be one of the most important parameters to consider.
You will notice that all these items remain relatively large in one or even in two dimensions, but they all pack thin. So they will fit in narrow spaces, no matter if this is in transportation or when you store them at home.
Weight
As you realize, these are all camping items. So you will use your camp table at places with a car access, therefore the weight may not be the most important parameter. But the weight can be of importance for elderly users, and you will notice that the differences in weight can be very substantial.
Sink's design
All the tables are with sink and this is why they are here in the list. Some sinks are removable and some are not removable. Some have a drain system and some not.
There are sinks made of a soft material, while some are hard plastic. There are also some differences in the size of these sinks, so check what suits you best.
Features
Obviously, those are real camping cooking stations and they have many features. So this is the matter of preference, there are big differences so choose what is most essential for you. Make a list of what the table must have, and then check the other features.
As you realize, you have some with a lantern hanger. This makes them very tall. Now, are you going to use the table under the porch of your tent, or in the tent's screen room? If so, check the height and see if it fits there.
Price
There are differences in the prices of these items in the list. They are affected by various factors like the material used in the construction, overall features they offer, some are patented structures, etc.
Editor's Choice camping table with sink
GCI Outdoor Master Cook Portable Folding Camp Kitchen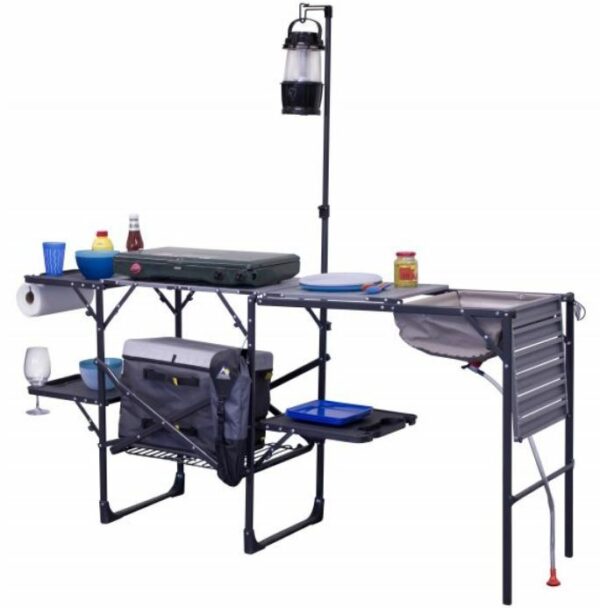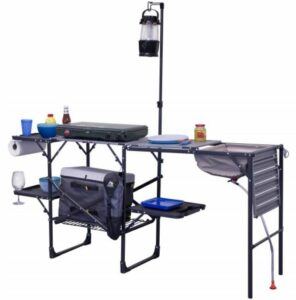 Product Name: GCI Outdoor Master Cook Portable Folding Camp Kitchen
Product Description: This GCI Outdoor Master Cook Portable Folding Camp Kitchen review is about an incredibly functional camping cooking station with plenty of useful features for cooking in the camp.
Brand: GCI
SKU: B07C3WK867
MPN: 15126
Weight -

2.5/10

Dimensions -

10/10

Packed size -

2.5/10

Capacity -

9.8/10

Craftsmanship & features -

9.7/10
Summary
The weight and the packed size are not the best features of this cooking station, but see its dimensions, features, and weight capacity.
Pros
Huge size.
Great weight capacity.
Great features.
Very easy to use.
Top-level craftsmanship.
Cons
Heavy.
Bulky when packed.
No carry bag.
So this was our list of best camping kitchen tables with sink. It will be updated whenever we find an item worth adding here. This is why you might want to bookmark this text and visit occasionally. Stay informed, subscribe to our weekly newsletter, there is a subscription form below.
Thank you for reading. Please let us know what you think, there is a comment box below. Have a nice day.