---
Durable Ozark Trail Portable Camp Kitchen and Sink Table is an outdoor cooking station with several useful features that include a tabletop, a sink, a lantern hanger, and a few more. Keep reading.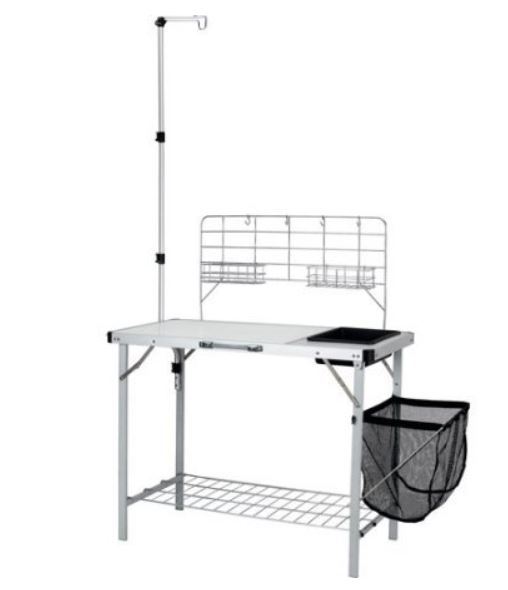 ---
Key features & benefits
Sink included.
Side bin.
Lantern holder.
Collapsible design.
Great price.
---
Where to buy
You can find it at Walmart under the name Ozark Trail Portable Camp Kitchen and Sink Table with Lantern Pole.
It is available also on Amazon with the name given in the title above.
---
What type of a cooking station is this
Here you have a fully collapsible camping system that packs nicely in its included carry bag with handles. So it needs a simple and easy assembly. You unfold the frame and then add the removable elements listed below. This is why I have added it to my list of collapsible camping tables.
This is a steel structure, but the tabletop is an MDF board with a thin laminate on top. It is water-resistant but this is material which is best to keep out of the rain. It is easy to clean and its size is around 40 x 20 inches (100 x 50 cm), and it is 30 inches (76 cm) above the ground.
This is a system with plenty of features so here is what it contains:
The sink
This is a removable plastic piece with the dimensions 13.4 x 9.5 x 3.7 inches (34 x 24 x 9 cm). Just to know, there is no drain. Note that it can remain in place when you fold the station and pack it in the carry bag. The sink can hold up to 1.8 gallons (7 L) of water. See how it looks: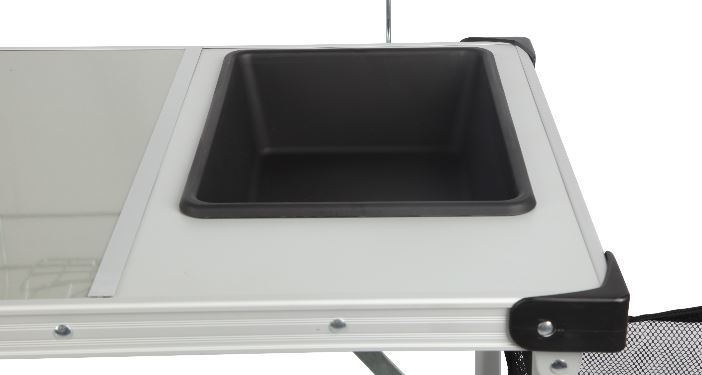 Because of this feature, I have added it to my list of best camping tables with sink.
Lantern hanger
You have seen the hanger in the top picture above. The total height of the station when the hanger is up is 76 inches (193 cm). You might want to know this if you plan to use the station under the porch of your camping tent. This is its top part: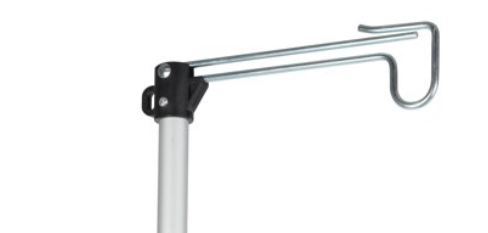 Other attachment elements
♦ You have the vertical attachment system behind the tabletop, see below how it looks. As you realize you several hooks and storage areas for spoons and other small items:

♦ There is also a towel holder on the side: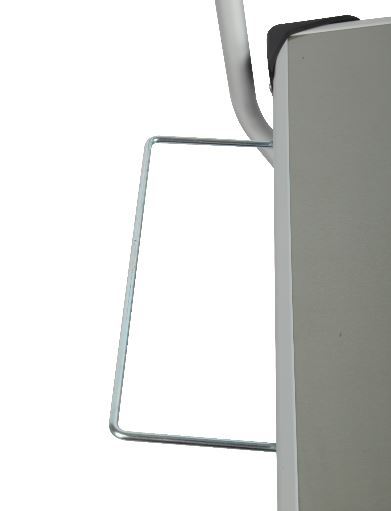 ♦ The mesh bin is on the other side. Here you can store various things so that you keep them off the ground. This can include dishes, utensils, food, etc.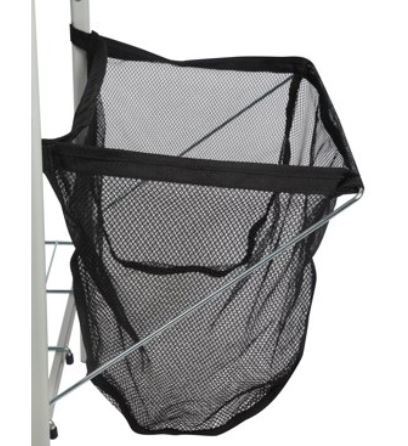 ♦ There is also a useful storage shelf below the tabletop: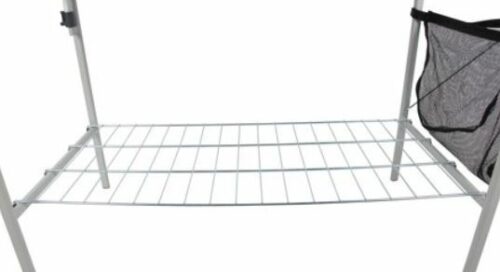 Because of all these elements, I have added it to my list of camping tables with storage. It also deserves to be in our list with best portable camp kitchens.

---
Who is it for
Regarding the price, if you are on a budget and still want a quality cooking station from a renown brand, this is it. As you realize from the links, this is a very affordable product.
Regarding the weight & packed size, clearly this is an item for places with car access. It is bulky when packed and a bit heavy, you will see the numbers below. Observe that it is very thin when packed, only 4.5 inches (11 cm), quite remarkable. But in any case, you will need a car for transportation, and it will also fit in narrow spaces in your trailer.
Regarding the features, you have seen above this station has them many. So this is a real cooking station for camping, but you can use it also for picnics.
---
Rating, pros & cons
Below is my rating of this system, I use the same criteria for all the items of this type here in the site so you can easily compare.
My rating breakdown of the Durable Ozark Trail Portable Camp Kitchen and Sink Table
Weight -

3/10

Dimensions -

8.6/10

Packed size -

4.5/10

Craftsmanship & features -

9.4/10
Summary
My overall rating is affected by the weight and packed size and it is not high, but see the other criteria. All in all, the average rating is Good:
Pros
Great price.
Very functional.
Carry bag included.
Easy to use.
---
Specifications
Weight: 20.5 lb (9.3 kg).
Assembled size (L x W x H): 39.4 x 19.7 x 76 in (100 x 50 x 193 cm).
Tabletop height: 30 in (76 cm).
Sink size: 13.4 x 9.5 x 3.7 in (34 x 24 x 9 cm).
Packed size: 40 x 20.8 x 4.5 in (102 x 53 x 11 cm).
Frame: steel.
---
Final thoughts
So you have seen it, this Durable Ozark Trail Portable Camp Kitchen and Sink Table is very functional, it packs thin, and the price is simply excellent. This is a great value for the money, fully recommended.
Note that they have yet another great Ozark Trail Deluxe Camp Kitchen with Storage and Sink Table which is presented in our separate text, so do not mix the two products, they are a bit different.
Thank you for reading. Please use the comment box below in the case of questions or comments. We add new reviews regularly, so bookmark this site and also subscribe to our weakly newsletter, the subscription form is given below.
---