---
This Alpcour Folding Camping Cot Without Headrest is a nicely built stable and sturdy steel camping cot suitable for the heaviest users.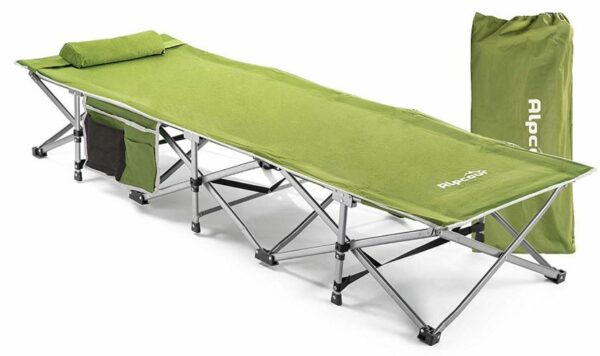 ---
Key features & benefits
Very easy to use.
Great weight capacity.
Carry bag included.
Pilow included.
Side storage pouches.
Incredibly affordable.
---
So what this is about
Here you have one of folding cots, and this means that there is no particular assembly, you simply spread it or collapse it in a very simple move. The steps are shown in the series of pictures below.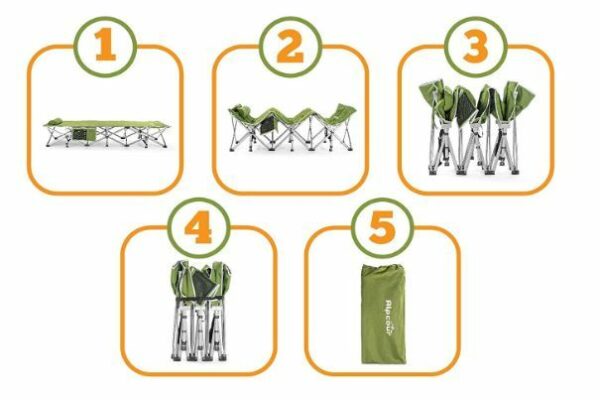 So when you take it out of its included carry bag and release the strap around it, the cot expands like an umbrella from the center in all 4 directions.
When I look at it from the side, it looks like a caterpillar to me with its numerous legs, no less than 14 feet are on the ground, see the picture below.

The picture also shows its two bonuses:
The side storage system with several pouches for small items. This is really convenient to have and to store the phone, glasses, books, etc., and to keep them off the ground and close to you.
The included pillow which is removable and you have a strap that keeps it in place.
In the title above, I use the words 'without headrest' only to stress that this cot is different from their other cot with an integrated headrest. But as you realize, you still have the pillow included for this purpose.
---
Who is it for
Regarding the weight capacity, this is an impressive cot that can support up to 440 lb (200 kg) of weight. No doubt this is strong enough even for the heaviest users.
This is not surprising when you see its numerous legs and all those diagonal support bars. As you realize, you have them both in longitudinal and transverse directions. There are also straps that connect legs in transverse directions.
So the structure is both very strong and very stable against lateral movements. It will stay firm when you turn in the bed. I have included it in my list of cots for heavy people.
Regarding the size, the cot is not particularly impressive. The bed dimensions are just average, bear this in mind if you are a very tall person or just want to have a large bed. So check some of these wide cots if you need something to sprawl.
But it is true that there are no end bars, so what you have as 74.8 inches (190 cm) of the length is the true length and you will not have pressure spots.
Regarding the weight and packed size, with its 18 lb (8.16 kg) of weight, the cot is not particularly light, but you have seen its construction and capacity. Its packed size 28 x 15 x 4.5 in (71 x 38 x 11 cm) is not so bad and the carry bag is such that you can indeed carry it shorter distances.
Using the cot in a tent
The height is 15 inches (38 cm) so you will need a bit tall tent to accommodate such a cot. But this is a great option because you have a huge storage space underneath the cot.
As you have seen above, there are 14 feet and they are very wide. So the weight is distributed to many points and there should be no issues with the tent floor.
Note also that the construction is such that you can indeed spread the cot even in a narrow and low space like a tent. There are no pivoting or rotating legs as in some other cots on the market. You simply expand it like an accordion.
---
Materials
All those numerous legs and tubes are steel so the weight is not surprising. The joints are some hard plastic, they do not provide info about ut.
The bed deck is a soft and breathable 600D double-layered twill polyester and the carry bag material is nylon. So these are durable but standard materials used for most of the cots on the market. Please see more in this short video:
---
My rating, pros & cons
I use the same rating criteria for all the cots so you can easily compare them. Please see how I rate this cot:
My rating of the Alpcour Folding Camping Cot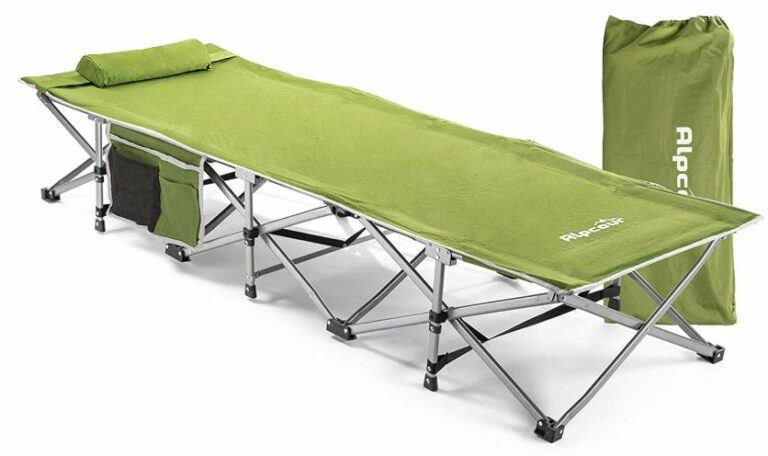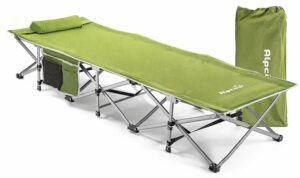 Product Name: Alpcour Folding Camping Cot
Product Description: This Alpcour Folding Camping Cot Without Headrest is a nicely built camping cot with a great capacity.
Brand: Alpcour
SKU: B07S4314W6
Weight -

7.2/10

Size -

8.3/10

Capacity -

9/10

Packed size -

7.8/10

Ease of use & features -

9.7/10
Summary
The best features of this cot are its capacity and ease of use. My overall rating for this cot is Very Good:
Pros
Great capacity.
Great price.
Very easy to use.
Quality craftsmanship.
Carry bag included.
Cons
Not very wide.
Not for very tall people.
---
Specifications
Weight: 18 lb (8.16 kg).
Capacity: 440 lb (200 kg).
Dimensions (L x W x H): 74.8 x 26.8 x 15 in (190 x 68 x 38 cm).
Packed size: 28 x 15 x 4.5 in (71 x 38 x 11 cm).
---
Final thoughts
In summary of this Alpcour Folding Camping Cot review, to stress again this is a quality product and nicely built. Its weight capacity is impressive and this is a reliable camping bed.
You can certainly use it also as a spare bed at home or in emergency situations. Until it is needed, keep it clean in its included carry bag. Fully recommended.

Note that there are many cots presented here in the site so check under the category Cots if you need more options. You might want to check also this Yolafe Detachable Camping Cot.
We add texts regularly, so bookmark this site and follow what is happening on the market. There is a subscription form below for our weekly newsletter, so please subscribe. Have a nice day.