---
Ozark Trail Realtree AP Instant Tent Cot is a very reliable item with an incredibly easy setup, with two doors and several mesh windows, and with a very affordable price tag.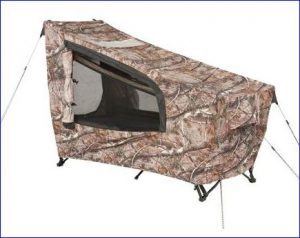 ---
Key benefits
Incredibly easy setup, literally in seconds.
Awning configuration with the front flap.
Two zippered doors.
Full protection from elements.
Very reasonable price.

---
What type is this
The Ozark Trail Tent Cot is a collapsible tool, which means that in the packed state it reduces to a relatively small bundle with only one larger dimension, 40 x 8 x 8 inches (101.6 x 20.3 x 20.3 cm).
This is a tool which requires no assembly so all is done in seconds.
With the weight of some 26 pounds (11.8 kg), this is also a portable tent cot. But obviously, this is not something to carry long distances.
Note that they have yet another tent cot in the market, but the difference is basically only in the rain fly.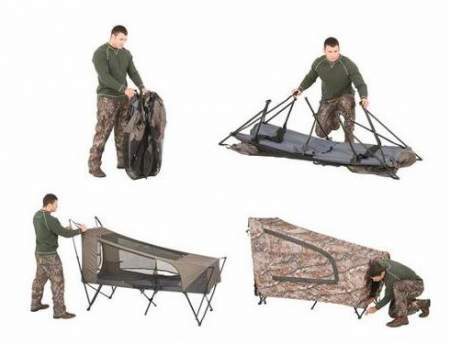 ---
Who is it for
With the bed size 78 x 31 inches (198 x 79 cm) and the capacity 300 lb (136 kg), this tent cot can accommodate quite big and heavy people.
Its mentioned weight and the packed size are such that you will need a car for transportation. This determines its best use users; any activity at places with a car access will be doable with such a tool, like ordinary camping, fishing, hunting, summer camps, kayaking.
---
Setting the tent cot up and folding it down
As usual with many of such tent cots (but not with all see here), it is pre-assembled at the factory. So all you have to do is just to spread it up in seconds. After that, you cover it with the rain fly.
If it is warm and without rain, you remove the fly and enjoy sleeping under the stars. You have mesh everywhere around you, so the protection from bugs and mosquitoes is complete.
Even with the fly on, you can still roll up the door and have air circulation inside. Note that there is a vent on the fly, which will make the stay inside more pleasant.
Observe also that the fly goes far below the cot, close to the ground. So this is a useful feature because you can store your gear under the bed and it will be fully covered and protected from the rain.
In windy conditions, the fly can be staked to the ground, so this is yet another great feature here. They were thinking of everything, I must say I am impressed.
Awning configuration
The flap on the front can be set in an awning configuration with the help of two trekking poles or with trees around, so this is then a nice place for sitting outside.
Even if it is raining, you can keep this flap open and have a nice fresh air and enjoy watching the rain.
---
How about 4-season use
The tent should not be compared with ordinary winter tents. What you have here is everything but ordinary. This is an off-ground sleeping tool and you can put it in the snow literally and use in any weather conditions.
In warm conditions, you do not need any pad, except for extra comfort. But in a cold environment, on high mountain passes or in winter in general, you will need some insulated pad. Check the link and you will find very reliable pads, the best on the market.
Being off the ground, you need far less insulation as compared with sleeping on the ground, so there is no need to go for particularly high R-values.
I already mentioned that the fly is with guy-lines so you can secure it and fix to the ground. This together with the bed's 4 poles which you have seen in the pictures and in the videos, are such that I am pretty sure it will perform great in any environment. These poles are the part of the bed's body, so this is steel and they are far stronger than any poles in any winter tent on the market.
---
Pros & Cons
I have already mentioned that the weight is immaterial with such a design, you need a car in any case. From the comparison table below you will see that this is quite normal for such tools.
It appears that users are very happy with this tent cot, this is the impression I have from various sites. See how I rate it:
My rating breakdown of the Ozark Trail Realtree AP Instant Tent Cot
Weight -

6/10

Size -

8.9/10

Capacity -

7.5/10

Packed size -

8.2/10

Ease of use & features -

9.4/10
Summary
My overall rating of this tent cot is Very Good:
Pros
• No assembly, just unfold.
• User-friendly design.
• Nicely packable.
• No bars under the deck.
• Comfortable.
• Reliable.
• Great price.
---
Specifications
Weight: 26 lb (11.8 kg).
Shipping weight: 29.35 lb (13.3 kg).
Capacity: 300 lb (136 kg).
Dimensions (L x W x H): 78 x 31 x 51 in (198 x 79 x 130 cm).
Packed size: 40 x 8 x 8 in (102 x 20 x 20 cm).
Frame: sturdy steel.
Rain fly: Realtree AP.
3 No-See-Um mesh doors and windows.
---
Summary
In the conclusion of this Ozark Trail Realtree AP Instant Tent Cot review to stress again that this is a really nice design and it is hard to find any true objection to this tent cot. It has all you need in the camp, enough space for one person in the tent and space under the cot where you can store your gear and where even a dog can find a shelter. I am impressed with this tool.
Note that this design is the same what you have in this Jet Tent Bunker Cot.

If you need to see more, please check in the Categories above, in particular for single tent cots and double tent cots. You will find something for you, all models available on the market are presented here. You might want to check this OUTAD Camping Tent Cot.
Thank you for reading. I love to hear from you, so please use the comment box below. Have a nice day.

---