---
iUcar Camping Cot Stable Portable Folding Bed with Storage Bag is in the category of ultra lightweight tools, built in two sizes, nicely packable, and incredibly versatile.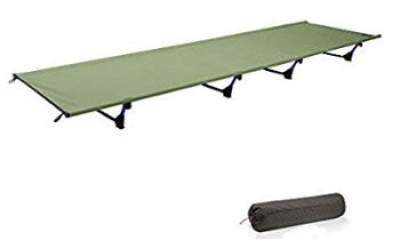 Key features
Two sizes available, R and L.
Extremely durable 1200D bed fabric.
Very lightweight, one of the lightest on the market.
Huge capacity.
Very long cot (L version).
Reasonable price.
Easy setup.
Versatile.
Nicely packable.

What is in the name
They use the term 'foldable' in the name but in fact, this is a collapsible cot by design, so it packs to a very small size. The word 'portable' is truly appropriate because both sizes are in the group of backpack portable cots. You can definitely carry it attached to the pack.
In view of its weight of only 1.3 kg (for the regular R size), and 1.32 kg for the large (L) size, this cot also belongs to the category of backpacking cots presented here in the site.
Note also that it is very similar to some other models presented in the site, these tools appear all the time, sometimes just under another name. They probably originate from the same factory.
Who is it for
The iUcar Camping Cot is so lightweight and so packable that it is suitable for any outdoor activity, regardless if you carry it in the pack or transport by any means.
Being lightweight enough even for backpacking, this implies it may be used also by hikers, climbers, mountaineers, hunters, etc.
You can use it for kayaking, cycling, and for any camping at places with a car access or a motorbike access. So if this is about regular camping places, trailheads hotels, open-air festivals and rock concerts, this is a tool for you.
But the iUcar Cot is not only for camping; this is a great extra bed for home use, for sudden guests or for any other emergency situation.
How to make the cot or your pack with the cot even lighter
If you feel it is still too heavy, first, choose its smaller version if you are not a tall person.
Yet another option is trying using it without one of the 4 support bars. There are cots which have only 3 of such bars, so this one might work the same way as well, in particular if you are not a heavy person.
You can shed the weight in the summertime by not carrying any pad; this cot may be enough, but test it to avoid surprises which may ruin your trip. Note that even closed cell foam pads can be some 400 grams, so when you deduct this from the cot's weight you realize it may be worth the effort carrying such a cot.
Finally, you can use the cot in combination with a tarp. Tarps are lighter than tents so you will shed the weight considerably.
Description and setup
This cot has an incredibly strong deck fabric, with 1200D this is something rarely seen. The rest is standard, so you have two shock-corded side bars, and four shock-corded support bars with attached feet, each with two of them.
So you have to assemble it but the setup is incredibly easy, already seen in many other cots available on the market. You do not need any tool or brute force, anybody can set this cot up in just a couple of minutes.
You start by passing the side bars through the sleeves and then add the support bars one by one, easy and simple. See a bit more in this picture: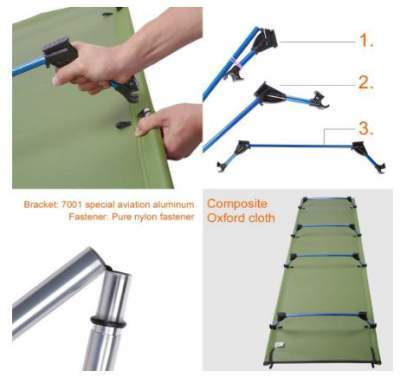 The Large version offers 1.2 m² of the surface, it is very long but not particularly wide, though the width is quite typical.
The bars are aluminum, and the bed is with a really impressive capacity of 200 kg.
Observe that there are no end-bars so you will not have pressure points on your legs. The support bars are far from the deck, so you are safe from this as well. All metal parts are completely covered by canvas, you will not touch them when on the bed.
The feet are plastic and wide, so they will not sink in the ground or damage a floor. Even if you put this cot on the sand, e.g., when you use it on the beach, the legs may sink but then the support bars will be on the ground and take the weight over, and this will stop any further sinking.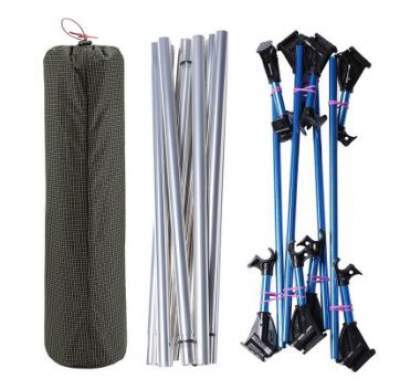 Fitting it in the tent
The iUcar Camping Bed will fit in any solo tent, and I mean this literally. It is only 5.9 inches high (15 cm), so it will fit even in very low tents like this Winterial Single Person Tent, or Catoma Badger tent.
The feet are floor-friendly, no danger from damages at all. It offers some clearance from the ground so you can still store some gear under the cot, like poles or axe, books, etc. If you sleep on a pad and on the ground, all space is lost.
For a cold environment, either in the wintertime or at high altitudes, you will need some insulation pad, but you need far less insulation because you sleep off the ground and you have air under you. This is because the ground takes around 50 times more body warmth than the air. So you might save on insulation as well.
My rating, pros & cons
I like the fact that they provide two sizes, this is particularly important if you plan to carry this cot in the backpack, to avoid unnecessary weight.
The width is 60 cm (23.6 inches), so this is typical, but I am not a back sleeper and love to have a wider platform.
The Amazon price is given below, daily updated and accurate. As you realize, this is an incredibly affordable cot. 
See how I rate this cot.
My rating of the iUcar Camping Cot Stable Portable Folding Bed
Weight -

9.4/10

Size -

9.2/10

Capacity -

9.5/10

Packed size -

9.9/10

Ease of use -

8/10
Summary
My overall rating of this cot is exceptionally high:
Pros
• Two sizes to choose.
• Ultra lightweight.
• Comfortable.
• Nicely packable.
• Very reliable.
• Versatile.
• Reasonable price.
• Very easy to use.
• Carry bag included.
Cons
• It could be a bit wider.
Specifications
Two sizes: R, L.
Weight:
– L: 1.32 kg (2.91 lb).
– R: 1.3 kg (2.87 lb).
Capacity: 200 kg (441 lb).
Dimensions:
– L: 78.7 x 23.6 x 5.9 in (200 x 60 x 15 cm).
– R: 72.8 x 23.6 x 5.9 in (185 x 60 x 15 cm).
Packed size, Large (L x D): 48 x 10 cm (19 x 3.9 in).
Frame: 7001 special aviation aluminum.
Bed deck: 1200D composite waterproof fabric.
Bed fasteners: nylon.
Colors: 2; army green, gray.
Summary
To summarize this overview of the iUcar Camping Cot Stable Portable Folding Bed, it is great that they offer two sizes, both are ultra-lightweight, and the price tag is very reasonable. You have seen in the comparison table that this cot stands well when compared with other top-notch tools, so yes I can fully recommend it.
You might want to see their other tool, an incredible tent-cot, where you have a tent attached to a cot similar to the one presented here, but bigger.

Thank you for reading, I love to hear from you so please let me know if you have any question or comments, there is a comment box below. Have a nice day.

---