---
OUTAD Cot Camping Cot is a great portable tool perfect for base camp and hunting and for various other outdoor activities. It is incredibly lightweight, 1.3 kg only, and it packs to a very small size 48 x 10 cm, so it can easily be attached to a pack.
Key features
Ultra lightweight, one of the lightest on the market.
Huge capacity.
Large cot.
Reasonable price.
Easy setup.
Versatile.
Nicely packable.

What type is it
By the design, this is a portable collapsible cot, but not just any collapsible tool; this cot is clearly in the group of backpack portable cots. So you can indeed carry it attached to the pack, or even in the pack.
In view of its weight of only 1.3 kg, this cot also belongs to the category of backpacking cots presented here in the site.
Who is it for
This OUTAD Cot is suitable for any outdoor activity, and I mean this quite literally.
It is lightweight enough even for backpacking, and then this implies it may be used also by hikers, climbers, and mountaineers as a nice tool in base camps. Obviously, all these activities imply carrying this cot attached to the pack, and it is worth the effort.
But if you do not want to carry it, you can use it for kayaking, cycling, hunting, and for any camping at places with a car access or a motorbike access, like regular camping places, trailheads hotels, open-air festivals and rock concerts, for scouts, and you name it.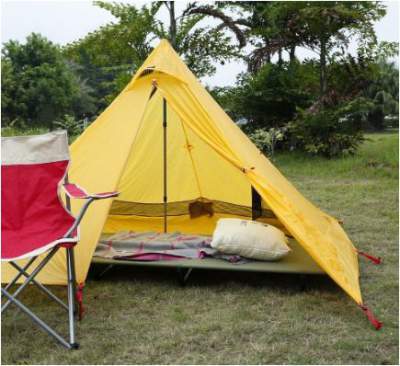 Description and setup
First, note that this is a larger of the two almost identical cots available on the market. The smaller and lighter version is included in my text with ultra lightweight backpacking cots.
The bed surface of this Large version is 1.2 m², and the surface to weight ratio is 0.92, which is presently second only to the new version of the Therm-a-Rest UltraLite Cot. So clearly, this is an exceptional design.
The metal parts are aluminum, and the bed fabric is a composite material, all this is strong enough to support the weight up to 200 kg, see below how they demonstrate it. This is a large bed, obviously added to the market to complement its smaller brother and to be used by taller people.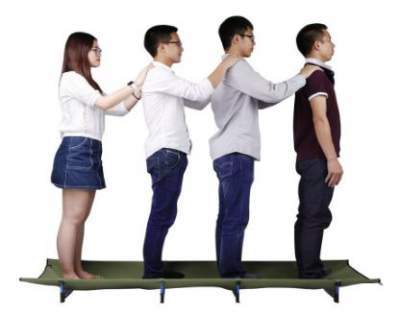 Note that there are no end-bars here, and there are no bars any close to the fabric from below, so the comfort is guaranteed.
What is included
When packed, the cot is disassembled, so it takes a couple of minutes to set it up. You have the bed canvas, plus the shock-corded sidebars, shock-corded-legs, and its nice carry bag, see them below: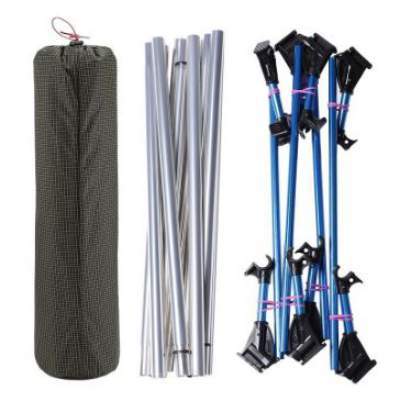 The leg bars are with feet which are permanently connected to the bars so you will not lose them. The same is with the side bars, their segments are also interconnected as you can see from the picture: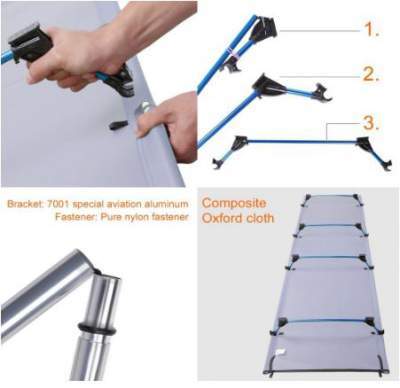 Setting the cot up is simple, the procedure depicted in the pictures above. It is easy to do it even if you are setting the camp in the dark. You start by putting the side bars into the sleeves, and then add the shock-corded legs. No tools are needed.
Fitting it in the tent
In fact, there is not much to fit. This cot can be used literally in any solo tent, even in the lowest tents like the Winterial Single Person Tent, or Catoma Badger tent.
The feet are wide plastic pieces, so there is no danger for the tent floor. The cot will occupy most of the space in a solo tent, but you still have some storage space under it; this is not so if you use a sleeping pad and sleep on the ground.
You do not need any pad in warm weather conditions, except if you wish to have more comfort. In winter conditions you will need an insulated pad, but because you are off the ground, you need far less insulation than when you use the pad directly on the ground.
My rating, pros & cons
The width of this cot for back sleepers is fine, but it may be a bit narrow if you are a stomach sleeper or side sleeper. But this width is normal for such cots, see below in the comparison table.
If you go to Amazon, you will realize that this cot has collected incredibly supportive reviews, and the average rate is extraordinarily high. See below how I rank it.
My rating of the OUTAD Cot Camping Cot
Weight -

9.4/10

Size -

9.2/10

Capacity -

9.5/10

Packability -

9.9/10

Ease of use & features -

8/10
Summary
My overall rating of this cot is Excellent:
Pros
• Very long cot.
• Ultra lightweight.
• Comfortable.
• Nicely packable.
• Very reliable.
• Versatile.
• Reasonable price.
• Easy to use.
Specifications
Weight: 1.3 kg (2.87 lb).
Capacity: 200 kg (441 lb).
Dimensions (L x W x H): 200 x 60 x 15 cm (78.7 x 23.6 x 5.9 in).
Packed size (L x D): 48 x 10 cm (19 x 3.9 in).
Bed deck: composite waterproof fabric.
Frame: 7001 special aviation aluminum.
Storage bag included.
Shock corded sidebars.
Shock corded legs bars.
Bed fasteners: nylon.
Colors: 3, gray, army green, purple.
Shipping weight: 1.43 kg (3.15 lb).
Summary
To conclude this OUTAD Cot Camping Cot review, the features/price combination of this cot is hard to match. Its parameters are among the best presently available on the market. I fully recommend this cot for any outdoor use.

If you need something that is more for camping at places with a car access, with mattress included, please check this text with a very long list.
Thank you for reading, and please let me know if you have any question or comments, there is a comment box below. Have a nice day.

---