---
The long and complicated name of this REDCAMP Tanning Lounge Chair for Outside Reclining Foldable Outdoor Sun Lounger Cot describes just an easy-to-use reclining folding cot. Keep reading.
---
Key features & benefits
Folding design.
Reclining cot.
Easy to use.
Removable pillow.
Reasonable price.
---
What this is about
It appears that the manufacturer was a bit undecided about the true nature of their product, hence the complicated title above that describes its official name.
In fact, this is a folding cot with some extra features. The pictures below show some steps when you want to unfold it and use it. As you realize there is no assembly and this is easily done in seconds.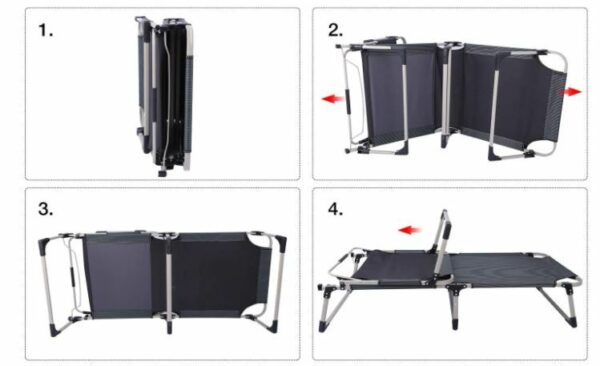 The cot folds three times and the dimensions when folded are shown below. As you see, it is large in two dimensions, but it is very thin.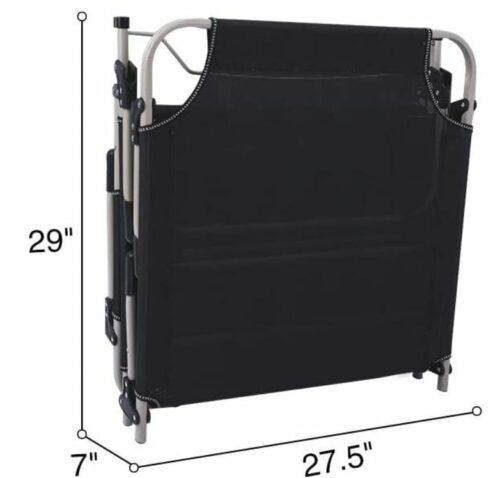 Reclining design
I would say this is the most important feature you have here. So its reclining design makes it similar to popular lounge chairs, but this is indeed a cot and you can use it for camping. The pictures below show several different configurations you have with this product: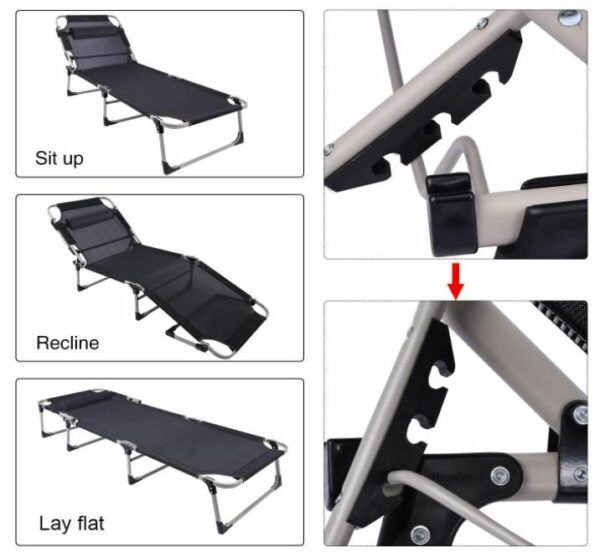 Materials & construction
The frame appears to be aluminum, they do not provide information about it, but its tubing is with an interesting ellipsoid profile, see the picture: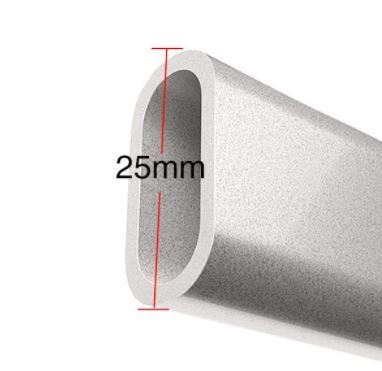 The fabric is with an exceptional denier value, in fact, I do not remember any product of this type that can match it. So this is a Textilene Oxford, a sort of polyester 1680D.
Other features include a removable pillow, the picture below, and a strap that keeps the folded cot fixed for transportation.
Note that you also have a padded section on one of its bars, so this is a handle for transportation, see the picture.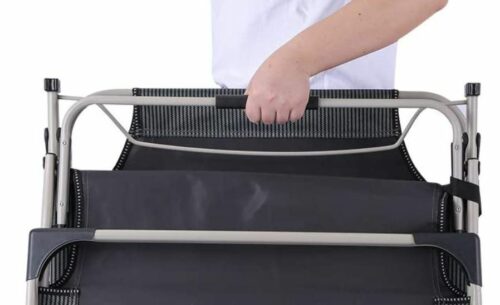 I particularly like its legs design. You have 3 bars, so they will hardly ever sink in the ground. They even have plastic caps for floor protection, see the picture below. So this cot can be used even in floored family camping tents.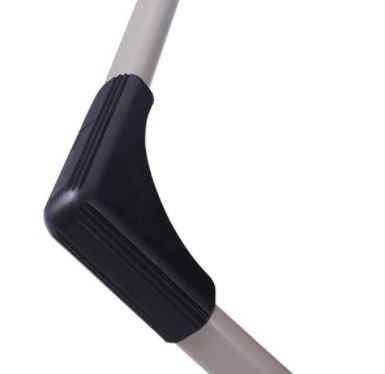 Note that the clearance from the floor is 11.5 inches (29 cm). So you have plenty of volume to store your gear and to keep them out of your way in your tent.
---
Who is this REDCAMP Lounger Cot Bed for
Regarding the capacity, officially it is 330 lb (150 kg). So this item should work well for most of the potential users. But if this is not enough, please check my list of cots for heavy people.
Regarding the dimensions, I would describe this item as typical for a camping cot. You see its measures in the picture below. But note that there is a frame around, so this takes a few centimeters on all sides.
So if you need something larger, check these long cots and also these extra wide cots.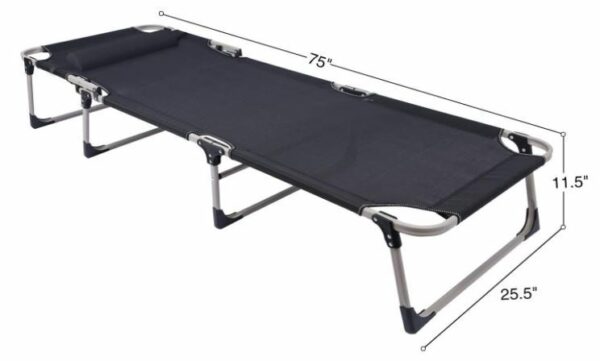 Note that the cot is quite low, so it may not be the best option for elderly users.
Regarding the weight, this cot can be described as moderately lightweight in view of its 12.5 lb (5.7 kg). But you have already seen its packed size and other features, so it is clear that this is a car camping cot.

---
Specifications
Weight: 12.5 lb (5.7 kg).
Capacity: 330 lb (150 kg).
Bed size: 75 x 25.5 in (191 x 65 cm).
Height: 11.5 in (29 cm).
Packed size: 29 x 27.5 x 7 in (74 x 70 x 18 cm).
---
Rating, pros & cons
This cot stands well in almost all of my rating criteria, see the details in the table below.
Versatile and easy to use cot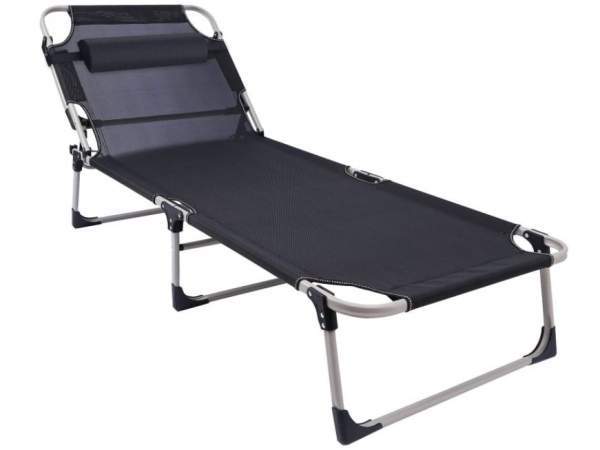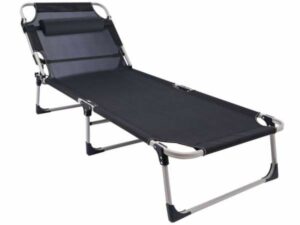 Product Name: REDCAMP Tanning Lounge Chair Cot
Product Description: Reasonably priced and easy to use cot with a great reclining design.
Brand: REDCAMP
SKU: B089VMGH1W
Weight -

8.2/10

Size -

8.3/10

Capacity -

8/10

Packed size -

5.6/10

Ease of use & features -

9.5/10
Summary
The packed size is the only feature that negatively affects the rating of this cot, but it is still Very Good.
Pros
Very easy to use.
Reclining design.
Reasonable price.
---
Final thoughts
To summarize this REDCAMP Reclining Cot review, if you disregard the awkward title which represents the official marketing name of this item, you have a really nicely designed cot.
The reclining feature sets it apart and makes it versatile. So you can indeed use it as a lounge chair, or use it for tanning as the manufacturer writes. But this is also an easy-to-use camping cot. It is not for hiking as the manufacturer writes, but there are plenty of other activities where you can use it.

Please check in the category Folding Cots if you need more options of this type. You might want to compare this cot with the KingCamp Portable Folding Camping Cot Adjustable 4-Position built in the same style.
Let me know if you have questions or comments, there is a comment box below. Have a nice day.