---
The Purenity Stable Camping Cot With Storage Bag is a nicely designed folding lightweight cot with a head incline, with a very durable deck, and an incredible price.
 Key features & benefits
Incredible price, $43 only.
Integrated head incline.
Exceptionally strong fabric 1200D.
Carry bag included.
Great design.
Lightweight.
It deploys and folds in seconds, literally.

What is the Purenity Stable Camping Cot
This is a folding cot and here this means it closes like an umbrella and when packed, it preserves only one relatively large dimension, 40 x 9 x 6 in (102 x 23 x 15 cm). So this is good for storage at home, and also for transport in the car.
The word 'Stable' in the name probably reflects the fact that this cot has no less than 10 points on the ground. So you have 10 feet, all protected by plastic caps, see the picture below. This means it will not damage a floor, regardless of where you use it, at home or in a tent.
You also see the 'storage bag' in the title, so indeed it comes with a nice zippered bag shown below, with carrying handles.
More about bonuses
The price is its best bonus. You will hardly find anything of this type that can match it. At the moment of writing this text, the price is only $43, simply incredible.
The head incline which you see in the picture below is a cool and useful feature. You practically do not need a pillow when you have this feature.
The fabric: I do not recall seeing something more durable, here you have 1200D fabric. Most of the cots on the market are with 600D deck. So again, simply incredible.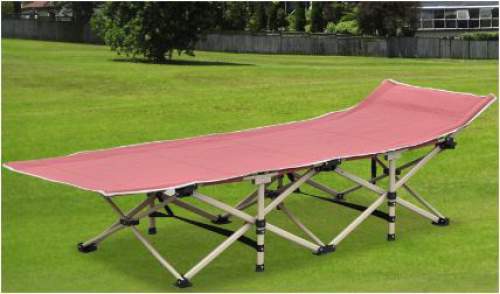 Setup and construction
This cot comes assembled, so you do not need any tool, just take it out of its carry bag and deploy like an umbrella. It spreads from the middle in all directions. It is just the opposite when you want to fold it. You can get some idea from the picture: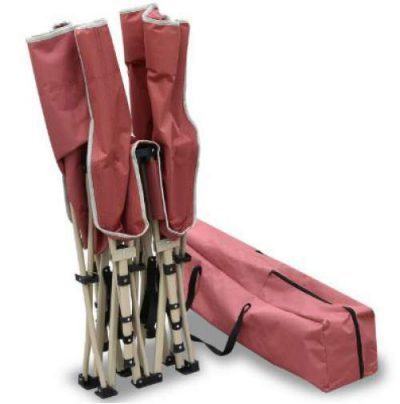 It is important to stress two things; there are no bars below close to the bed deck, and there are no end-bars in such a construction. So there is no chance for pressure points anywhere, and the full length of the bed is a useful space.
The side bars are also completely covered by the thick canvas, so there is no chance to touch cold metal while in the bed.
Who is it for
The cot fits inside most of the car trunks. So in the case of outdoor use, it is suitable for any place with a car access. These can be:
Regular camping places.
Trailhead hotels.
Summer camps.
Scouts camps.
Open-air festivals.
You fishing places, etc.
For home use, this is a great tool to have in the case of sudden overnight guests or for your kids' sleepovers.
In any case, the cot stores nicely, regardless if it is for keeping it in the closet, in the attic, or under your regular bed, or transporting it in the car.
Fitting in the tent
The cot is quite high, 21 inches (53 cm) so you would need an appropriate tent. Regular solo and 2-person tents are usually around 1 meter of peak height so this might be OK, but it will depend on the tent construction. Note that you can store a lot of items under the cot, in spite of its numerous legs and support bars.
A great option is to use rather high tents like this excellent Kelty Camp Cabin 4 which is with the floor area of more than 6.5 square meters, and here you can easily put 2 or even 3 of such cots.
All the feet are with plastic caps, so there should be no issues with the tent floor, the weight is distributed to 10 legs.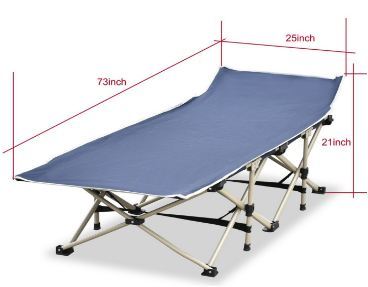 Using the cot in all seasons
This is a cot that can be used in any season. In warm conditions, you do not need any pad. But you may add some if you want more comfort. There are many inflatable pads on the market.
For winter use, you certainly need an insulated pad. But you do not need a lot of insulation, or better to say, you need far less than if you sleep on the ground. The ground takes around 50 times more body warmth than the air. This is about conductivity. So when you are on the cot, you have air under you and you need less R-value in your insulated pad. So you can save some money.
My rating, pros & cons
The main issue for some people can be the size of this cot, it is quite short. Note also that the head incline remains all the time, so it cannot be flat. See how I rate this cot:
My rating breakdown of the Purenity Stable Camping Cot With Storage Bag
Weight -

7.6/10

Size -

8.1/10

Capacity -

7/10

Packed size -

8.2/10

Ease of use & features -

9.9/10
Summary
My overall rating of this cot is Very Good:
Pros
• Incredible price.
• Inclined head section.
• Incredibly strong fabric.
• Good packed size.
• Great design.
• Carry bag.
• Versatile.
• Easy to use; no assembly.
Cons
• Quite small.
• It does not get flat.
Specifications
Weight: 16 lb (7.26 kg).
Capacity: 260 lb (118 kg).
Dimensions (L x W x H): 73 x 25 x 21 in (185 x 63 x 53 cm).
Packed size: 40 x 9 x 6 in (102 x 23 x 15 cm).
Frame: steel X-legs and aluminum.
Fabric: extremely heavy-duty water-resistant 1200D Oxford canvas.
Colors: 2, dark blue, and vine.
Summary
To conclude this overview of the Purenity Stable Camping Cot With Storage Bag, this is a very new item on the market and it is already among the most popular cots on Amazon. In view of its design and the price, this is not surprising. It is hard to find any true objection to it, except the size.

If you need something much larger and for heavy people, you might want to check this text with a very impressive list of cots. On the other hand, if you need a cot with an integrated mattress, please check here.
Thank you for reading. In the case of questions and comments, please use the comment box below. Have a nice day.

---