---
Kamp Rite Kid's Tent Cot with Rain Fly is a nicely built and reliable camping tool for a full protection of kids, with all features as in the tent-cots for adults.
Key benefits
Complete protection from elements and from insects.
It looks cool and kids love it.
Very reasonable price.
Versatile tool.
Very easy setup without tools, in a couple of minutes.
Unique, there is nothing similar on the market.
What type is it
This is a tent-cot from Kamp-Rite's three-fold series, so you have a portable folding type cot of a particular type, and a tent which makes an integral part of it. It is built in the same style as the famous Original Cot from this brand.
But in fact, it is a bit better than the Original Cot in the sense that you have 4 bars on the ground, as compared to 2 in the Original Cot. With respect to this, it is very similar to the Kamp-Rite Oversize Cot which is with the same legs structure. So this is a stable and quite wide design with 27.5 inches (70 cm) width, built for kids but with all features of the well-known cots for adults.
Versatile tool
This cot comes with a unique multi-functional hinge design which allows for several ways of using it:
It converts to a lounge chair to be used at beaches, in camps, or at home.
It can be used as an ordinary sleeping cot, so without using its upper structure with the tent.
For outdoor adventures, it can be used as a regular tent-cot for off-ground sleeping.
All these ways of using it are the same as in the Original Cot so please follow the link and see the video which is available there.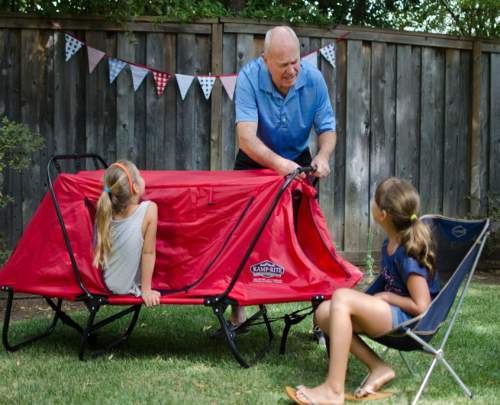 Who is it for
I mentioned above that this is a portable tool, so indeed with 8 lb (3.6 kg), it is easy to move it around even for kids.
Its bed size is 69 x 27 inches (175 x 69 cm), so clearly it is not small at all, suitable for kids up to around 170 cm of height. Note that the bed is with a frame everywhere around, this is typical for all folding cots, and this cot belongs to this group. So those bars on both ends take a few centimeters of length.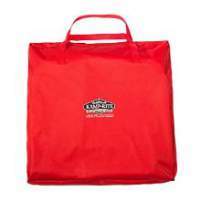 The packed size 29 x 28 x 7 inches (74 x 71 x 18 cm) is such that for transportation you obviously need a car. So this is a tool for camping of any type as long as you have a car access.
Kid's Tent Cot will also provide protection at the beach from sand and sun. All openings (and there are two doors and two windows) are with "no-see-um" netting so the kid will definitely be protected from all insects and snakes.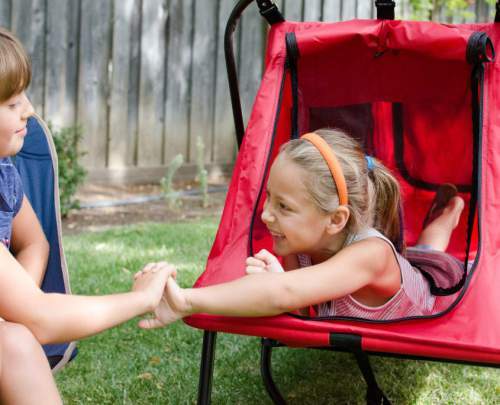 Overview
This is a stable structure with 4 bars that serve as legs, and with such a design this cot will not sink in the ground even if you put it on sand or on a soft terrain in the garden. If you use it as a cot at home for sleepovers, there will be no issues at all with the floor.
The tent material is 190T Polyester and the frame and legs are aluminum, so its 3.6 kg of weight is no surprise. 
The set up is easy and even kids can do it in a minute or so. There is no difference between the doors and windows so all four openings can be used for ay purpose. Note that the end legs (bars) are close to the end of the bed, so it will not bounce if the kid gets in through those two end-entrances.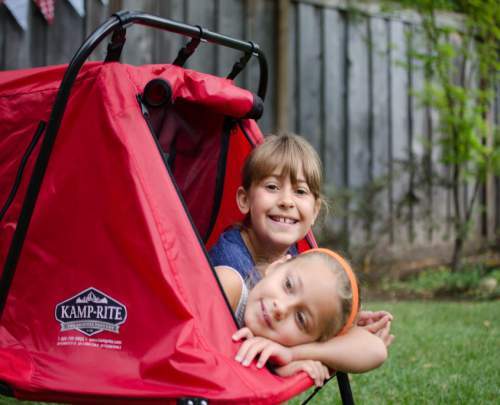 If you want to use it just as a cot, simply unclip the tent from the two top bars, and they will be folded to the ground. Something similar you will do when you want to use it as a lounge chair, see the video in the text about the Original Cot. The tent is fixed to the bars, so just tighten it to one side and you will have the bed ready. Note that you can put any sleeping pad above. The same is for adding the pad inside the tent, either for comfort or for insulation.
Pros & cons, my rating, price
I really do not find any serious objection to this tool, and this is a rare situation.
The daily updated Amazon price for this tent-cot is given below. This is a reasonable price for what you get here.
Remember that you have a versatile system that can be used in various ways, and you have the tent as well. See how I rate it:
My rating breakdown of the Kamp Rite Kid's Tent Cot with Rain Fly
Weight -

9/10

Size -

9.3/10

Capacity -

7/10

Packed size -

5.4/10

Ease of use & features -

9.4/10
Summary
My overall rating of this tent-cot is Very Good:
Pros
• No assembly, just unfold.
• Compact and foldable.
• Durable materials.
• Versatile.
• Stuff sack included.
Specifications
Weight: 8 lb (3.6 kg).
Capacity: 250 lb (113 kg).
Setup size (L x W x H): 69 x 27.5 x 35 in (175 x 70 x 89 cm).
Bed size (L x W): 69 x 27 in (175 x 69 cm).
Tent size (L x W x H): 69 x 27.5 x 24 in (175 x 70 x 61 cm).
Folded size: 29 x 28 x 7 in (74 x 71 x 18 cm).
Shipping size: 30 x 29 x 8 in (76 x 74 x 20 cm).
Bed fabric: 600D Oxford.
Frame: aluminum.
Tent: 190T 

Polyester.

Carry bag included.
Summary
To conclude this Kamp Rite Kid's Tent Cot with Rain Fly review, I love the design of this tool and I know that kids love it as well. Note that you will not find any other model of this type on the market, the only brand which builds such tools is the Kamp-Rite. This cot is included in my list of best tent cots for kids.
They have yet another smaller blue model but in the moment of writing this text it was not available. Please check here for updates. But note that the red cot presented here is more advanced, built completely in the same style as the cots for adults.
Check on Amazon
Check at Walmart
Thank you for reading. In the case of comments or questions please use the comment box below. I wish you a nice day.

---