---
This Kamp-Rite Kwik Set Table with Benches is an ingenious and unique folding aluminum construction, incredibly easy to use and packable.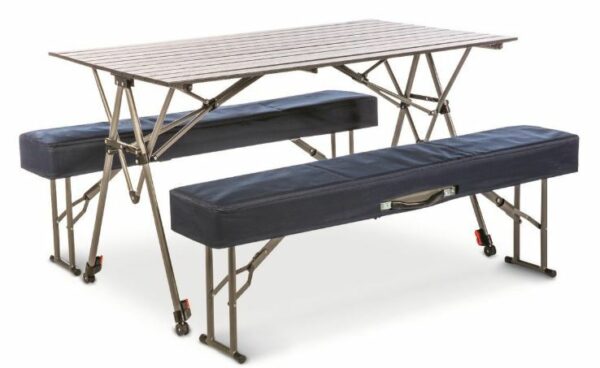 ---
Key features & benefits
Folding set.
It packs in itself.
Aluminum structure.
Very easy to use.
Adjustable height.
---
What this is about
I already used the word ingenious in the first paragraph above, and this is indeed appropriate for such a construction. So this a complete set with two long benches and a table, and it all folds and packs in itself. The picture below shows how it looks: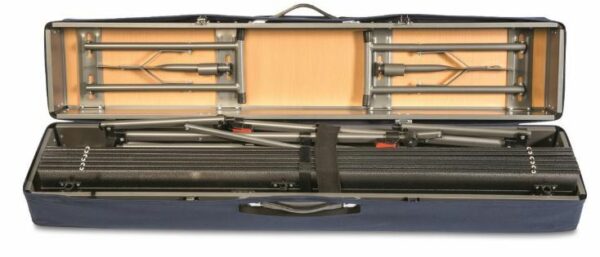 So what you see above looks like a box of a musical instrument or something similar. In fact, the box is created by the two benches that create its two parts. You have nice carry handles on both parts, and the legs of the benches simply fold inside.
The table itself also folds in the box. This is achieved with its accordion-type tabletop and folding legs. You will see in the video how you set this all up.
When not in use, you simply close it and this is how it looks, the box measures 50 x 11 x 9 inches (127 x 28 x 23 cm).

Everything is aluminum here, and this included the tabletop so you can use this table for anything, as a dining table, cooking, table, and you name it. Note also that the legs are adjustable, and this is why I have included this table in my list of best camping tables with adjustable legs.

Please see how to make it ready. The video seems to be showing the previous version of this set, note that it is without the red buttons on the legs for extensions.
The benches
Note that the benches are 49 inches (124 cm) long each, and you can have two people sitting comfortably on each of them.
The benches are with bars instead of ordinary feet, so the weight is distributed and this prevents sinking. You can use them on any ground and they will perform well. With such legs, you can use them even in a floored tent without any problem.
The benches are built strong and the weight capacity for each of them is 250 lb (113 kg). They are not attached to the table so you can use them completely independently on the beach or on some sporting event.
The table
The tabletop size is 47 x 27 inches (119 x 69 cm) and with its metal surface you can use it as a cooking and grilling table as well. Note that the weight capacity of the table alone is 70 lb (32 kg), and I do not think you will ever need more.
The legs are with locking mechanisms to keep the structure stable. You can also adjust their length.
The whole set is heavy with its 43 lb (19.5 kg), but this is metal and you have many elements here. It is also a bit long, you have seen its packed size, but on the other hand, you have so many elements here so this is hardly an objection.
---
Specifications
Weight: 43 lb (19.5 kg).
Table weight capacity: 70 lb (32 kg).
Table size (L x W x H): 47 x 27 x 27.5 in (119 x 69 x 70 cm).
Bench weight capacity: 250 lb (113 kg).
Bench size (L x W): 49 x 10 in (124 x 25 cm).
Folded size box: 50 x 11 x 9 in (127 x 28 x 23 cm).
---
Rating, pros & cons
This is a very unique construction and it is a bit hard to properly rate it by using my standard set of criteria that are applied to the camping tables here in the site. Nevertheless, please see how I rate this set:
Ingenious design and a versatile camping set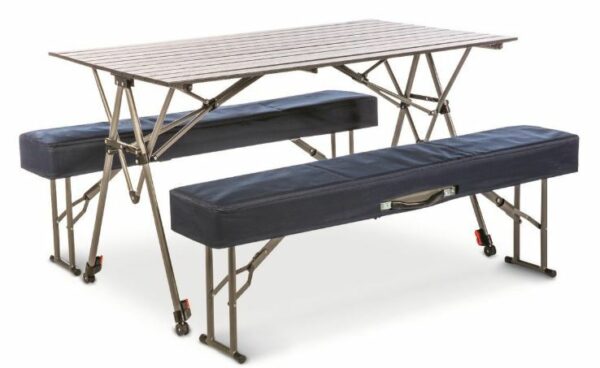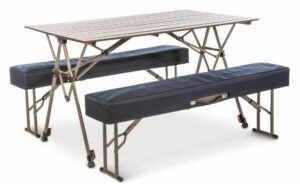 Product Name: Kamp-Rite Kwik Set Table with Benches
Product Description: This Kamp-Rite Kwik Set Table with Benches is ingenious folding aluminum construction, incredibly easy to use, and packable.
Brand: Kamp-Rite
SKU: B01449MCTO
MPN: KSTB224
Weight -

5/10

Dimensions -

9.5/10

Packed size -

9.8/10

Craftsmanship & features -

9.8/10
Summary
This is an incredibly functional camping set, but it is quite heavy and this affects my rating which is still Excellent.
Pros
Great design.
Versatile.
Functional.
Cons
Heavy.
A bit long when packed.
---
Final thoughts
As of the moment of writing this text, there is nothing on the market known to me that would be similar to this Kamp-Rite Kwik Set Table with Benches. This is quite a unique and incredibly functional and versatile product.
The set may look expensive but you have three main components here that can be used separately, or all three together. So in my view, this is an appropriate price for the value. I have included it in my list of best collapsible camping tables.
Please check under the category Camping Tables if you would need more options to consider. In particular check this Stansport Heavy Duty Picnic Table and Bench Set.
Thank you for reading. Note that we add texts here regularly, so bookmark this site and visit occasionally. Have a nice day.