---
Here you have a great collection of camping tables with benches, with truly unique features, all nicely packable and compact for transportation.
You will see some of the best known outdoor brands represented here. All the sets are folding type, so there is no particular assembly. They are very easy to use, and they become thin when packed.
The tables in the list are ordered by weight from lighter to heavier:
In this text you have some basic information only, so please follow the links to my full texts.
---
1. Trademark Innovations Portable Folding Picnic Table with 4 Seats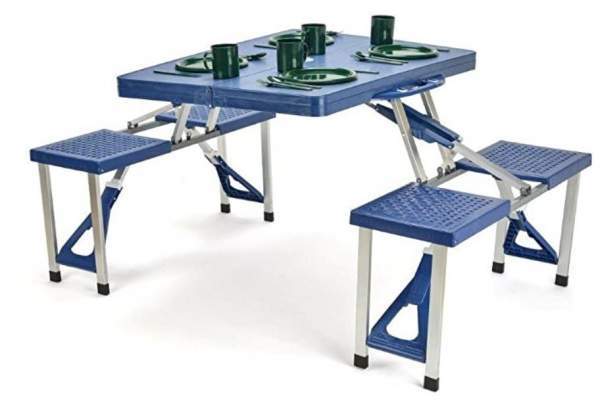 Here you have something quite unique, all the elements are one single piece. This is an ingenious design that includes a table and 4 integrated seats. So strictly speaking these are not benches, but the seats look like benches.
The best part is when you see how this all folds. The set becomes a compact box, all folds into itself. The dimensions of the box are 33.75 x 14 x 4 inches (86 x 36 x 10 cm).
This is an easy to use set, very portable, and also incredibly affordable. The total weight with all its elements is only 16.5 pounds (7.5 kg).

---
2. ALPHA CAMP 3-Piece Folding Camping Table with Bench Set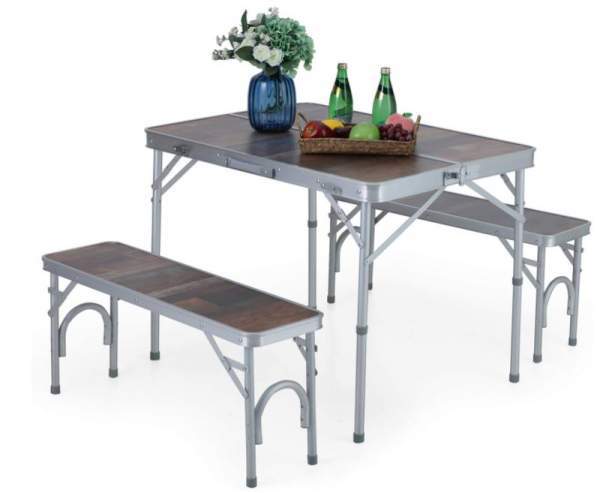 In this set you have two classic separated benches and a table. Note that the table has two heights, this is why I have included it also in the list of tables with adjustable legs.
When it is time to go, this all becomes very compact for transportation. The benches packs into the table that folds into itself and everything measures only 35.4 x 13 x 5 inches (90 x 33 x 13 cm).
The set weighs 20.5 lb (9.3 kg). The metal parts are all aluminum and the tops are a high-density fiberboard.

---
3. Kamp-Rite Kwik Set Table with Benches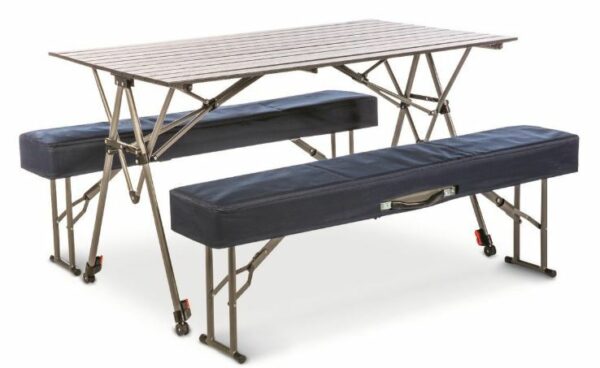 This Kamp-Rite Kwik Set Table with Benches is an ingenious and unique folding aluminum construction, incredibly easy to use and packable.
It includes two benches as you realize from the name and from the picture. For transportation this all packs into itself, so you have an elongated elegant box with handles.
Note that legs are adjustable. The set is heavy, bear this in mind, it weighs 43 lb (19.5 kg).

---
4. Stansport Heavy Duty Picnic Table and Bench Set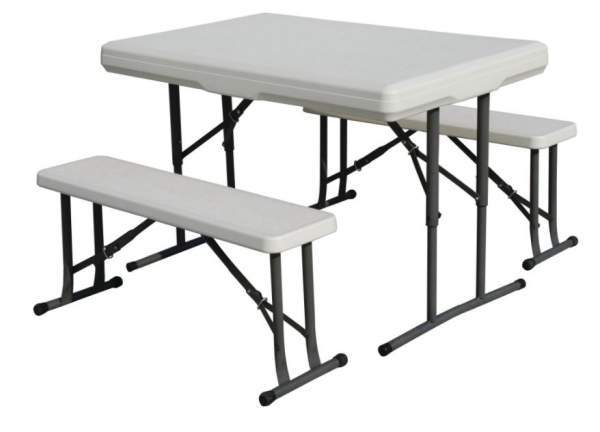 Here again you have three separate pieces. So the benches are detached. The set is suitable for outdoor dining and sitting.
Note that the legs of the table are telescopic, so you can have two different heights of 19 and 28 inches.
The legs of all the elements are with those bars on the ground, so you can use this set anywhere and it will not sink in the ground. It is also floor friendly and you can use it in a floored family camping tent.
Note that the set is heavy, the weight is 43 lb (19.5 kg). Each of the two benches has a capacity of 500 lb (227 kg).
For transportation, benches attach underneath the table, and the legs of the table also fold. So all becomes thin, the packed dimensions are 44 x 26 x 4.5 inches (112 x 66 x 11 cm).

---
5. Core 6 Foot Picnic Table 3-in-1 Combo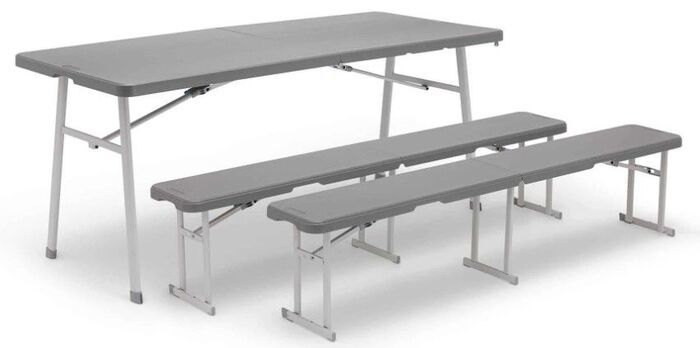 The name tells you what this is about, so you have three separate pieces that fold and pack separately. This means you have three separate elegant boxes for transportation, and all three elements can be used together or separately.
But the two benches can also be attached to the table. On the other hand, the table is huge, its dimensions when unfolded are 72 x 36 inches (183 x 91 cm).
This is a heavy set, the table weighs 23 lb (10.4 kg) and the two benches add 16 lb (7.3 kg) each. But they all fold separately so handling them should not be a problem.

---
Final thoughts
So this was my selection of camping tables with benches, the list will be updated whenever I find something that deserves to be included here. This is why you might want to bookmark this post and visit it occasionally.
All these sets are easy to use but there are differences regarding the size of the table and the materials used for the tabletop. If you think you will need something that is heat-resistant, chose something with a metal tabletop.
There are substantial differences in the weight of these sets, so bear this in mind. If you have any question, please let me know, there is a comment box below.