---
This Ivation EZ Bed Review is about an incredible self-deploying folding bed with air mattress. It is hard to believe how nicely it sets up by itself.
Key features and benefits
Integrated electric pump.
Self-deploying, just turn on the pump.
Extremely comfortable.
Huge sleeping space.
Storage case included.
Unique stable system with 22 legs.
What type is this
This is a folding bed of a particular type and it collapses and packs in a relatively small volume 26 x 21 x 16 inches (66 x 53 x 41 cm), so it becomes of the size of a big suitcase.
It is also in the group of cots with mattresses, and here again of a particular type, this is one of the cots with air mattresses.
Two sizes
This cot is built in two sizes, Queen and Twin, see the specifications below. Both work on the same principle, the size and weight are the only differences.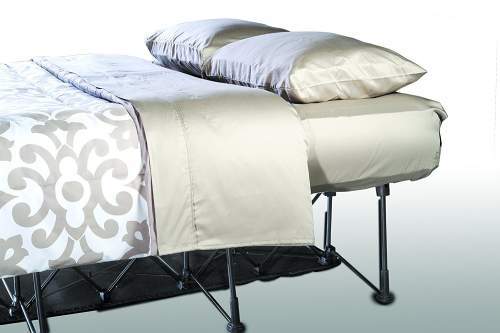 Who is it for
You have seen its packed size (see also the picture below), now see the weight, it is 48.9 lb (22.2 kg). So this is a quite heavy and a bit bulky tool. In addition to this, it inflates and deflates on electric power which is both good and bad. This all limits a bit its purpose and best use.
It is simply perfect as a spare bed at home, for sudden guests, and for any emergency situation. It packs in its own carry suitcase with wheels, so it will be protected from dust and moving it from place to place should not be difficult.
For outdoor use, you will need a car to transport it to your camping space. Regular camping places in EU are typically with power connection, so the pump will work. I am not sure how this is in the US.
But this is also a huge bed and you will need a corresponding tent. See some great options here, both from Kelty, their Camp Cabin 4 and Mirada tent.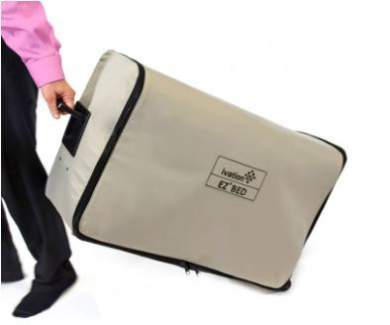 Overview
This is a huge collapsible system, 79 x 61 in (201 x 155 cm) with a lot of space. What strikes me are its numerous legs. You will notice that there are 22 of them in 4 rows. The central part is with two series of 7 legs, and on each side you have another 4 legs. All are with plastic caps, so regardless of where you put this tool, you will not have any issue with the floor.
I must say that this is unique, there is no other cot in this site described so far with such a stability and support of the bed.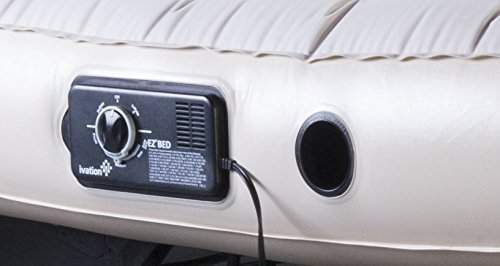 Observe also that in the initial self-deploying stage, the carry bag is spread under the legs, see the picture below, so there will be no scratches on the floor. The following two pictures describe how it sets up automatically, it is the air in the mattress which does all the job. All is done in just 2 minutes, by itself of course:
You will see that they recommend inflating the bed at least 1 hour prior to using it because some extra air may be required to have full firmness.
Regarding the setup and folding the bed, it is best that you see this video, you will be pleasantly surprised:
My rating, pros & cons
This cot is heavy, but I do not think this is a big deal, you would not carry it around even if it was 10 kilograms lighter. It needs a car for transportation and that is it.
The daily updated Amazon price is given below. So this looks steep but you will notice that there are several self-deploying beds of this type on the market and they look completely identical, but they are sold under different names and they are far more expensive, see them here. The Ivation bed presented here is at a much better price than any other. Note also this is Amazon Prime product.
There are hundreds of reviews on Amazon, and the average rating is very high. It appears that some users have had the mattress leaking, but it worked well for many. One needs a bit of luck. See how I rate it:
My rating breakdown of the Ivation EZ Bed with mattress
Weight -

6.2/10

Size -

8.9/10

Capacity -

7/10

Packed size -

8.6/10

Ease of use & features -

9.7/10
Summary
My overall rating of this cot is Very Good:
Pros
• Automatic setup.
• Very comfortable.
• Great size.
• Very stable.
• Fits nicely to any surface.
Cons
• Heavy.
• Expensive.
Specification – Queen size
Weight: 48.9 lb (22.2 kg).
Dimensions (L x W x H): 79 x 61 x 24 in (201 x 155 x 61 cm).
Packed size: 26 x 21 x 16 in (66 x 53 x 41 cm).
Capacity: 450 lb (204 kg).
48 circular coils for a comfortable sleeping surface.
Rolling duffle storage case included.
Flocked top holds bedding in place and it is soft to the touch.
Specifications – Twin size
Weight: 40.9 lb (18.6 kg).
Bed size: 77 x 40 x 22 in (196 x 102 x 56 cm).
Packed size: 24 x 20 x 14 in (61 x 51 x 36 cm).
Capacity: 300 lb.
Summary
To conclude this Ivation EZ Bed Review, it is unlikely that you might find something more comfortable and more user-friendly. This is a self-deploying system that sets up automatically due to the air pressure in the mattress. So essentially, the integrated electric pump does all the job for you. It does come at a price, but it is worth the money.
Check on Amazon
Check at Walmart
Thank you for reading. If you feel that you need something different, please check in the Categories above on the right, this site is all about cots and you will surely find something for you. Have a look in my recent text about best cots with air mattress.
You might want to compare this bed with the Insta-Bed Ez Queen Raised Air Mattress with NeverFlat pump and with Serta EZ Bed Queen Size built in the same style. In the case of questions and comments, please use the comment box below. Have a nice day.


---