---
The Helinox High Cot One Long is collapsible, ultralight and compact, and suitable for very tall and heavy users.
---
Key features & benefits
Very long.
Ultralight.
Compact.
Top quality.
5 Years warranty.
---
What this is about
This Helinox High Cot One Long is the larger in the series of two that includes also a shorter cot with the same design.
Note that these cots should not be mixed with their convertible cousins with removable legs, or with Helinox Cot One Convertible Insulated.
So what you have here in the pictures are legs that remain in place. These are high cots and this is behind the word High in the name.
You can describe it also as a collapsible cot. This implies two important things, one good and another less god.
The good is that the packed size is very small. Less good is that the cot needs a simple assembly, but this is easily done and without any tool.
Materials
All metal elements here are made from an advanced high-tech aluminum alloy. It offers the ideal blend of strength and minimal weight. It is a higher specification than aircraft-grade aluminum, and it goes through over 70 production processes from raw billet to finished pole section.
As a result, you have an ultra-durable frame that's sturdy, packable, and good-looking. The legs attach to the side rails through lever locks, one shown below, so they are easy to use and anybody can assemble the cot easily.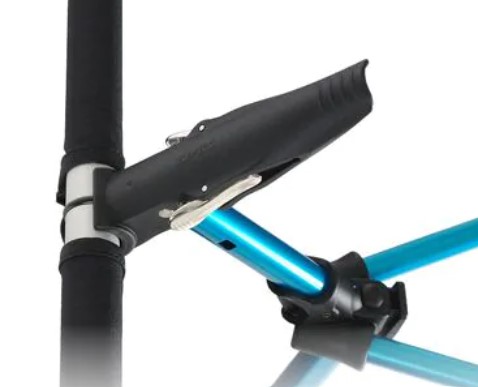 There are hub elements visible in the pictures, and those are custom-designed in-house, and they are molded from high-strength, fiber-reinforced Nylon 66.
---
Who is it for
Regarding the capacity, this cot is indeed impressive with its 320 lb (154 kg). No doubt this should be strong enough for most of potential users.
Regarding the dimensions, you have seen the word Long in its name, so indeed the length is one of its great features. You have no less than 82.5 inches (210 cm). Note that this is a true useful length because there are no end bars here.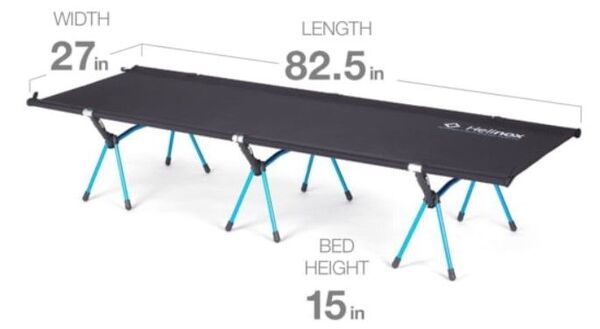 The width is modest, you have 27 inches (68 cm), and this includes the side rails as well.
As mentioned, yet another important word in its name is High, so you have 15 inches (38 cm) from the ground. This is excellent for elderly users who will find it easy to get in and out of the cot.
This is good also when you use the cot in the tent or on your track, you can store a lot of gear underneath the cot. As you know, such a space and volume is lost when you sleep on the floor.
Regarding the weight, the cot is in the group of very light cots. It weighs only 5 lb 2 oz (2.3 kg). But this is still not something to carry on the trail. There are much lighter options on the market.
The packed size is such that you can transport it easily even on a bicycle, the carry bag shown below is zippered and made from a 300D polyester.

Regarding the price, I guess this is where you might get shocked, you will see it in the links below.

But note that here you have a top quality product, and you have 5 years warranty for peace of mind. You will not find any brand that offers cots with such a warranty. With this, Helinox shows confidence in its product.
---
Specifications
Weight: 5 lb 2 oz (2.3 kg).
Capacity: 320 lb (154 kg).
Dimensions (L x W x H): 82.5 x 27 x 15 in (210 x 68 x 38 cm).
Folded dimensions: 23 x 7 x 7 in (59 x 18 x 18 cm).
Frame: aluminum alloy.
Warranty: 5 years.
---
Rating, pros & cons
Below you see how this Helinox High Cot One Long stands against my standard rating criteria. I use them for all cots here in the site so you can easily compare. Note that you can rate the cot from your side as well.
Ultralight, compact, and very long cot.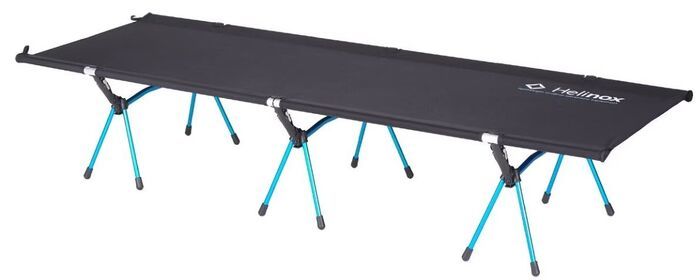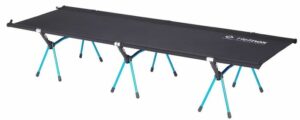 Product Name: Helinox High Cot One Long
Product Description: The Helinox High Cot One Long Is Collapsible, Very Light and Compact, and Suitable for Very Tall and Heavy Users. It Comes with a 5-Year Warranty.
Brand: Helinox
SKU: B09QGT7329
MPN: 10688
Weight -

9.6/10

Size -

8.7/10

Capacity -

8/10

Packed size -

9.2/10

Ease of use & features -

8.2/10
Summary
This cot stands great regarding all the rating criteria, so it is not surprising that the overall rating is Very Good,
Pros
Ultralight.
Very compact.
High quality.
Great warranty.
Final thoughts
So this Helinox High Cot One Long is yet another top class product from this brand. It is ultralight and very compact, and it comes with an incredible 5-year warranty. But this all has a price, so this may not be for people on a budget. In any case, fully recommended.
Best places to buy:
For more options, please check under the category Collapsible Cots, you will find them many here in the site, and in all sizes and shapes.
Bookmark this site and visit it when you find time, this will keep you informed, you have new texts added here on a regular basis. Let me know if you have questions, there is a comment box below. Thank you for reading and have a nice day.