---
Here you have my selection of best rated low camping chairs in a variety of styles, for solo use but also some wider options.
Perhaps you have noticed that some brands build camping chairs in standard and low seat variants. This is typical for Kelty and Mountain Summit Gear. But some brands simply make low-seat chairs for shorter users.
Such chairs are available for solo use, but you can have them as double-wide, and also as chairs for three people or more. The list below includes all these examples.
Note that this is not about beach chairs, those are built specifically to enjoy on a beach and come with some corresponding features. The chairs presented here are true camping chairs.
My selection of the best low-seat camping chairs
The chairs in the list are ordered by seat height from lower to higher:
---
1. Helinox Chair Zero Highback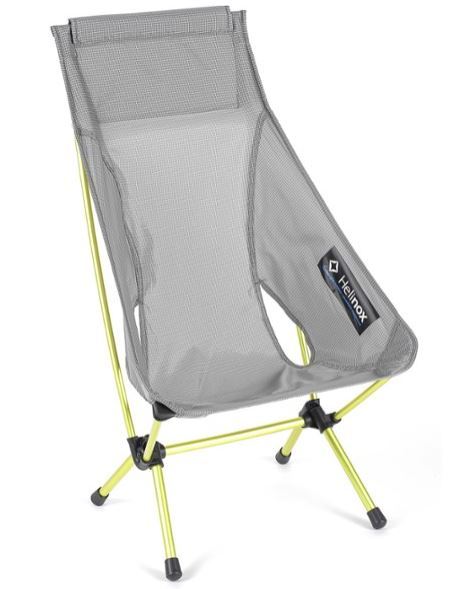 This chair is here because of its seat that is only 8.5 inches (22 cm) above ground.
But the chair is ultralight and with a high backrest with a headrest as you see from the picture. It weighs only 1 lb 8 oz (680 g), so it can be carried on the trail as well.
It is also very compact with its packed size (L x D) 16 x 5 inches (41 x 13 cm). With all this it is backpack portable and it is also in my list of best ultralight backpacking chairs.
The weight capacity is 265 lb (120 kg). You will want to know that it comes with their incredible 5-year warranty.

---
2. REI Co-op Camp Low Chair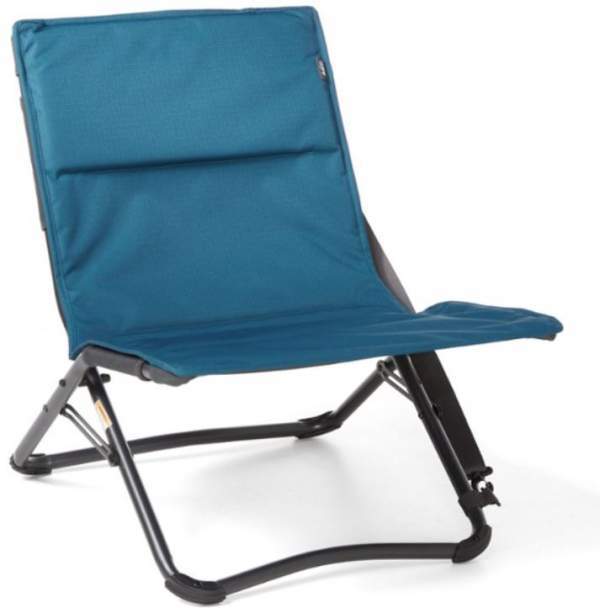 This chair is added here on purpose, for people who want a camping low-seat chair but without armrests. It may be convenient to have such a chair if you plat some musical instrument, or if you sit when cooking.
So the seat is only 9 inches (23 cm) above ground. The chair is folding, very easy to use, built from recycled materials and very affordable. You have a durable powder-coated steel frame.
Note that it has two U-shaped tubes, so the legs are two bars and with such a design the chair will rarely sink in any ground. The weight is 8 lb 3 oz (3.7 kg).

---
3. REI Co-op Outward Low Padded Lawn Chair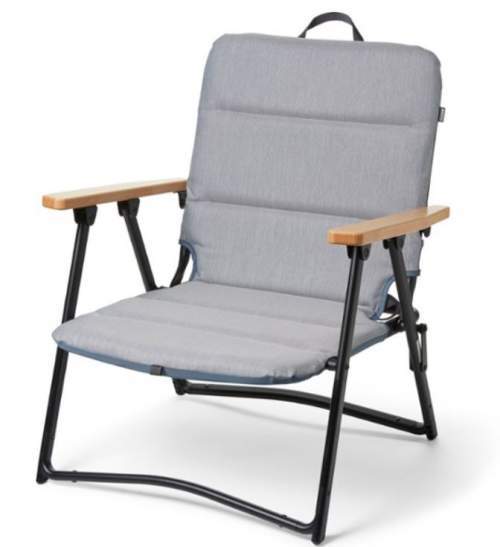 The REI Co-op Outward Low Padded Lawn Chair is a folding chair with an aluminum frame and wooden armrests. As you realize from the picture, it has lots of padding. But it is here because of its low seat which is 11 inches (28 cm) above ground.
It is very easy to use, and it is equipped with backpack-style carry straps, so you can transport it even on a bicycle.
The price is fair, and the chair weighs 7 lb 7 oz (3.37 kg). The capacity is 250 lb (113 kg).

---
4. Eureka Low Rider Chair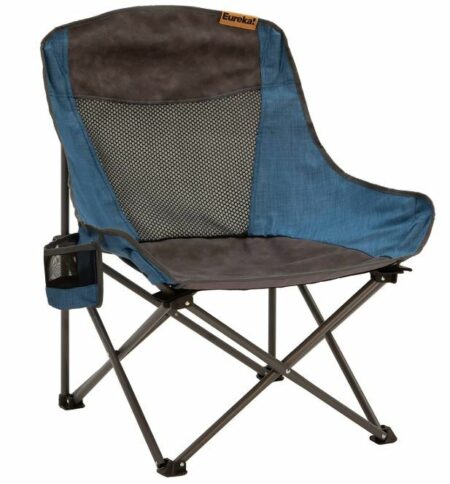 This Eureka Low Rider Chair is with the seat that is 12 inches (30 cm) above ground. You have a very pleasant and affordable chair with a somewhat relaxed shape, very easy to use, lightweight, and with a strong steel frame.
They use pleasant faux leather on the top area and on the seat. The back panel is well-ventilated with mesh. You have a carry bag included and the price is great.
Note that it is light, it weighs only 5 lb 2 oz (2.3 kg). The packed size (L x D) is also good 29 x 6 inches (74 x 15 cm).

---
5. Kelty Lowdown Camp Chair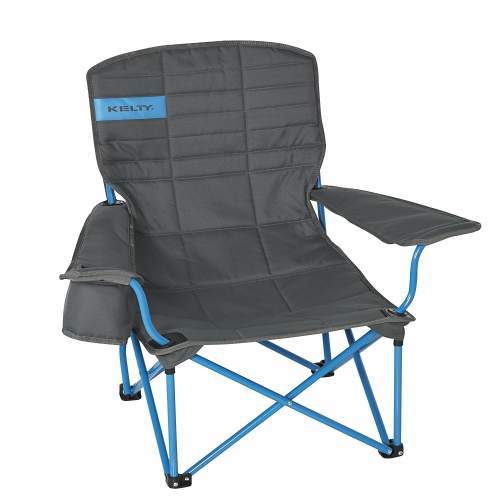 The name indicates what this chair is about. So you have a rather low seat, 12 inches (30 cm) above ground, and it is padded.
You will want to know also that the chair is with adjustable armrests, and you have insulated & adjustable cupholders.
It is supported with a strong steel frame, and the fabric is durable.
This chair comes with their roll-tote storage system, unique for this brand. The weight is 7 lb 6 oz (3.4 kg), and the capacity is impressive 350 lb (158 kg).

---
6. Kelty Lowdown Couch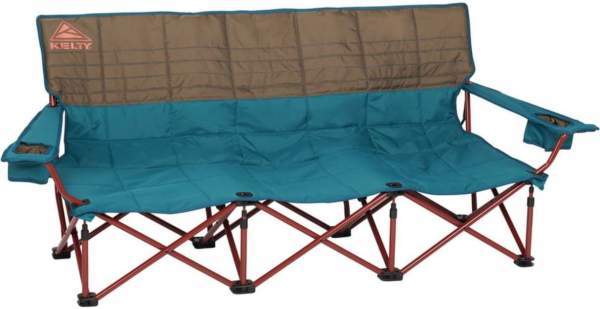 So this is something unique on the market, you have three seats, and they are 12.5 inches (32 cm) above ground.
The set is huge but very easy to use, folding and compact when packed. It comes with a versatile carry wrap design.
The frame is powder-coated steel and it is sturdy and stable with its numerous X-crossed support elements, there are 8 of them. There are 8 legs and the feet are very wide. So this couch will not easily sink in the ground.
The fabric is a 600-denier polyester, and the chair is guilted. The weight is 20 lb 15 oz (9.5 kg) and the capacity is 600 lb (272 kg).

---
7. Mountain Summit Gear Quilted Low Loveseat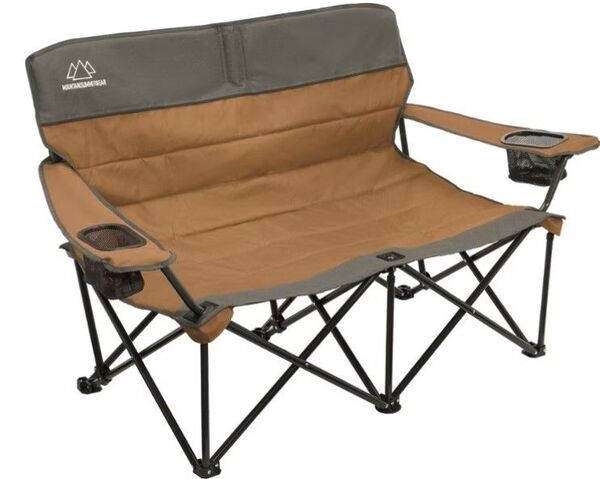 Here you have a padded folding and very easy to use chair with a wide seat that measures 57 inches (145 cm). Its height is 14 inches (36 cm).
The chair comes with adjustable armrests, and with large bottle holders.
The fabric is a strong 600D polyester in two layers and with some padding in between. It is supported with a powder-coated steel frame with 19 mm tubes.
With the weight of 12 lb 13 oz (5.8 kg), the chair can be described as moderately light, you have two chairs in one here. The weight capacity is 500 lb (227 kg).

Final thoughts
So this was my selection of low camping chairs, you have them with soft and solid armrests, and without armrests as well.
Some are padded and some not, and all of them are with relatively steep backrest so you can use them as dining chairs in the camp.
This list will be updated whenever I find a chair with a low seat that is worth adding here. So bookmark this post and visit occasionally.
Many more options are available in the category Camping Chairs here in the site, so please have a look around if you need more.
Let me know if you have questions, there is a comment box below. Thank you for reading and have a nice day.