---
The Klymit Cedar Mesa Cot is a collapsible and high quality outdoor bed built in two sizes, both very large and with an impressive capacity.
---
Key features & benefits
Collapsible cot.
Two different sizes.
Great capacity.
Huge size.
Great carry bag.
---
What this is about
If you follow Klymit as a brand, then you know it is a top brand for sleeping pads. However, as far as I know this is the first ever cot they have launched on the market.
Even more peculiar may be the fact that the cot is not available on the Klymit site. Perhaps this will change in time, the cot is very new on the market. But it is available at several sellers within the EU, while as of the moment of writing this text, only Sportsmans' Guide has it available in the US.
In any case, the cot belongs to the group of collapsible cots, and this implies that it needs a simple assembly. This means just putting side poles in place and then attaching its folding legs. All is easily done in a couple of minutes and without any extra tool.
The good side of such a design is that it folds in pieces, they call this Collapse and Compact technology.
When it is time to go, this all packs easily in its nicely designed carry bag shown below, with a large zippered opening and several handles on the sides.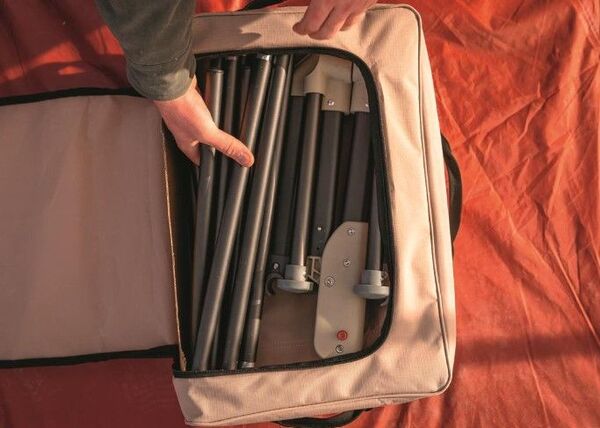 Materials
The metal parts are all made of aluminum, and the hub elements are some sort of plastic but they do not give information about this. You have trapezoid and oval profile in tubing and this provides optimal strength. So it is not surprising that the capacity is so impressive, more below.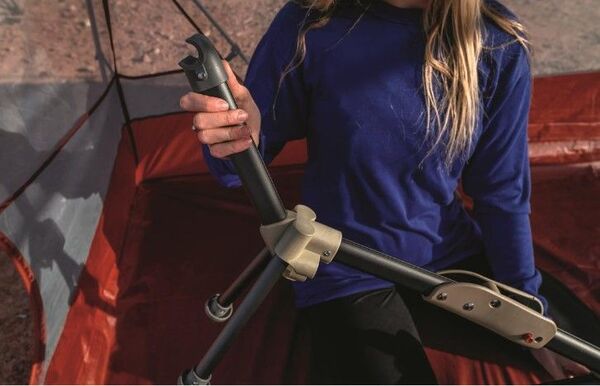 They claim that the legs attachment system is patent-pending, and they call it Easy Lever Lock system. When you lock the legs in place the fabric becomes tensioned. The system is similar to what you have in the Helinox High Cot One Long.
The feet are with plastic caps, but I do not find them very suitable for a floored tent. So add something to protect the floor.
As for the fabric, there is some mess here. At EU sellers you will see that this is a 1200D polyester fabric. Now, if this is indeed so, this would make it one of the strongest I have ever seen, and I have seen them in hundreds.
But at Sportsmans' Guide you will see 300D polyester mentioned. This does not sound so great for such a cot. So I asked a question about it, shall let you know if they reply.
Note that there is also a small pouch on the narrow side, so you can keep your small stuff at hand and off the ground.
---
Who is this Klymit Cedar Mesa Cot for
Regarding the capacity, the cot is impressive, it is officially for users of up to 400 lb (181 kg). So I have good reasons for including it into my list of cots for heavy people.
Regarding the dimensions, as mentioned earlier, they build it in two different sizes, L and XL, and both are great, you will see the numbers below, but see also the picture.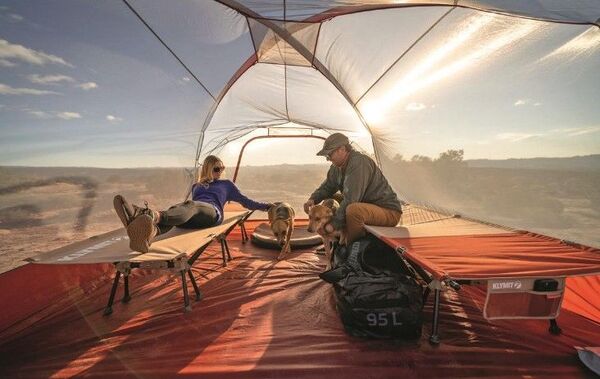 So I have included the XL version in my list of extra long cots, and also in the list of very wide cots. There are no end bars at the head and feet sides, so the length is a true useful length, see the picture: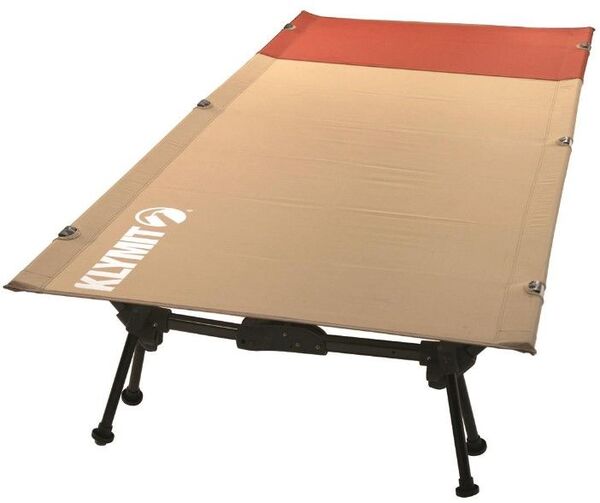 Note that the cot is quite high, you have 16 inches (41 cm) clearance. So you can store lots of gear underneath the cot. This height is also suitable for elderly users as it is easier to get in and out. But bear the height in mind if you have a low camping tent.
Regarding the weight, the cot is heavy, but this is an item for car camping so this is not very important, see the numbers below.
More important is its packed size. You will see below how I rate it regarding this feature. It may look a bit bulky, see the picture, but this is a large cot so its packed size is very good.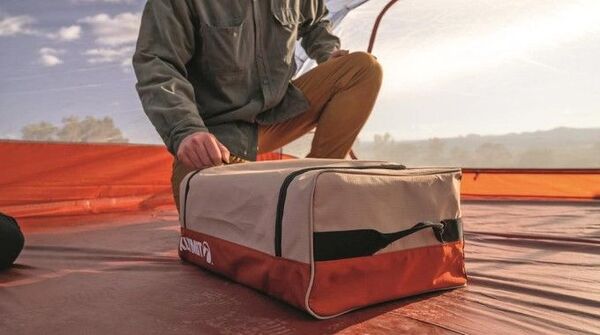 Regarding the price, it is very steep. I am not sure if this will remain so, but if you are on a budget, better look elsewhere.
About Klymit: This is a brand founded in 2007 in the Wasatch Mountains, and they are globally known for their unique sleeping pads. They have their special V-Chamber technology which ensures maximum comfort in the outdoors through increased thermal performance.
But recently, they have started selling tents, sleeping bags, and camping chairs as well.
They claim that all their equipment is still tested today in the mountains and deserts of Utah to meet the demands for durability, quality, and comfort.
---
Specifications
Weight:
– L Version: 17 lb (7.7 kg).
– XL Version: 19 lb (8.6 kg).
Capacity: 400 lb (181 kg).
Dimensions (L x W x H):
– L Version: 80 x 31 x 16 in (203 x 79 x 41 cm).
– XL Version: 85.5 x 37 x 16 in (217 x 94 x 41 cm).
Folded dimensions:
– L Version: 18 x 13 x 7.5 in (46 x 33 x 19 cm).
– XL Version: 19 x 13 x 7.5 in (48 x 33 x 19 cm).
Warranty: 2-year manufacturer's.
---
Rating, pros & cons
Below is my rating of the cot, I use the same criteria for all of them so you can easily compare. This is for the XL version.
Note that there is a rating bar for you to rate it from your side.
Very large outdoor bed with an impressive capacity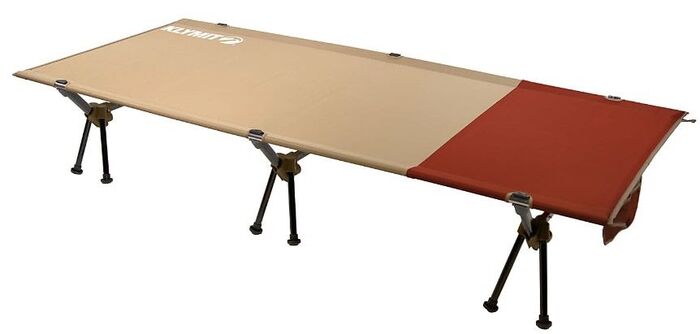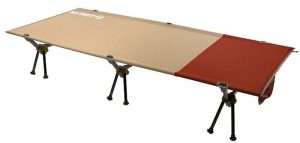 Product Name: Klymit Cedar Mesa Cot
Product Description: The Klymit Cedar Mesa Cot Is a Collapsible and High Quality Outdoor Bed Built in Two Sizes, Both Very Large and with an Impressive Capacity.
Brand: Klymit
SKU: 731775
MPN: 16MCRD01E
Weight -

7/10

Dimensions -

10/10

Capacity -

9/10

Packed size -

8.8/10

Ease of use & features -

8.5/10
Summary
This cot stands well and more than that in almost all criteria, so the overall rating is very high, and this is deserved.
Pros
Great size.
Huge capacity.
Very good packed size.
Great carry bag.
Cons
A bit heavy.
Very expensive.
---
Final thoughts
So I would say that Klymit entered the cot industry with a bang, this Klymit Cedar Mesa Cot is indeed a great outdoor bed. You can choose between two sizes, they are both great and rock solid, and with an impressive capacity.
For summer camping you do not need extra pad unless you want more comfort. But no worry, this brand is one of the best known regarding their sleeping pads.
Best places to buy:
For more options, please check under the category Collapsible Cots, you will find them many here in the site, and in all sizes and shapes.
Bookmark this site and visit it when you find time, this will keep you informed, you have new texts added here on a regular basis. Let me know if you have questions, there is a comment box below. Thank you for reading and have a nice day.